Parasailing at Niyama Private Islands, Maldives
I Tried Parasailing For the First Time but I'm Not Sure Whether I'd Do It Again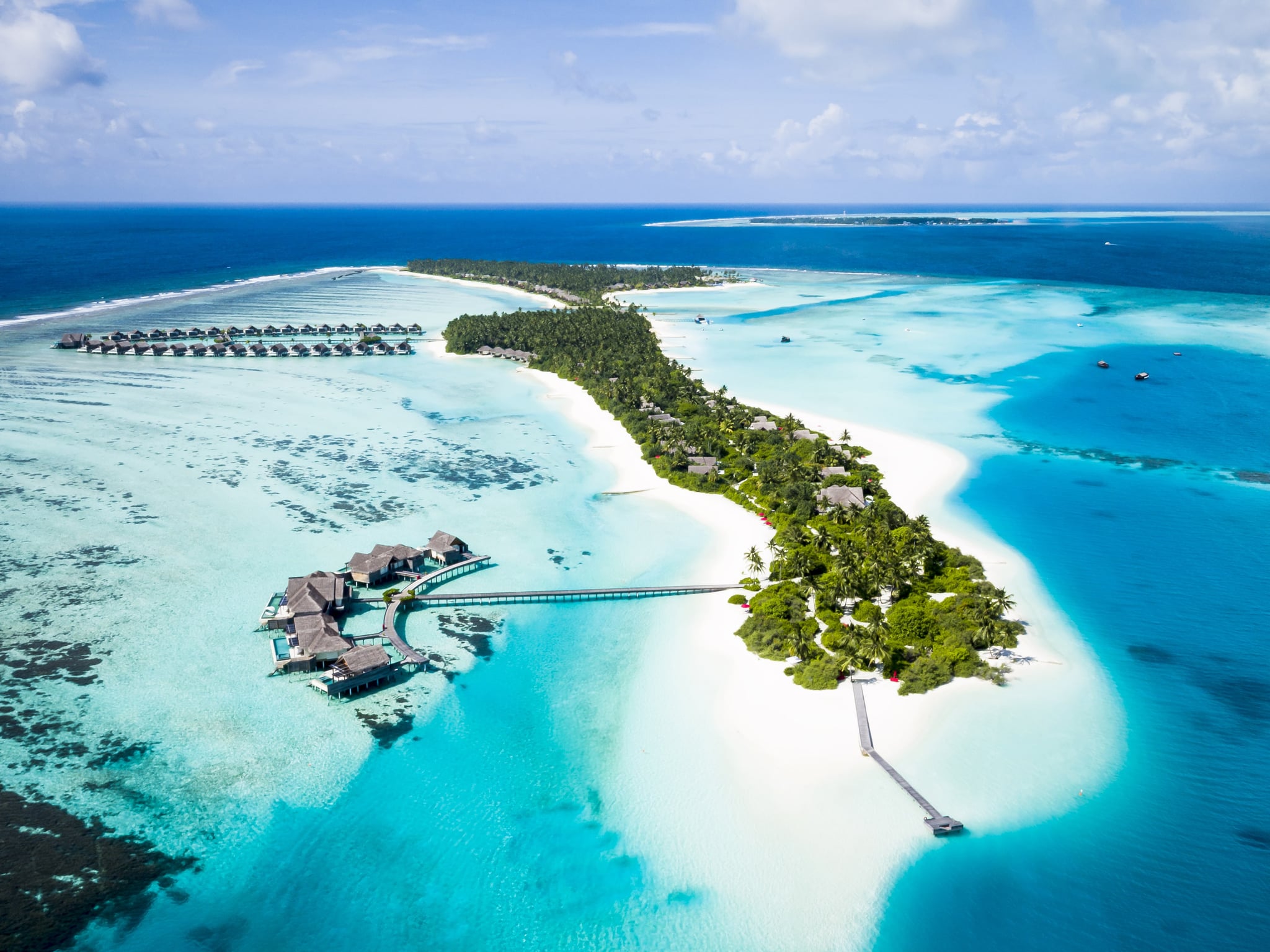 Let's make one thing clear; I actually think I enjoy freaking myself out so by no means did I hate parasailing. In fact, when I signed up for the 15-minute ride I almost sighed at my own anxiety before it had even set in, because time and time again, my mind wonders "what if something bad happens?"
Earlier that morning I had watched a group set out into the Indian Ocean around Niyama Private Islands in the Maldives, and my stomach flipped as I watched the parachute up in the air. It looked insanely high. Thankfully, I later found out that the water sports team was only testing it at 200 meters but my trip would be around 75 meters. Phew!
Those who book the excursion can fly alone or with a partner at the same time, and when mine bailed out, I was slightly more nervous as I couldn't share the fear/excitement while I was up there but also thought, well the less weight, the less chance of dropping to my demise, right?
Of course, I was reassured that even if I did fall – something highly unlikely as riders are harnessed in, attached to sturdy ropes, and even if someone did cut the ropes off I simply fly off in the wind and land in Sri Lanka, hopefully – my life jacket would ensure I floated. I'd literally have to unclip myself, but again it would be impossible for me to lift my own weight out of the fastening with my thumb and forefinger.
My trip was with a couple on their honeymoon. The new bride told me she'd been in a jet-ski accident as a child and as parasailing, in my opinion, is a much bigger deal, I knew I had to chill out if she was also willing to try this for the first time.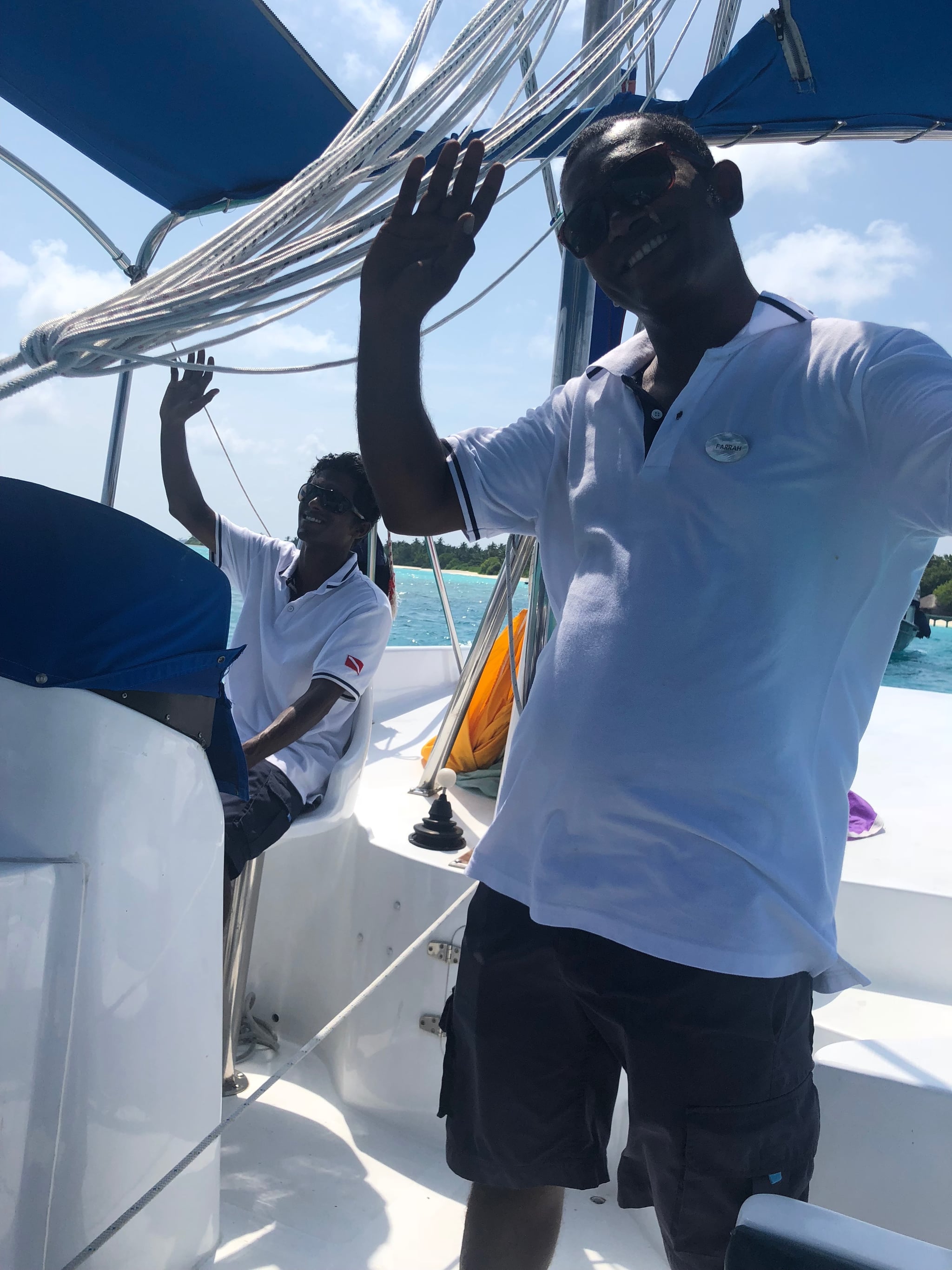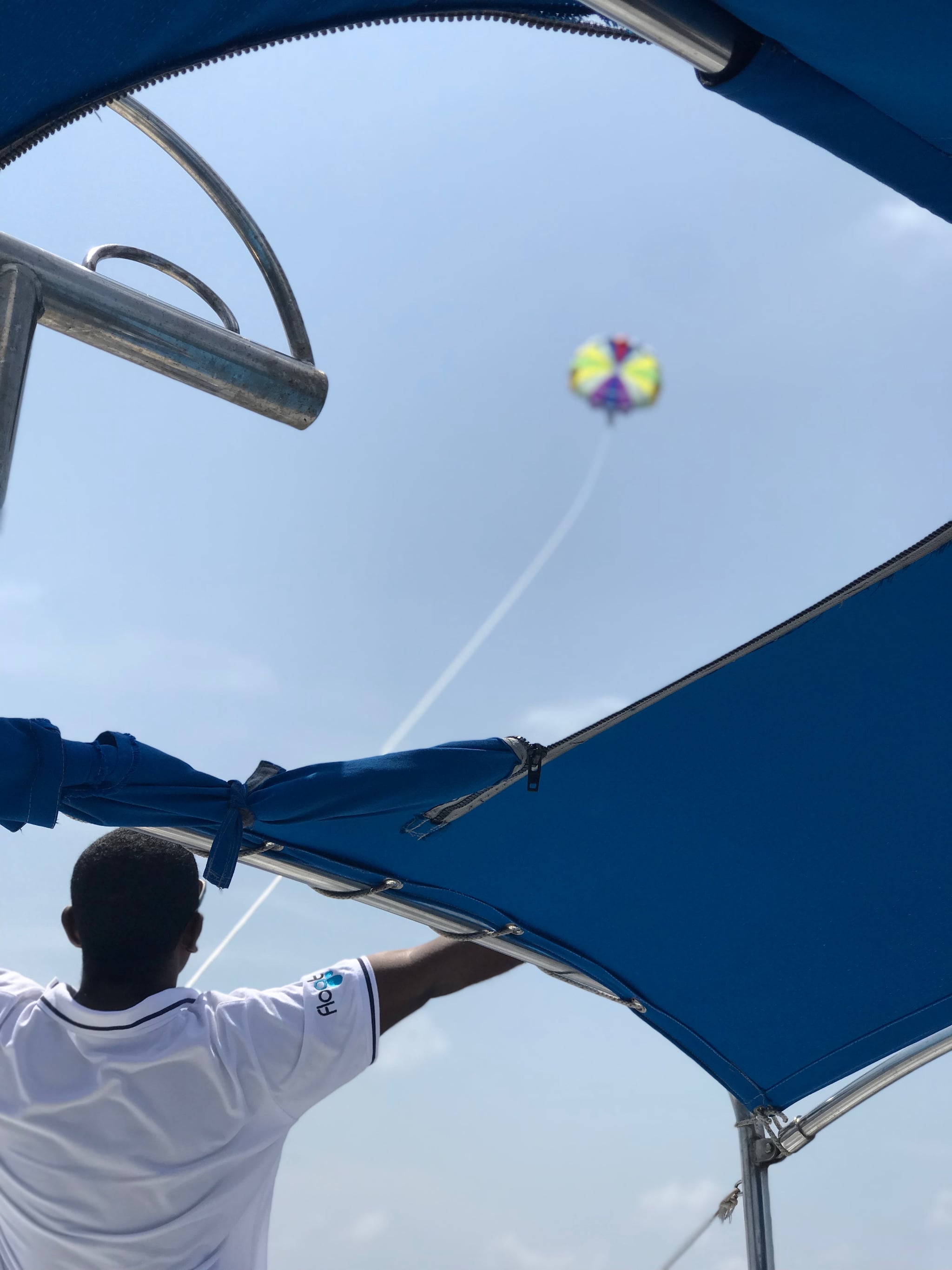 The couple went first and had the most blissful time, snapping pictures from high up, but I decided not to take my phone with me in case I got sweaty palms and … plop! I'd made the right decision to miss the selfie opportunity; although sitting up their was peaceful and something I couldn't quite believe I was given the opportunity to do, I barely had the courage to return the arms signals from down below that check whether you're okay or want to come down.
Apparently, it's a better feeling when it's windy, as it was when I went, because you don't feel like you're being dragged along by a boat. The water was a little rough though so there was gentle tipping back and forth like you're on a swing chair.
With a quarter of an hour's thinking time, what did I do up there? Enjoyed the aerial views of the islands, spoke to myself and sang a little (because when else could I do that without the risk of someone hearing me?), and before I knew it, it was time to land on the boat.
Would I recommend trying it? Absolutely. Legs dangling in the middle of the air is so liberating and a surreal experience. Would I try it again? Perhaps, but next time with a pal to squeal with and maybe even take that selfie I missed out on.
If you're not the sporty type but want to get out on the water, book a 2-hour sunset cruise to see dolphins. For $450 a couple gets a bottle of bubbles to enjoy on top the double-decker boat and if you're as lucky as me, you'll get to see the beautiful creatures hanging out. Even though they're apparently easier to find in the morning, my guides had intel on where to find them and revealed that they often come up to the boat and performs jumps. While I didn't get to see them show off, it was another first I was thrilled to experience, especially in the stunning setting of Niyama Private Islands.