Recipe for Vegan Almond Joy
Sometimes You Feel Like a Nut and Want a DIY Almond Joy
Coconut as a key ingredient, from flour to flakes, is having a moment, at least in our culinary lives. We've been using the flour to coat bite-size pieces of chicken for Paleo nuggets and using the milk to make dairy-free ice cream. But when we're really craving coconut, we whip up a batch of these chocolate almond bars. They're a DIY version of the classic Almond Joy. Watch the video to see how easy they are to make, then use the recipe below to make your own.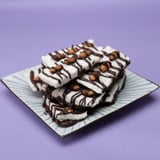 Ingredients
Coconut bars
1 1/2 cups unsweetened coconut flakes
1 cup unsweetened coconut, shredded
2 tablespoons coconut oil, melted
1/2 cup coconut cream
1 pinch salt
Chocolate layer
2 cups vegan semisweet chocolate chips
1 tablespoon coconut oil
1 pinch salt
30 almonds
Chocolate drizzle
1 teaspoon coconut oil (added to what's left in melted chocolate bowl)
Directions
Coconut Bars
Add all coconut bar ingredients to a food processor and lightly pulse until combined, about 1 minute.
Pour coconut bar mixture into a wax-paper-lined 8-by-8-inch pan, and put in the freezer for 10 minutes.
Remove pan from freezer, cut into 10 bars, and return bars to the freezer for 10 minutes while you prepare the chocolate dip.
Chocolate Dip
Add vegan semisweet chocolate chips, coconut oil, and salt to a medium bowl, microwave for 20 seconds, remove from microwave, stir, and repeat until chocolate dip is smooth (about 3 times).
Pour chocolate dip onto a medium plate and smooth with spatula until you have about a 1/2-inch-thick layer of chocolate.
Dip each bar into the chocolate sauce, remove from chocolate using a butter knife, and gently place on wax-paper-lined cutting board or counter.
Dip each almond in the chocolate and stick it onto each bar, and repeat till each bar has 3 almonds.
Chocolate Drizzle
Using a spatula, scrape all of the leftover chocolate dip from the plate into a medium bowl, and add in coconut oil.
Microwave chocolate and coconut oil for 20 seconds, and stir until well-combined.
Drizzle chocolate over bars with a fork, and chill in the fridge for 10 minutes before serving.
Tips and Tricks
To make Almond Joy bars with really clean edges, use a knife to re-form edges after you cut the bars.
Coconut cream contains heart-healthy saturated fats that help lower blood pressure and cholesterol.
Information
Category

Desserts, Chocolate

Yield

10 bars

Total Time

29 minutes, 59 seconds