SoulCycle Tips For Beginners
Pedal Your Way to SoulCycle Success With These Tips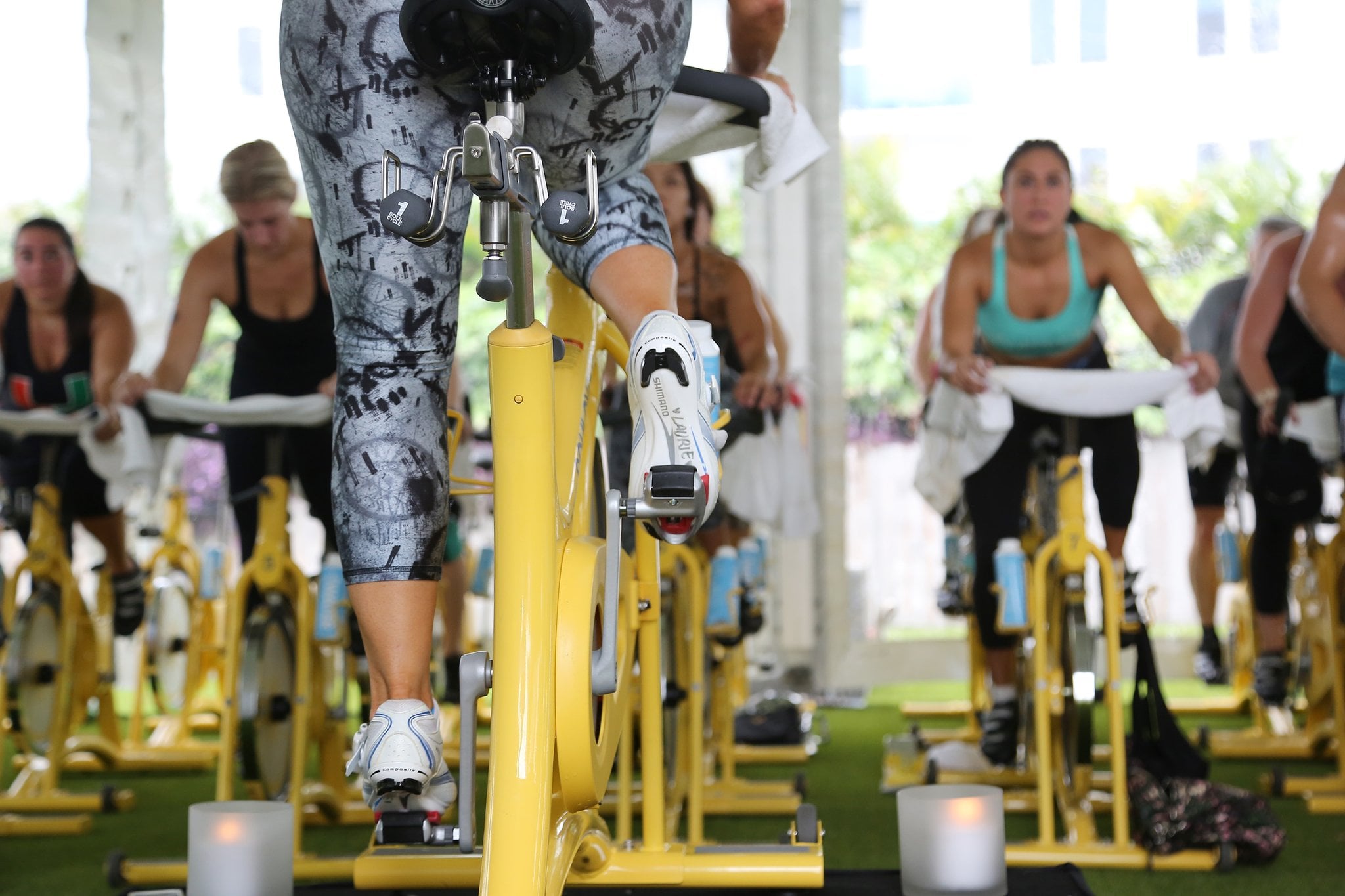 If you've never taken a SoulCycle class, you're in for a treat. For starters, forget what you know about Spin or any other indoor cycling class. This full-body workout will leave you breathless and have you booking your next class the minute your first one ends. Expect high-intensity intervals, hill climbs, and even weight work, but our guess is that this won't be the main reason you'll be back. As SoulCycle instructor Jenny Gaither told us, "We work hard and we party hard on the bike. Every class begins with a spiritual journey, eventually building into a full-blown cardio dance party." And while it might be a party, it's not one you should go into unprepared.
Power up
Like any intense workout, it's important that you're properly fueled before and after you exercise. Choose light and lean carbs at least one to two hours before class; this will give your body time to digest before getting up on the bike. Jenny's favorite? Oatmeal with a little peanut butter and half a banana. If you're headed into an evening workout, keep it light with a green juice, a hard-boiled egg, or an apple, she says. Make sure to bring a water bottle to class to stay hydrated, and once it's over, feed worked muscles with ample protein and complex carbs.
Dress the part
Be ready to sweat — a lot. To keep things as cool as possible, opt for moisture-wicking capris and tank tops, and don't forget the headband! While black is the basic fallback for gymwear, the vibe at SoulCycle is more in your face. Expect to see lots of patterns and neon. "Bright, colorful, and bold gear is the way to go," says Jenny. You'll also need cycling-specific shoes for class (SPD or Look compatible), but if you don't own a pair, they're available for rent at SoulCycle.
It's all about attitude
Besides burning calories, be prepared for a mental workout. SoulCycle instructors push the class along with affirmations and challenging questions, all set to the backdrop of inspiring, heart-pumping music. It's not unusual to be asked to close your eyes, cycle through a class by candlelight, or hear SoulCycle devotees (aka your classmates) cheering. Our best advice is to have an open mind and let the teacher take you along for the ride. "SoulCycle is a spiritual journey guided by a leader and their music. The intention is to challenge [individuals] to push their limits while helping them discover a passion for fitness through dance parties on the bike," says Jenny. And while it does sound corny, it's something everyone should experience. You'll walk out a happier person; trust us.
Show up early to set up
This is definitely not the kind of class you should wing it at. If you're a newbie, show up 15 minutes before class starts to get help setting up your bike and a basic how-to on adjusting its tension and the hand positions the teacher will be calling out. Not having the bike fit specifically to you will cheat you out of a good workout and can even lead to injury. On top of that, if you have never used cycling shoes, class attendants can teach you how to clip in and out of the pedals. "In order to have the best first class, it's so important to be familiar with and understand the space," says Jenny. Besides the setup, you should also show up early to keep your place in class. To reserve a bike, you are required to register ahead of time online; once class starts, you've got four minutes until it's released to eager people on the waiting list.
Find your pace and your core
Parts of this class move fast, really fast. You'll be asked to jump up and down off the seat, do push-ups on the beat of the music, and hold dumbbells with your arms extended for minutes at a time. Yes, you are a superwoman, but as with anything new, know your limits. Part of the SoulCycle experience is working as a team with your classmates to keep at the same pace (and pedal stroke), but this should not be at the expense of your own fitness level. If you need to slow down, do so. If you can't climb that hill without stalling, reduce your tension. And for those times your breath is getting too far ahead of you, sit upright on the bike, slow your breathing, and hydrate. Not surprisingly, a good part of the success of this class comes from engaging your core; this helps with balance for out-of-the-saddle work, and it protects your back when you're pedaling in the seat.
Image Source: Getty / Alexander Tamargo