Tone It Up 5-Day Detox Diet Review
Here's Why the TIU 5-Day Detox Was My Most Successful Diet Ever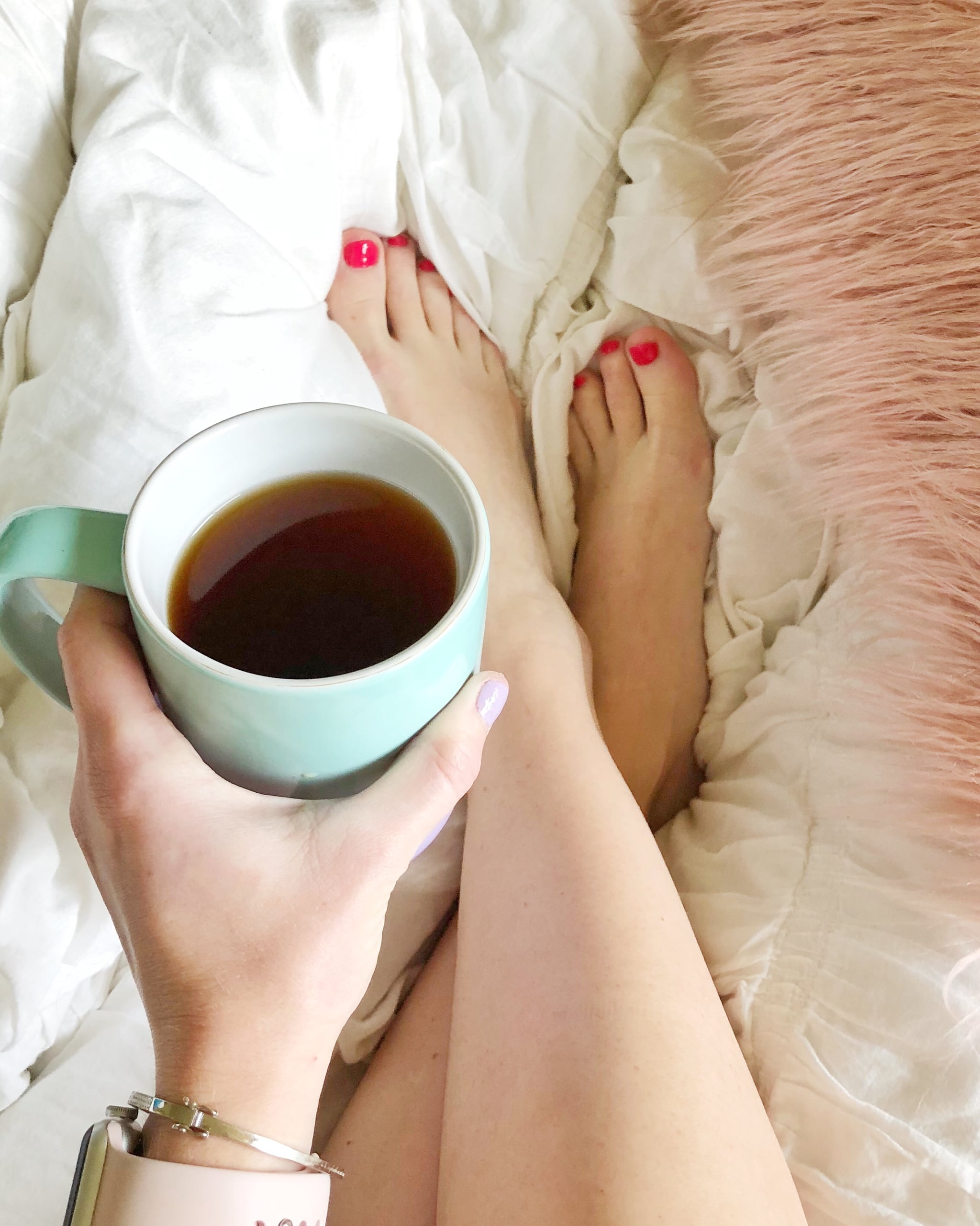 Detox tea and cozy self-care time: my TIU 5-Day Detox in a nutshell.
Well before I got into fitness, I had always viewed the start of the new year as a chance to do a "detox" or kick-start the year with a "healthy" diet. Whether that was coaxing a resentful boyfriend into doing a juice cleanse together for three days (we broke up, it's fine) or trying to eliminate food groups for a week, none of these things that were intended to be healthful actually made my body feel good. In fact, I felt pretty terrible and, chiefly, really deprived.
This year, though, I tried a new kind of New Year's cleanse — one that didn't make me feel deprived or cheated, one that didn't leave my stomach with hunger pangs and grumbling: the Tone It Up 5-Day Detox. And while it was only five days, it was way better than my one- and three-day juice cleanses, and I learned so much about what makes a diet successful. I also felt so comfortable with the plan that I decided to keep it going for another five days!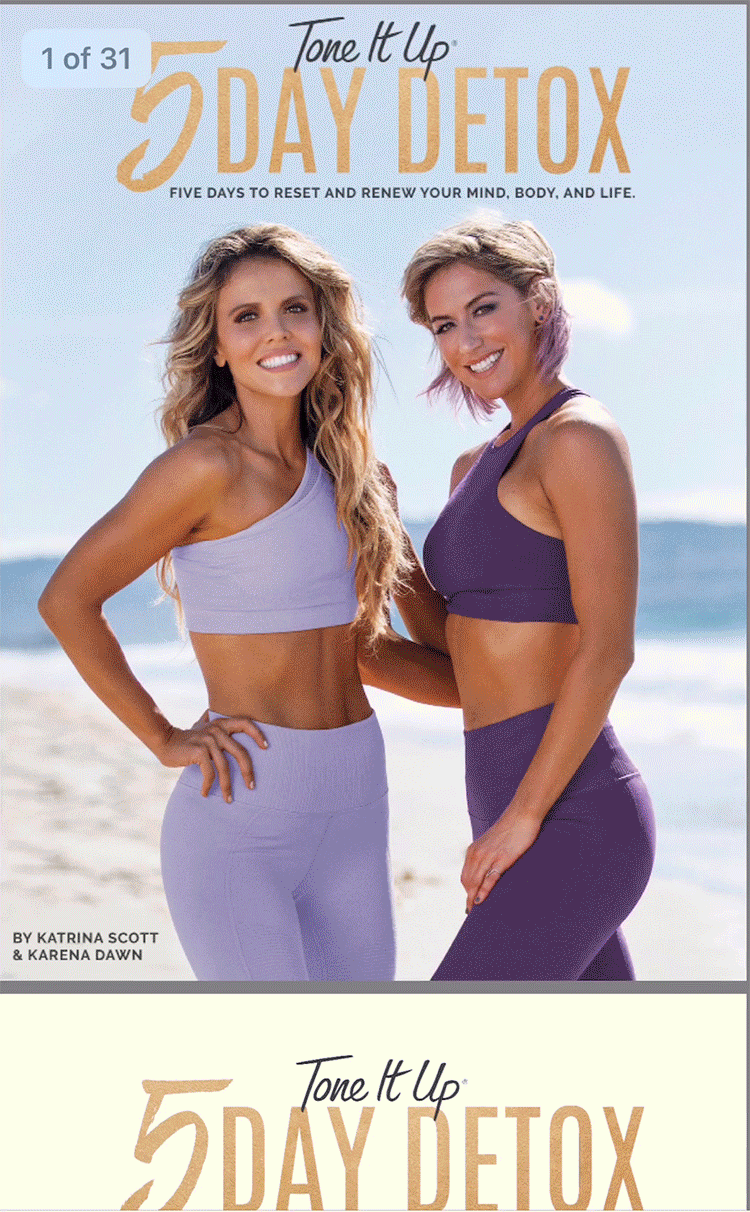 A peek at the plan.
I've been a huge fan of the Tone It Up nutrition program, community, and brand since I was first introduced to it at the TIU retreat in 2016. Since then, I've followed the different challenges, tried so many recipes, and implemented many aspects of each into my everyday eating. That said, of all the challenges and programs I've tried, this short-and-sweet New Year's detox was my most successful. Here are a few reasons I loved the diet and some things I learned from the experience.
The Length
I feel like this comes down to psychology; in my experience, longer diets give you a mindset that there's built-in room for error. If you're on an eight-week plan, a brownie one day or a piece of pizza twice isn't going to ruin the overall plan. But you're much more likely to really stick to a plan's guidelines if you're only doing it for five days. Each day and each choice becomes more valuable when the plan is so brief.
Oftentimes with New Year's resolutions, we bite off more than we can chew and set goals that are unattainable, setting ourselves up for failure. Starting Jan. 1 with a two-month plan can feel discouraging, but by keeping it realistic, we feel (and we are!) much more in control of our results.
The Meals
My favorite part about the detox was that it was foods I already enjoy eating: frosty mango ginger green smoothies, deliciously filling and flavorful soup, and tasty chia pudding or dark chocolate for dessert (yes, I said dessert). It's important on any kind of diet that you actually eat foods you enjoy. Keep experimenting with new recipes and meals until you find what sticks. The recipes on a diet plan may surprise you!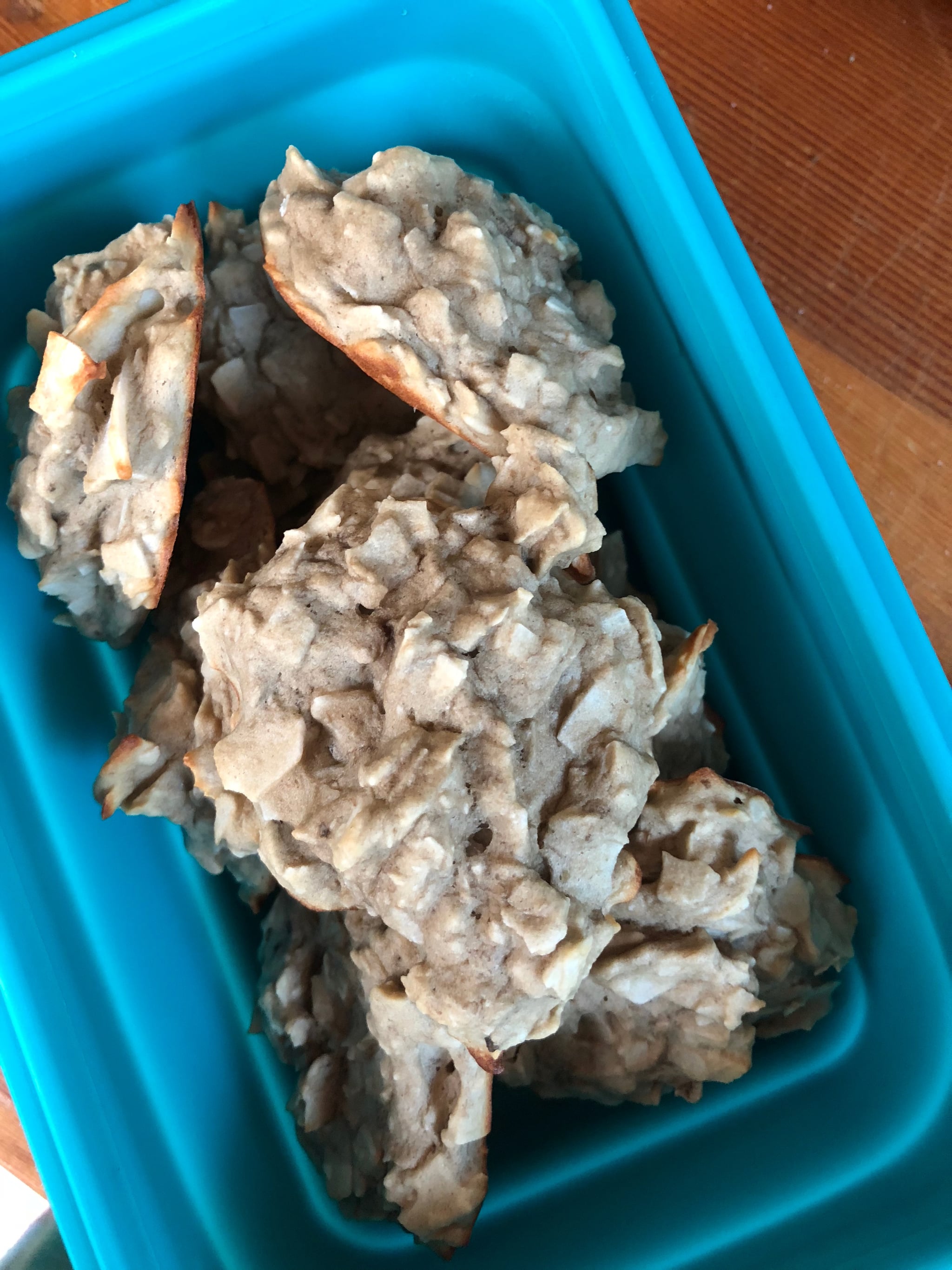 The coconut protein macaroons were so good!
This specific plan has you on five meals a day, plus green tea or coffee in the morning (and a cleansing "mocktail" for your metabolism), with optional dessert (read: I took that option), plenty of water (the goal was 90 ounces per day), and calorie add-ons for those who need a little more. I felt so full. When you're constantly eating and drinking, it's hard to feel hungry or like you need to snack on something.
Of note: though you're eating all day long, you're not consuming dairy, added sugar, alcohol, fried food, prepackaged food, processed food, or grains. And I know this will sound wild, but I honestly didn't miss or crave any of those foods because I was so satisfied with what I was eating.
The Prep
The biggest thing I took away from this is that preparation really is the key to everything. This plan gives you an exhaustive list of what to buy, what to stock your fridge with, what is and isn't "approved" for the week, and exactly what to eat and when, with extra recipes to swap in if you want to customize it.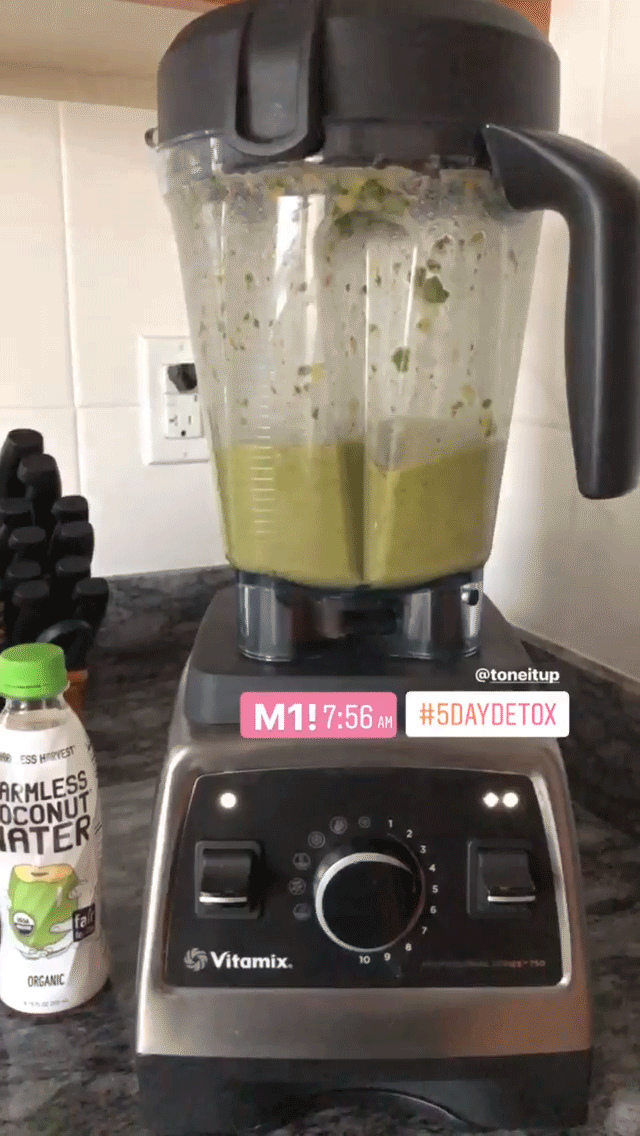 I'm obsessed with this smoothie. And making smoothie packs ahead of time made life even easier!
The prep at the beginning of the week includes making a big batch of soup, lots of chia pudding, macaroons for midmorning snacks (known as "M2" on the plan), and chopped-up salads that you can store in your fridge and take with you to the office. This made the five days so much easier. I never had to wonder what I was going to eat for each meal.
The No-Booze Thing
I've said it before, but cutting back on alcohol has been one of the most transformative parts of my personal health journey. Though the standard TIU plan doesn't eliminate alcohol (in fact, they're big fans of wine . . . in moderation!), the five-day detox does. And if you can't go for a full-on dry January, you can absolutely do five days without booze — trust me.
The result? Elimination of empty, superfluous calories, no hangovers to prevent morning workouts, a lighter-feeling body, more energy, and clearer skin.
The Workouts
The 5-Day Detox has a list of daily moves for each day (no equipment and easy to do at home), plus suggested workouts you can do on the Studio Tone It Up app. I also supplemented my own workouts, including SoulCycle (five times), Core40 Megaformer, and a toning class at The Assembly (a new wellness space in SF).
I may have personally overdone it on the cardio a little bit (sometimes too much cardio actually upsets my stomach and that definitely was the case on day five of the week), but other than that, I was feeling strong and energized!
The Life Detox
My favorite part of the plan was the call to declutter and "detox" areas of your life. During the week, you're tasked to keep your conversations light and positive, organize your workout clothes, closet, pantry, and refrigerator, set intentions, make your bed daily, get extra sleep, drink more water, and create a bedtime routine with minimal tech time.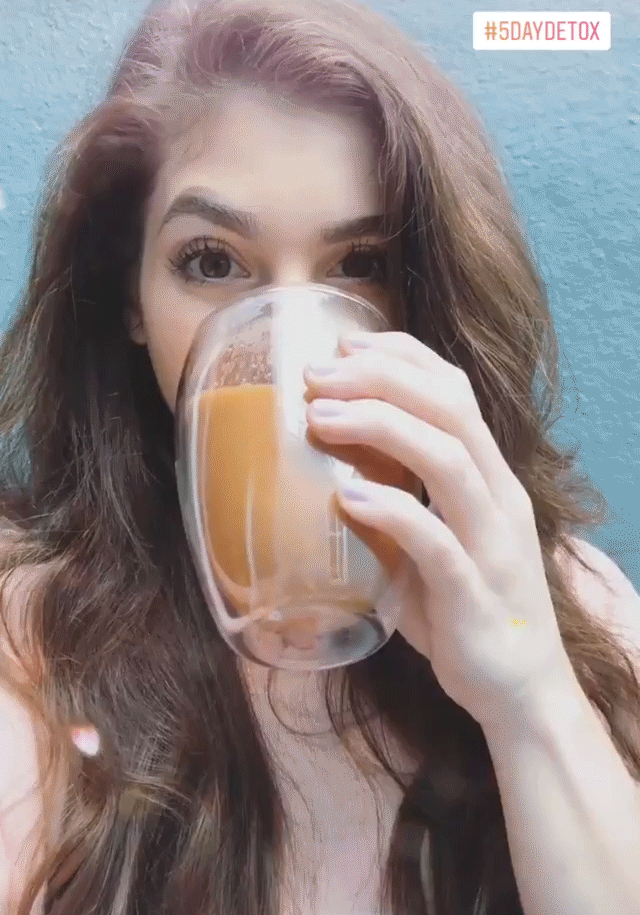 Sipping on soup for M4 in between loads of laundry. Best way to kick off the new year!
I took this as a chance to unpack from my holiday travels, finish my KonMari session on my dresser, do a ton of laundry, and really hit the pause button for myself. In fact, I took one whole day at the end of the detox to take off my Apple Watch, put my phone on "Do Not Disturb," and organize like crazy (in addition to some journaling!). It felt so good to check things off my list and get my life organized.
The Results
Usually at the end of a program or diet, I'm like, "Hell yeah, I did it! Time for waffles." While I did in fact have a waffle after I finished the 5-Day Detox, I also jumped right back into the plan.
My skin has been completely clear, my energy has slightly boosted, and I definitely feel a tiny bit slimmer and more toned. I don't weigh myself, but I feel really confident with my body's results.
I won't sugarcoat it though — the prep is hard work. It definitely took me a good amount of time (and I had my groceries delivered!) to cook the soup, bake the macaroons and chicken, whip the chia pudding, and make smoothie and salad packs. Then came the cleanup.
All that said, the work was well worth the results. I learned I have the capacity to eat healthy even more than I already do — without feeling like I'm missing out — with just a little more planning. If I made a meal schedule for myself every week, I could save money on takeout and to-go lunches at work and save the superindulgent foods for when they really make me feel good, not just when they're convenient. A waffle-fueled brunch with girlfriends on the weekend tastes a lot better than a toaster waffle on a Tuesday night because you don't know what to make for dinner — know what I mean?