Vegan Chocolate Avocado Banana Bread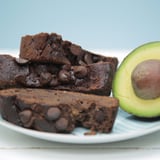 Ingredients
2 tablespoons flax meal
1/4 cup hot water
1 cup gluten-free, all-purpose flour
1/2 cup gluten-free oats
1/2 cup cocoa powder
1 teaspoon baking powder
1/2 teaspoon salt
1/2 teaspoon cinnamon
3 ripe bananas
1 ripe avocado
1 cup coconut sugar
1 teaspoon vanilla
3/4 cup vegan chocolate chips, divided
Nonstick baking spray
Directions
Preheat oven to 350ºF.
Combine flax meal and hot water in a small bowl, and set aside.
Place flour, oats, cocoa powder, baking powder, salt, and cinnamon in a food processor, and process on high until fully blended and oats are the consistency of a coarse flour. Transfer to a large mixing bowl.
Place bananas, avocado, coconut sugar, and vanilla in processor, and puree until smooth.
Add wet ingredients and flax "egg" to dry ingredients, and stir until thoroughly combined. Stir in 1/2 cup of the chocolate chips, and pour batter into a 1 1/2 quart loaf pan that has been sprayed with nonstick baking spray. Sprinkle remaining 1/4 cup of chocolate chips on top of batter.
Bake for 60 to 70 minutes until a toothpick inserted into the center of loaf comes out clean. Allow to cool completely before slicing into eight pieces.
Information
Category

Desserts

Yield

8 servings

Total Time

1 hour, 29 minutes, 59 seconds