Vegan Girl Scout Peanut Butter Patties Recipe
Vegan Peanut Butter Patties
A few notes on the recipe:
If you aren't a fan of Earth Balance, coconut oil will work just as well. Sucanat is dehydrated pure cane juice that preserves all the vitamins and nutrients from the sugar's molasses. If you can't find sucanat at the store, substitute brown sugar.
Soy milk powder is used here in place of powdered sugar to give the filling a drier, more workable texture. You can find it in many natural food stores. If you can't find it, simply replace the soy milk powder and agave with 1/2 to 3/4 cup powdered sugar.
Vegan Peanut Butter Patties
By Anna Monette Roberts
Ingredients
Cookies:
2/3 cup Earth Balance buttery spread or coconut oil
3/4 cup sucanat or brown sugar
3 tablespoons soy yogurt
1 teaspoon vanilla extract
1 cup whole wheat pastry flour
3/4 cup unbleached all-purpose flour
1/4 teaspoon baking powder
1/2 teaspoon salt
Peanut Butter Filling:
1 1/2 cups unsweetened peanut butter
1/3 cup agave
1/2 teaspoon vanilla
1/8 teaspoon salt
1/2 cup soy milk powder, sifted
Chocolate Coating:
2 bags (4 cups) vegan, semisweet chocolate chips
Directions
To make cookies: Preheat oven to 375 degrees F. In a large bowl, sift flours, baking powder, and salt.
In a stand mixer or in a large mixing bowl using a hand mixer, beat Earth Balance until whipped. Add sucanat and cream with "butter" until smooth. Beat in yogurt and vanilla extract. Gradually beat in flour mixture until well combined.
Divide dough in half and wrap each half in saran wrap or wax paper for one hour in the fridge or freezer, or until dough is firm to touch.
When firm, remove dough from wrapping and roll out dough on a floured surface until it is 1/4 to 1/2-inch thick. Use a round biscuit cutter to cut into small round shapes. Use your thumb or a smaller round object to create a depression in the center of each cookie. Use a spatula to place cookies 1 inch apart on cookie sheets laid with parchment paper.
Bake 9-13 minutes, or until cookies are golden. Cool on cookie sheet for 2 minutes, then transfer to a wire rack to cool completely.
To make peanut butter filling: Beat peanut "butter," agave, vanilla, and salt together until well combined. Gradually add soy milk powder until mixture is dry but moldable. If mixture is too wet, add more milk powder until the right consistency is achieved.
To assemble patties: Scoop 1 to 1 1/2 teaspoon peanut butter mixture and form into a ball. Using your thumb, press mixture firmly into the depression of each cookie. Allow cookies to set while melting chocolate.
Temper chocolate chips using a traditional method, or for a quick temper, microwave chips in 30 second intervals at 50 percent power, stirring each time until 2/3 of the chips are melted.
Remove from microwave and stir until remaining chocolate is melted. Check temperature using an instant-read thermometer. Tempered chocolate is 88-91 degrees. If temperature is lower, microwave very briefly (5-10 seconds), stir, and continue to check temperature until it is at the correct tempering range.
Dunk each cookie into tempered chocolate until completely covered, remove with a fork, wiping off excess chocolate back into the bowl using a rubber spatula. Place cookie on parchment paper or silicone nonstick pad to set. Repeat until all cookies are covered. If tempered chocolate becomes cool, microwave very briefly (5-10 seconds) until it is at the tempering range once again.
Makes 3 dozen cookies (one cookie equals a serving).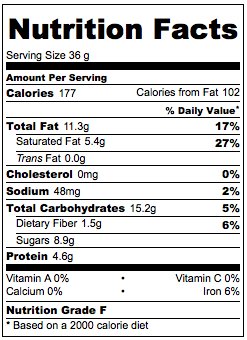 Source: Calorie Count
Information
Category

Desserts