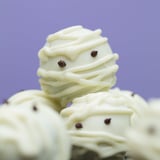 Ingredients
8 full sheets (16 squares) vegan graham crackers
1/2 cup pumpkin purée
1/2 cup coconut oil, melted and cooled
1/2 cup smooth almond butter
1/4 cup maple syrup
2 teaspoons pumpkin pie spice
1 teaspoon vanilla
1/4 teaspoon salt
4 cups vegan white chocolate chips
1/4 cup vegan semisweet chocolate chips
Directions
Place graham crackers in a food processor and pulse until finely ground. Add pumpkin purée, coconut oil, almond butter, maple syrup, pumpkin pie spice, vanilla, and salt and process until smooth. Place in a bowl and refrigerate at least 1 hour, until firm enough to scoop.
Use a scoop to measure 2 tablespoons at a time and roll into 12 balls. Place on a parchment-lined baking sheet and freeze 45 minutes, until completely firm.
Place white chocolate in a glass bowl and microwave on defrost for 1 minute. Stir, and continue to heat and stir, 30 seconds at a time, until melted.
Remove pumpkin balls from freezer. Insert a toothpick into the side of each truffle. Dip into melted chocolate, using a spoon to coat completely. Allow excess to drip back into the bowl, and place on a parchment-lined baking sheet. Once all truffles have been coated, refrigerate immediately for 20 minutes, until completely set.
Transfer remaining white chocolate into a squeeze bottle. Melt semisweet chips in microwave and place in a pastry bag with a small round tip.
Remove truffles from refrigerator and remove toothpicks. Squeeze reserved white chocolate in uneven stripes along the top and bottom of each truffle, leaving space in the middle for the eyes. Pipe semisweet chocolate "eyes" on each truffle and refrigerate until ready to serve.
Information
Category

Desserts

Yield

12 servings

Total Time

1 hour, 59 minutes, 59 seconds