Vegan Pumpkin Mac and Cheese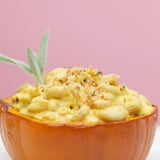 Ingredients
1 small sugar (pie) pumpkin
1 tablespoon olive oil
1 cup raw cashews, soaked overnight
1 cup diced, cooked potato
3 tablespoons vegan butter
1 small shallot, chopped
2 tablespoons nutritional yeast
1 tablespoon lemon juice
1 teaspoon Dijon mustard
1 teaspoon paprika
Salt and pepper to taste
1 pound cooked whole-wheat pasta
Topping
1/2 cup panko breadcrumbs
2 tablespoons vegan butter, melted
2 teaspoons finely chopped fresh sage
Garnish
Fresh sage leaves
Directions
Preheat oven to 400ºF.
Cut pumpkin in half and remove seeds (and save to roast for a tasty snack). Brush inside with olive oil and place cut side down on a parchment-lined baking sheet. Bake for 30 minutes, until soft and beginning to brown. Allow to cool to the touch and use a large spoon to scrape flesh from skin. Discard skin. Sauté shallot in vegan butter until soft and translucent.
Place soaked cashews and 1 cup water in a food processor and process until very smooth and creamy. Add pumpkin, potatoes, shallot, nutritional yeast, lemon juice, salt, mustard, and paprika and process until smooth.
Turn on broiler. In a small baking dish, toss panko breadcrumbs with melted vegan butter and chopped sage; broil for 1 minute, until crisp and golden brown.
Cook pasta in boiling water and drain, reserving a little of the cooking water. Transfer sauce to a medium saucepan and heat gently, adding a little pasta water to thin if necessary. Season to taste with salt and pepper. Pour over cooked pasta.
Spoon into bowls and sprinkle with toasted breadcrumbs and sage leaves.
Information
Category

Pasta

Yield

6 servings

Total Time

1 hour, 9 minutes, 59 seconds