Vegan Thin Mint Recipe From Babycakes
Babycake's Thin Mints
For a shiny sheen to the chocolate coating, I recommend tempering the chocolate first. It takes a little bit longer, but it will make the cookies look beautiful and give them a nice snap when bitten into. I recommend freezing the cookies to keep them crisp and fresh for longer enjoyment.
Ingredients
1 1/2 cups Bob's Red Mill All-Purpose Gluten-Free Baking Flour
1 cup vegan sugar
1/2 cup unsweetened cocoa powder
1/4 cup arrowroot
1 1/2 teaspoons xanthan gum
1 teaspoon baking soda
1 teaspoon salt
1/4 cup melted refined coconut oil or canola oil
1/3 cup unsweetened applesauce
2 tablespoons vanilla extract
1 cup vegan gluten-free chocolate chips
3 tablespoons mint extract
Directions
Preheat the oven to 325° F. Line two rimmed baking sheets with parchment paper and set aside.
In a medium bowl, whisk together the flour, sugar, cocoa powder, arrowroot, xanthan gum, baking soda, and salt. Add the coconut oil, applesauce, and vanilla and mix with a rubber spatula until a thick dough forms.
Drop the dough by the teaspoon full onto the prepared baking sheets about 1 1/2 inches apart. Gently flatten each mound of dough, smoothing the edges with your fingers. Bake for 7 minutes, rotate the baking sheets, and bake for 7 minutes more. Let stand on the baking sheets for 15 minutes.
Meanwhile, combine the chocolate chips and mint extract in a small saucepan and place on medium heat. Stir until the chips are just melted. Do not overcook. Remove from heat. Dunk the top of each cookie into the melted chocolate and place in a single later on a platter. Refrigerate the cookies for 30 minutes, or until the chocolate sets.
Makes 30 cookies (one cookie is a serving).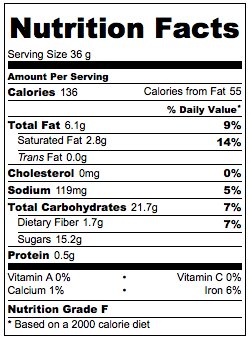 Source: Calorie Count
Information
Category

Desserts, Cookies