What Is Bobsledding?
A Team USA Bobsledder Shares Exactly How to Watch the Olympic Sport at Home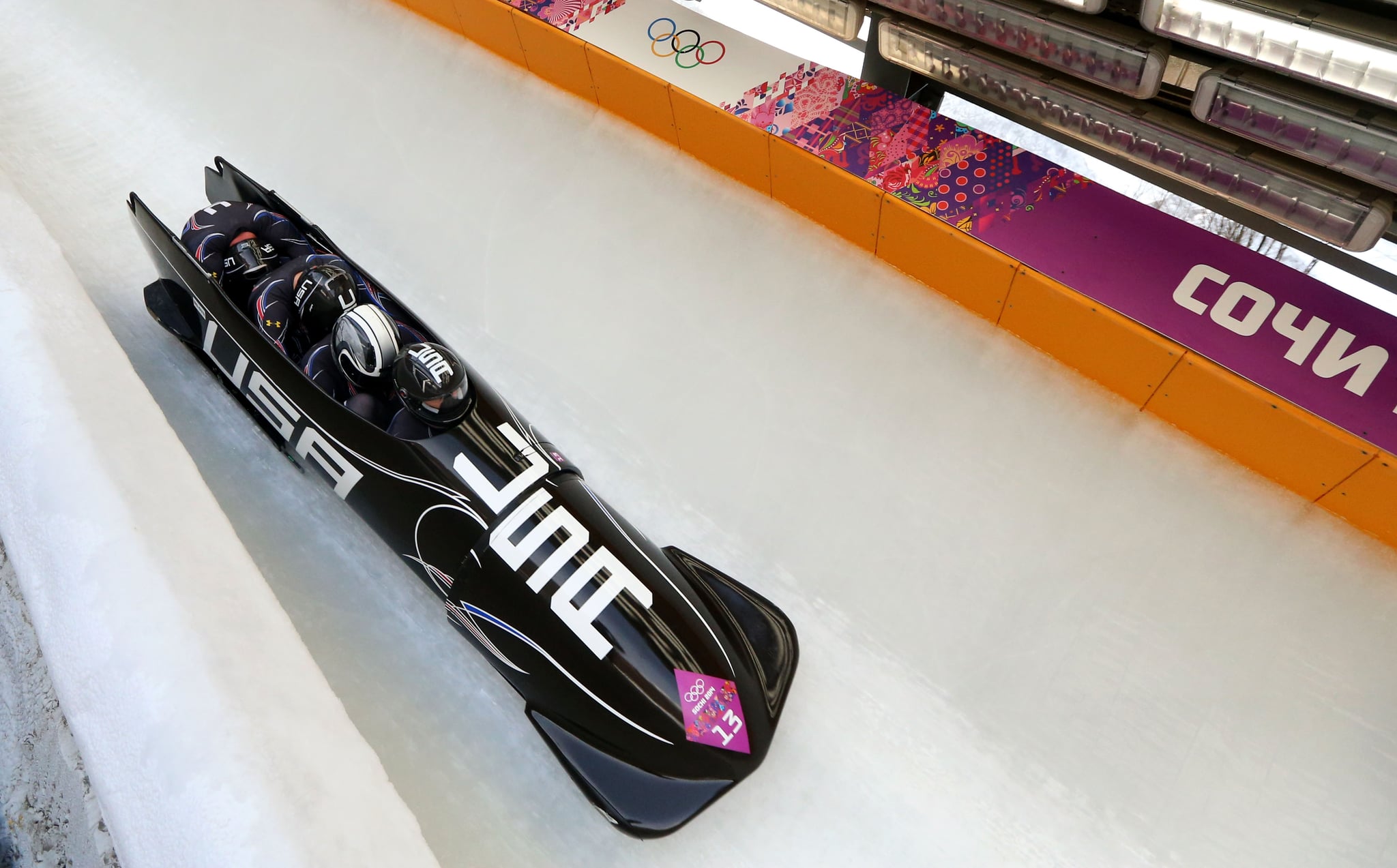 Envision yourself hurtling down a slick, icy tube — in a "vehicle" with no brakes, no steering wheel, and no airbags — at roughly 100 miles per hour. Terrified? You should be. Welcome to bobsledding.
It's no wonder the Winter Olympics are (hilariously) known to be unbelievably death-defying. With sports like bobsledding (where your fate — and your direction — rests in the hands of a pilot that uses a pulley system made up of ropes, in addition to your ability to become as aerodynamic and still as possible, all while nearly flying down a slippery ice luge to your impending doom and/or Olympic medal), Olympians transcend athleticism and become a combo of daredevil and superhero. Team USA bobsledder Carlo Valdes would happen to agree with this.
We chatted on the phone with Valdes, who is currently in Pyeongchang preparing for his Olympic debut. And of course, we had to ask: but why?! "It's not for the weak-minded," Valdes told POPSUGAR, emphasizing that a lot of the sport comes down to mind-over-matter.
"Bobsledding draws the attention of adrenaline junkies like myself," he said. "There's that initial fear when you hop into the sled, but you can't really think about crashing or not making it down. You have to let everything go, and clear your mind." He referred to the push athletes like himself as "mindless beasts" who are "trying to be out of our minds as much as possible — just [think about] pushing and being fast."
"It's not a smooth ride . . . it's actually a very violent ride. It's really taxing on the body."
Did you have any idea bobsledding was such an insane, death-dodging sport? "Most people only really know [bobsledding] through Cool Runnings," Valdes said (can't argue that). He told us that tourists who have this Disney-inspired mindset attempt to experience "Bobsled light" at tourist resorts in Park City or Lake Placid (where Valdes currently resides) are pretty freaked out by passenger rides.
"They think it's crazy, and they're only going 60 miles per hour!" he laughed. Mind you, Space Mountain at Disneyland is only 35mph. Valdes told us, "The fastest we [Team USA] have gone this year was 96 mph in Whistler." God help us.
According to Valdes, almost everything with bobsledding comes down to the initial push off the block. "We're focused on giving the pilot the fastest push possible," he said. From that point on, it becomes a bit of a dance. The men (or women, depending on the event) load into the sled in a choreographed order ("It takes a lot of time to get in sync") before tucking down to minimize drag. "We have to make sure we're low in an aerodynamic profile," he said. "Any type of drag is slow, and the goal is to go down the track as fast as possible."
"The fastest we have gone this year was 96 mph in Whistler."
In addition to being absolutely terrifying, the mile-long (give or take) ride is also "very uncomfortable." Sounds . . . fun? "There are no seat belts, no cushioned seats; it's not a smooth ride . . . it's actually a very violent ride," Valdes said, describing it in a way that most would describe a rickety roller coaster. "There's a lot of shaking, it's really loud, and if you hit a wall at any point, you can feel it like a football hit — it's really taxing on the body." The former NCAA football player told POPSUGAR that he'd compare doing two bobsled runs in a day to playing an entire football game.
Now that you have all that context, here's what you can expect to see:
The initial push: push athletes will get the sled off the block. The force and speed at this point is paramount to the team's success. "Definitely pay attention to start times and how we're pushing and loading the sled," said Valdes.
The loading: "We all start to load in the sled in a synchronization, one at a time," he said. Watch how quickly and smoothly this happens — and then wait for everyone to tuck in for aerodynamics!
The turns: "Pay attention to how a pilot is coming off and onto turns," he said, noting that this can impact speed. He told us specifically to look at "corner 12" in Pyeongchang. "You'll know what I mean when you see it."
We'll be using this guide and watching in horror awe as we root for Team USA in Pyeongchang on NBC.
Image Source: Getty / Mike Ehrmann