Why You Have to Be Positive to Lose Weight
The 1 Word That's Destroying Your Chance at Losing Weight and Being Healthy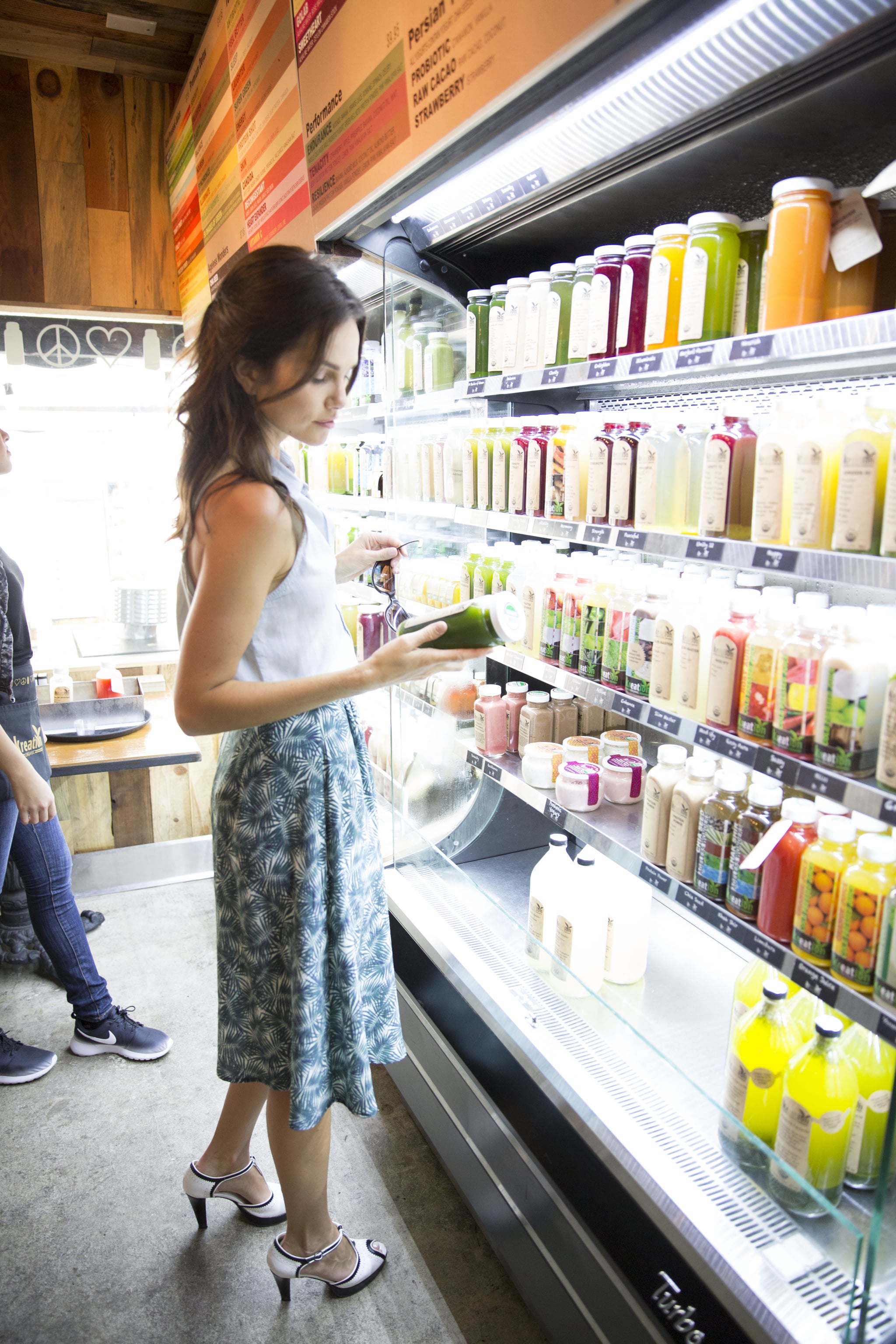 Sitting motionless in my kitchen, staring blankly and hopelessly at my pantry, I felt the onset of an anxiety attack.
As a complete and total omnivore (I truly eat all the foods), it was the first time I didn't know what I was "allowed" to eat — and I was SO hungry. My doctor had just put me on the low FODMAPs diet, which is in my opinion, the most confusing, unnavigable, impossible diet on the planet, with conflicting information from so many sources. The list of things you can't eat seemed infinite . . . no peaches, no wheat, no milk, no fruit juice or avocados or honey (there are quite literally hundreds of items). I focused so much on the "no" list, that I had zero idea what to eat. I sat there paralyzed (and honestly, starving, with a low-blood sugar that probably exacerbated this situation). Panic started to creep in.
If I had focused more on what I could eat, I would've realized that scrambled eggs would've been a great option. I could've eaten a banana or an orange, or even made myself some oatmeal with coconut milk. I also would've prevented a panic attack, which would've been really nice.
This made me realize how much we focus on what we can't do, versus what we can, and how much that word "can't" paralyzes us in so many ways — especially when it comes to diet and exercise.
Have you felt this way with your food? So much anxiety and unnecessary stress stems form this idea of what we can't do, can't have, can't eat. I have watched friends start their new life as vegans, feeling their frustration of what they can't eat, without focusing on all the good, delicious foods they love that they can eat. Sure, you can't eat Kraft Mac 'n' Cheese anymore, but you totally can eat that quinoa veggie bowl you love, and also that fruit smoothie, and that spaghetti dish. By focusing on what we can eat, we liberate ourselves from a crippling list of can'ts.
When I talked to a woman named Brooke who had lost over 100 pounds, she said she focused less on what she couldn't eat, and instead concentrated on adding in healthy foods (one green vegetable) to every meal. This empowered her to make better, healthier decisions, without feeling like she was cut off from things she loved.
This also applies to fitness. For years I told myself (and others), "I can't do that, I'm not an athlete," or "I can't do that, I'm not fit," or "I can't run, I'm slow." So again, I was paralyzed. It was the opposite of empowering; I did no sort of physical activity for years upon years, and never attended a yoga class, or went to a gym. The second I stopped focusing on what I couldn't do, and focused on what I could — in this case, it was "I can actually move my body forward for several miles at a slow pace without dying" — I opened myself up to an entire world of healthy activity.
The "I can move my body forward," became "I can run a mile," (albeit a very slow one). That became "I can run three miles," which eventually became "I can run a half marathon." I stopped focusing on can'ts in other areas, and started small with the things I could do — one thing led to another, and now fitness plays a central role in my life.
I needed a reminder of this the other day when I started the Low FODMAPs diet. And honestly, I feel like I need a reminder of this in several areas of my life! When we only see what we can't do, we miss out on so much of what we can, and it gets in the way of our everyday life — we end up shortchanging ourselves.
Don't get in your own way, and don't paralyze yourself with your words. Empower yourself! What can you do? What can you eat? What can you try? Go for it!
Image Source: POPSUGAR Photography / THEM TOO