XLine Dubai Fountain
I Came in Like A Wrecking Ball: Everything That Happened When I Ziplined Across The Dubai Fountain
XLine Dubai

We ziplined across the Dubai Fountain this weekend-- have you tried it yet? See what we thought -> http://me.popsugar.com/fitness/XLine-Dubai-Fountain-40548151

Posted by POPSUGAR Middle East on Sunday, March 13, 2016
XLine Dubai, the zipline that runs from Burj Residences in Downtown Dubai across the Dubai Fountain to the Dubai Mall, has been in place for a few months, but the chance to zipline past some of Dubai's most iconic landmarks was only recently opened to the public. Though I had no interest in being pushed off (albeit while harnessed in) a 90m high building, and riding for 588 meters across the fountain, an early Friday morning phone call from a friend convinced me otherwise, and within an hour, I was hesitantly standing on the ledge of a residential skyscraper, preparing to take the leap. Here's what happened next:

1. Signing the waiver
I didn't think I was about to zip across the largest fountain in the world without signing my life away, but the extensive document was a bit daunting. I did what any slightly-terrified person would do: put my signature on the dotted line without reading a word, and hoped for the best.
2. Can I take a selfie?
After the whole group got fitted with harnesses, I had a seriously pressing question: can I take a selfie??? Luckily, the pros at XLine Dubai are accustomed to people whose primary reason for ziplining is for a good photo opp, and they're happy to strap your phone to your hand with a rubber band so it doesn't fall as you're snapping away mid-air. Added perk: they'll secure your bag to your harness with a carabiner, so you don't have to head back to the starting point after your ride.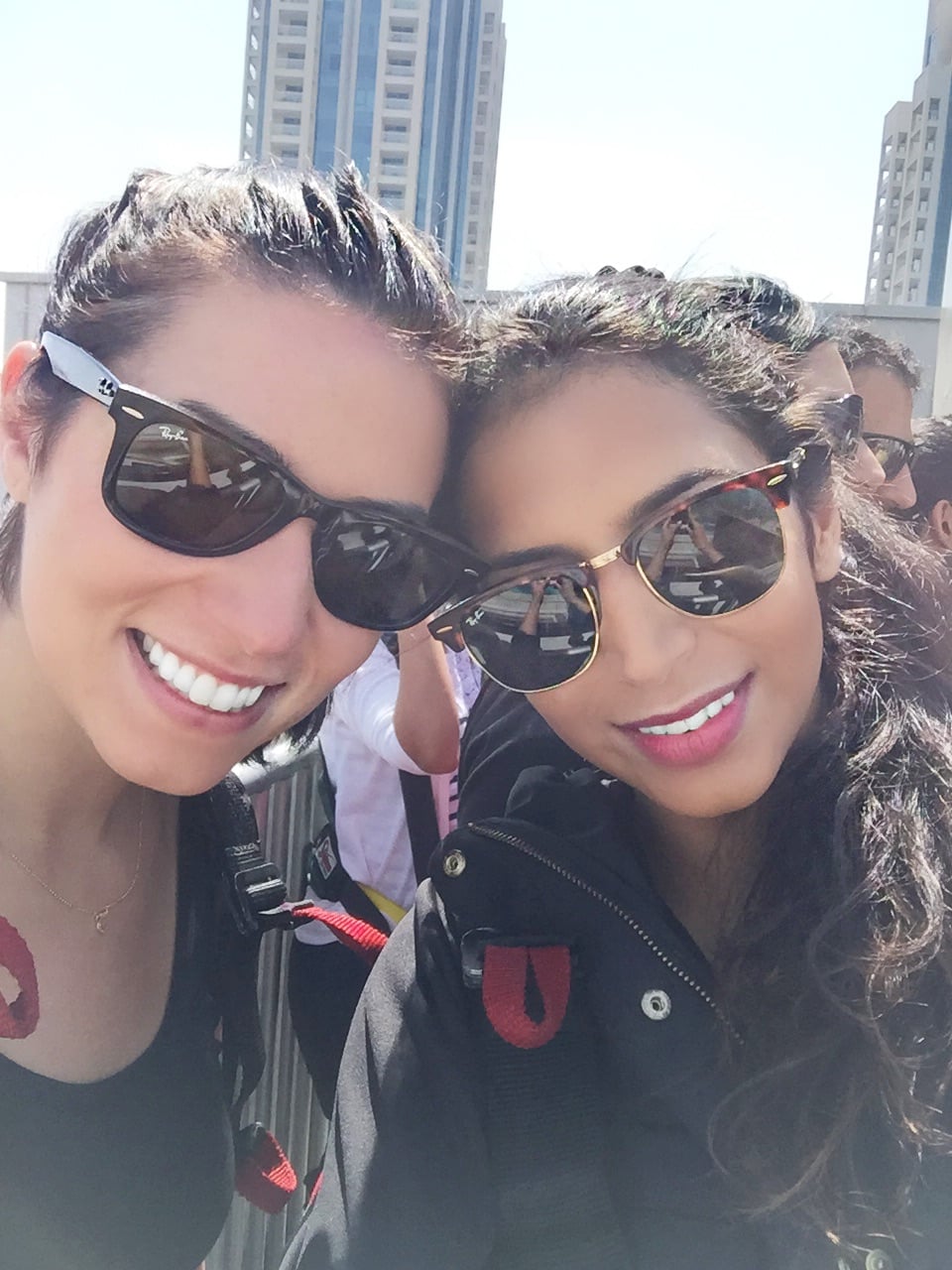 3. Thanks, but no thanks
Once you're harnessed in, and have taken a picture of yourself in the harness, they lead you to the very top of the building and to the launch platform, and it's not until then that you realize how high you really are. The view is incredible: you can see for miles in every direction, and a view of the fountain, the Burj Khalifa, and the Opera District (still under construction) has never been so good. But you also get a view of the spindly looking wire you're about to be attached to, and the medieval-looking device that's supposed to keep you safe as you fly 588m to safety. If you're considering backing out, this is the time to do it.
4. If I don't Instagram this, did it even really happen?
When it's finally my turn to go, I inch out to the platform, where two Australian guys grab me by the harness and expertly (I hope) attach me to the wire above my head. They strap my bag to my lap, make sure my phone is secured in my hand, and send me flying. My first thought as I fly over Burj Park and past The Palace Hotel? I can't reach the camera button on my phone!! This is a disaster.
5. #YOLO
The breeze is so nice up there, and I felt so secure in my harness, that I quickly got over the fact that I wouldn't be able to take one photo. In retrospect, it was better this way. I would've hated to have spent my entire ride trying to capture the perfect selfie.
6. I spent how many dirhams?
The main reason I'm glad I didn't waste my ride starting at a phone screen is because at 600 AED a ride, it would've been pretty lame to be looking at my iPhone the entire time. As I landed on the rooftop of the Dubai Mall, I broke down the cost. The ride takes 30-45 seconds depending on your weight, so even if your ride took the full 45 seconds, that's still 13 AED a second...and I can look at my phone for free all day long.
7. Worth it
Overall, the ride was worth it--- especially because I had an amazing friend on the other end capturing my batman-like landing. This truly is a #onlyindubai moment.
If you want to try it for yourself, you can zipline through the end of March. Tickets are available at the XLine kiosk next to Social House on the ground floor of the Dubai Mall.
Plus, if it's good enough for Sheikh Hamdan, it's good enough for me!