If you don't have a lot of time and you want to ignite your abs, a quick, high-intensity workout is exactly what you need. This ab workout is going to work your obliques, your rectus abdominals (the six-pack muscles), and your transverse abdomnis (your deep core muscles); you're going to be winded once it's over. Grab a towel and some water, because it's about to get sweaty!
The 10-Minute HIIT Ab Workout
Complete each exercise for 30 seconds, and take 15 seconds of rest in between each move. It doesn't matter how many reps you complete within the 30-second time frame; focus on your form. Take 45 seconds to one minute of rest in between each round. Complete three rounds.
Mountain climber: 30 seconds
Side plank dip: 30 seconds (15 seconds on each side)
Seated knee tuck: 30 seconds
Up-down plank: 30 seconds
Russian twist: 30 seconds
Mountain Climber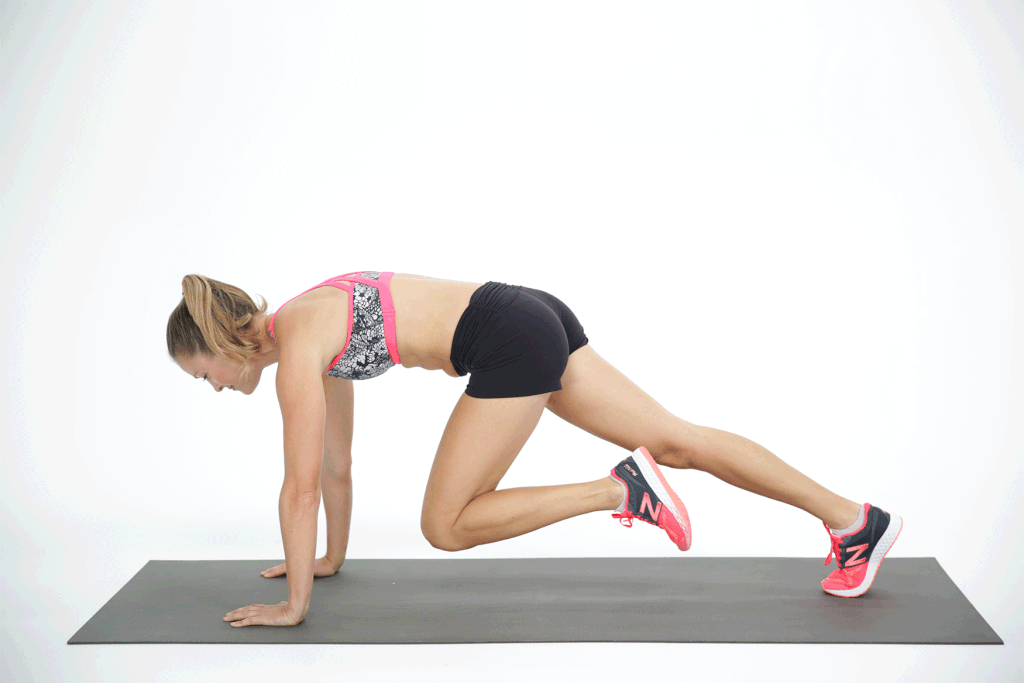 Start in a traditional plank — shoulders over hands and weight on just your toes.
With your core engaged, bring your right knee forward under your chest, with your toes just off the ground. Return to your basic plank. Switch legs, bringing your left knee forward.
Keep switching legs and begin to pick up the pace until it feels a little like running in place in a plank position.
Continue "running" in your plank for 30 seconds.
Side Plank Dip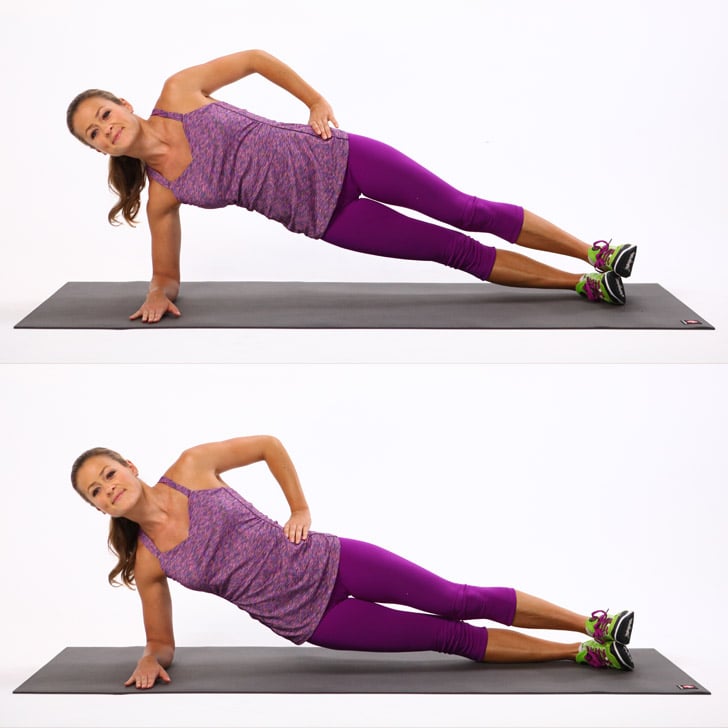 Begin in a side elbow plank on your right side with your heels stacked.
Inhale and lower your pelvis to the floor, so your right hip hovers just off the floor. Exhale and press up through your right waist to lift your pelvis and return to side plank. Pull your right shoulder blade down your back to stabilize your shoulder.
Continue for 15 seconds on each side.
Seated Knee Tuck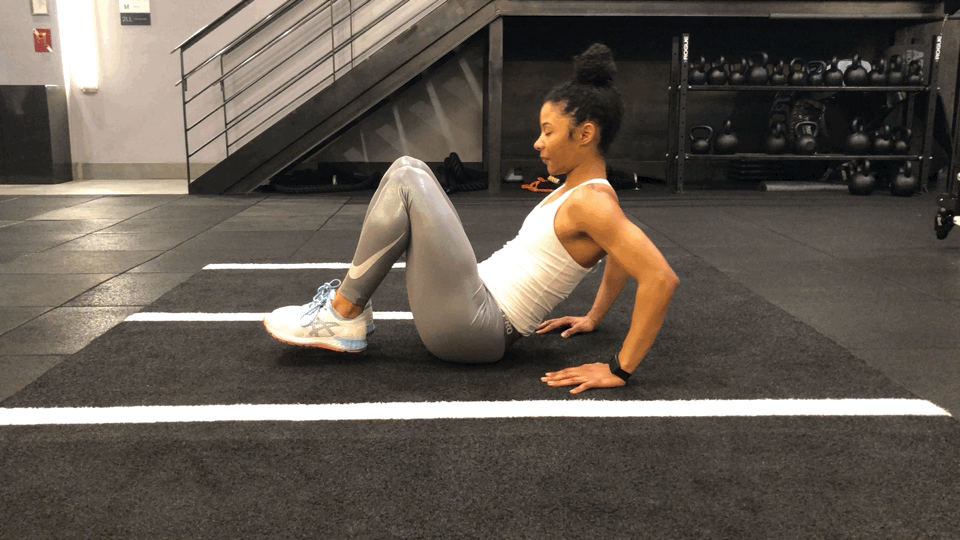 Start seated on the ground or on a weight bench. Place your hands about an inch behind your back with your fingers facing forward. Your feet should be on the ground.
Lift both feet up off of the ground and extend both legs as you simultaneously lower your upper body. Be sure to get full extension at your hips and legs.
With control, bring your legs back to your chest without touching the ground with your feet and return to the starting position.
Continue for 30 seconds.
Russian Twist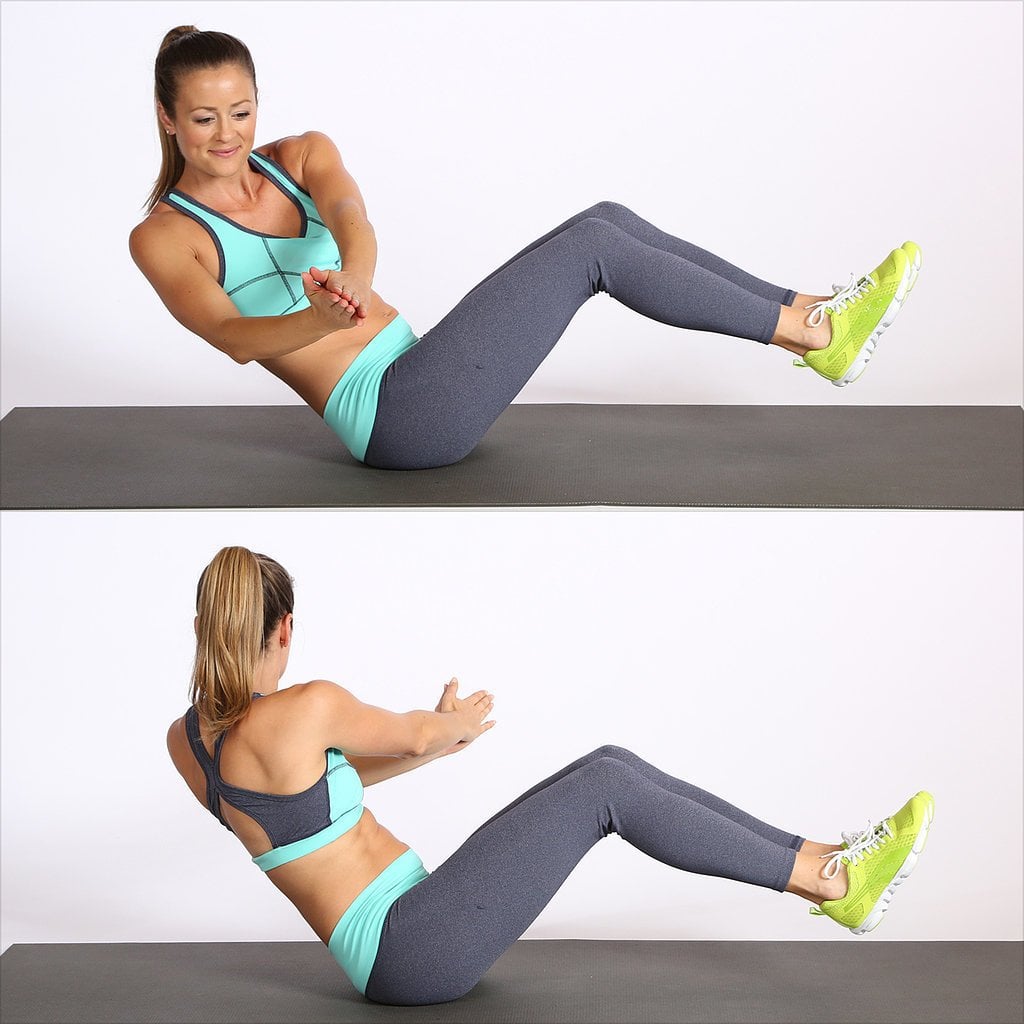 Sit on the ground with your knees bent, pull your abs to your spine, and lean back a few inches while lifting your feet off the floor. Be sure to keep your back straight.
Reach your arms out in front of you, and twist your torso to the right, then to the left. This counts as two reps.
Continue for 30 seconds.