How to Do a Wall Ball Sit-Up to Strengthen Abs and Arms
I Thought This Sit-Up Variation Would Target Just My Abs, but My Arms Were Also Toast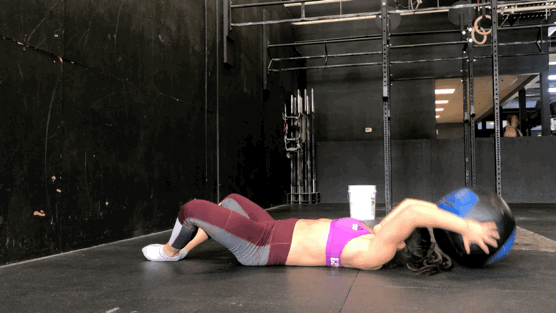 Four minutes of wall ball sit-ups. That was at the end of a recent CrossFit workout I took, and I was floored by how much this exercise worked my arms — they got sore faster than my abs!
Jade Jenny, head CrossFit coach and owner of Champlain Valley CrossFit said to choose a lighter sized medicine ball if you're doing tons of reps such as more than 30 (eight to 10 pounds), but don't be afraid to challenge yourself and go heavier with less reps (12 to 20 pounds).
Wall Ball Sit-Ups
Equipment needed: soft medicine ball and an optional Abmat for extra comfort to place under your lower back
Sit in front of a wall with the soles of your feet together and knees out wide. Play around with the distance your feet are from the wall; you may prefer to be closer than what's shown above.
Holding the medicine ball at your chest, lean back and lie on the floor, bringing your arms overhead, tapping the ball on the floor.
As you perform a sit-up, bring the ball in front of your face and throw it at the wall. As the ball bounces back, catch it at your chest.
This counts as one rep.