How to Manage Anxiety While Home Due to Coronavirus
How to Manage Stress and Anxiety While at Home For Long Periods of Time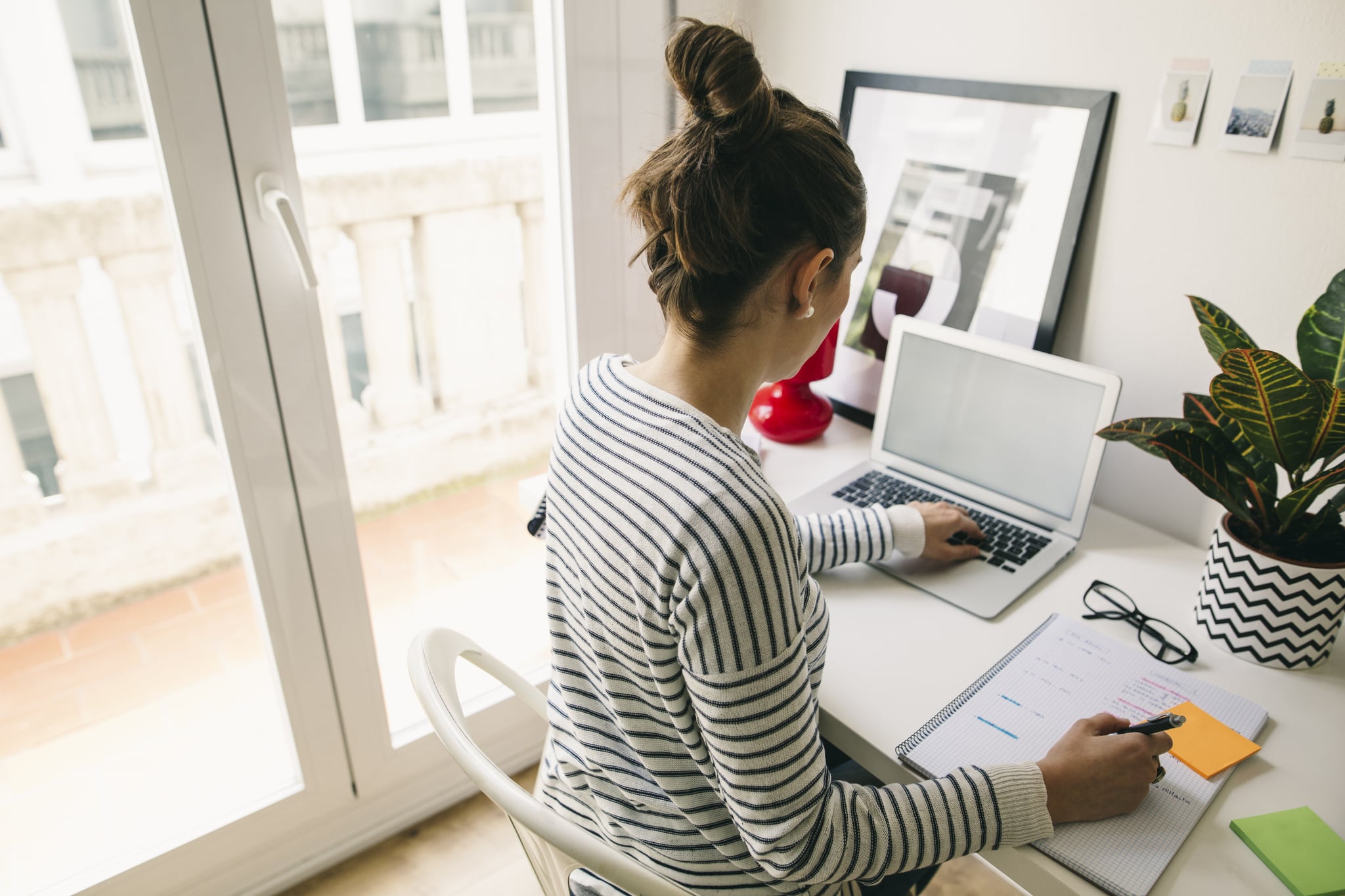 As the country takes action to combat the rapid spread of the global coronavirus pandemic, your current living space might be getting a bit too comfortable. There are different restrictions in place depending on where you live — and you can still go out to buy groceries and essential supplies at the moment — but, for the most part, where you reside is quite literally the home base where you need to stay for your own safety and the safety of others.
No matter what your situation is — whether you're working remotely, out of work because of these circumstances, or trying to pass the time with your kids — being at home can feel isolating, and Lynn Bufka, clinical psychologist and senior director for practice, research, and policy at the American Psychological Association, wants you to know that getting anxious or stressed is normal. The gist of it is that your regular routine has most likely been disrupted. Plus, this unprecedented time can be extra stressful.
You might not be as involved in activities that are meaningful to you, Dr. Bufka said. There's less stimulation. "You're seeing the same four walls of your apartment, and you may not have as much social engagement. For some people, there may be significant financial strain if they're not able to work during this time, and they may not have access to the kinds of things that they do to cope like working out, going to the gym, or attending religious services." All of this, she said, can affect your mental health.
"There are a lot of things that individuals can do to offset the experience of feeling isolated," Dr. Bufka explained. Everyone can feel the effects of isolation, but if you have a mental illness, isolation can add a significant stressor to what you're already dealing with, she said. Ahead, you'll find tips from Dr. Bufka for those experiencing stress or anxiety while being cooped up at home.
Keep a Routine
Generally, if you're used to having a structured schedule, it may be hard to cope with the fact that you no long have that same routine. "Finding things and setting up a structure around the things that keep you going is really critical. . . . If you've got a routine, it keeps you focused on what you need to do and you don't get stuck in your worries," Dr. Bufka said, adding that the foundation for a good routine is made up of the following:
"It's especially important for those with a mental illness such as bipolar or depression to keep a routine," Dr. Bufka said. A schedule helps manage their symptoms. For example, if you struggle with depression, you might not have the energy or motivation to get moving and go about your day, she explained. We understand that having to stay home during this time can make things even more difficult; that's why trying your best to sustain a schedule despite the circumstances is important.
Stay Connected With Family and Friends Virtually
"People who really want the social contact and don't have a lot of it because they live alone, because they're not able to interact with coworkers, or whatever it is that they might be doing, it may feel particularly stressful," Dr. Bufka said of our current situation. Her suggestions? Take advantage of technology. Even if you're practicing physical distancing from your peers, that doesn't mean it has to be actual social distancing, too. Set up a coffee date with your friends via BOTIM and C'Me. Reach out to family and friends who might be more isolated and aren't as comfortable with laptops or phones. You can still find ways to stay connected to the world and your loved ones. Note: that's why Dr. Bufka and other mental health officials are using the phrase "physical distancing": you can still have a social life, just not in the traditional sense.
Try a New Hobby or Activity
Dr. Bufka said you can try pursuing an interest that you've always had and never really considered. For instance, she said that her friend told her that he's now learning all sorts of music theory. Hobbies bring us joy and keep us productive. Here are over 20 different ones, like journaling and knitting, to try by yourself.
Support Your Community
"When we remember that we're all in this together and that we're doing this for an important reason . . . we're trying to reduce the overall community risk . . . that does help us feel better about the situation," Dr. Bufka said of coronavirus. You can purchase online gift certificates to favorite stores and restaurants that have limited hours or have closed their doors temporarily so they have some cash flow, she suggested. You can also, she said, donate to local organizations that will provide some rent or utility support for people who can't work right now. Another idea? Go grocery shopping for a neighbor who shouldn't be going out. "Doing those kinds of things that help us feel like we're making a positive difference really helps with our overall well-being," Dr. Bufka noted. Here are more ways you can give back during this time.
Reach Out to a Mental Health Professional
If you already have ongoing therapy sessions, Dr. Bufka said to keep those consistent during this time. Many therapists have started offering teletherapy via phone or video, so reach out to see if this is available for you. If you're new to these types of therapy sessions, check with your insurance provider to see if those specific costs are covered. And lastly, feeling anxious about anything related to coronavirus? Check out these expert-approved tips for how to cope.