Jump Rope Exercise Tips For Beginners
Here's How to Jump Rope (From Square One!) For a Calorie-Burning, Full-Body Workout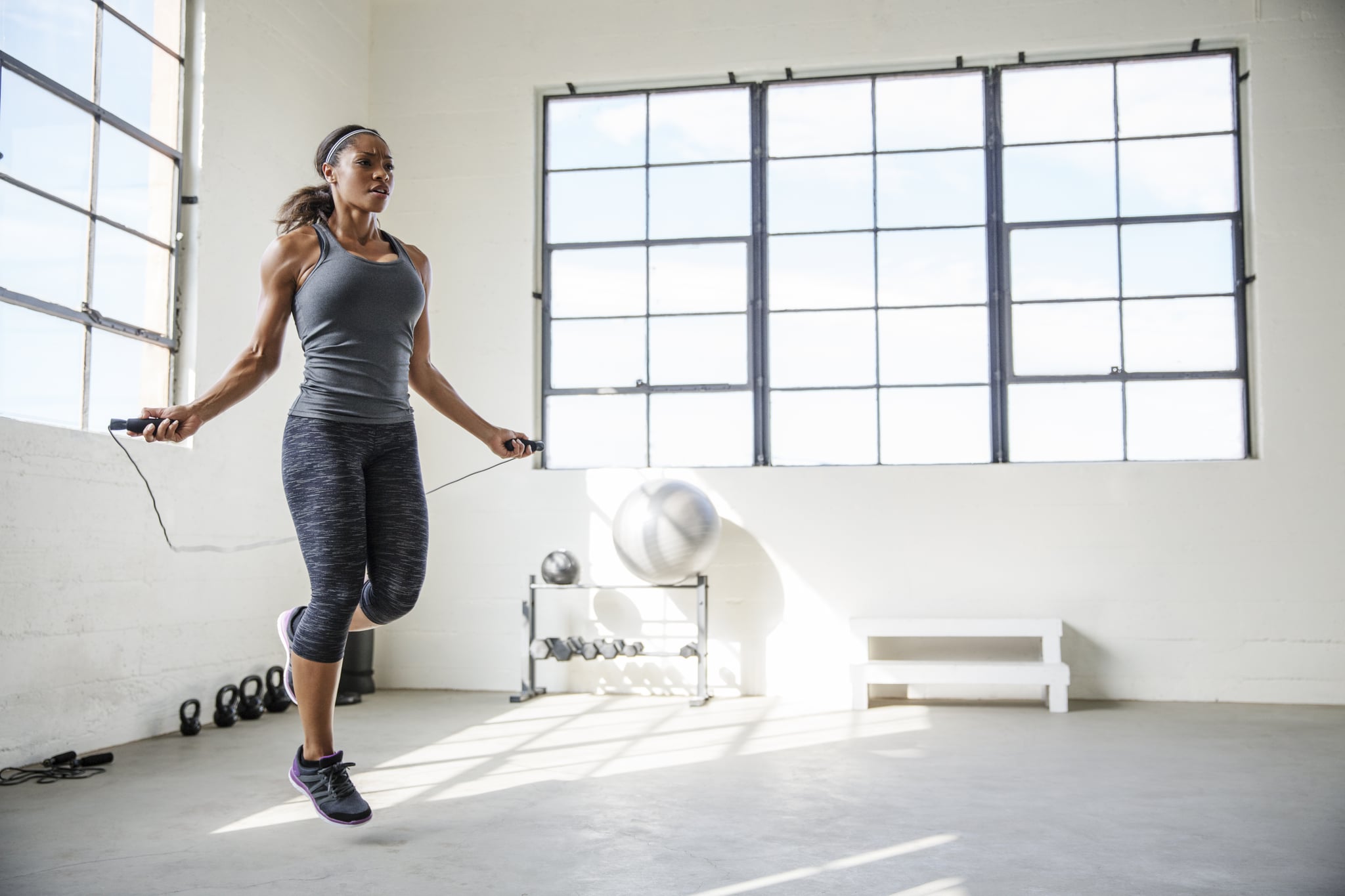 Don't consider jump rope workouts a lost cause just because you've tripped your way through multiple attempts. With the right modifications — like ditching your rope altogether (yes, that's step one!) — the full-body workout could become a staple of your weekly fitness routine.
"Getting the rhythm down is key," Devan Kline, a NASM-certified personal trainer and the co-founder and CEO of Burn Boot Camp, says."Standing with your hands by your side, jump into the air. While in mid-jump, tap on the side of your legs. That would be a typical rotation of the rope, without the rope."
Once you're confident with this modification, try for double unders (a rotation of the rope two times within one jump) by tapping your legs twice, Kline adds. Eventually, you can add the rope in as you continue to focus on that rhythm — just as long as your line is the right size.
According to Kline, if you're 5'3'' or shorter, chances are you'll need an eight-foot rope. Anyone 6' and up will probably need a 10-11 foot rope. Those in between should find that a nine-foot line fits them well.
If you're in the market for a new rope, Kline suggests speed ropes for beginners. Speed ropes are slightly weighted, which makes it easier to propel the line into a full rotation.
You've laid the groundwork and are prepped with the right equipment — now, it's time to hone your skills, starting with proper hand positioning.
"It doesn't matter how you hold [the jump rope] as long as your wrists are loose and fluid. If you tense up your wrists, it [will] make it harder to get the rope around," Kline notes.
And since you're well on your jump roping way, let's discuss how to avoid frustrating setbacks, like injuries. Keeping your feet together and landing softly is a great habit worth forming, Kline says: "Really rely on those calf muscles to absorb the land so that you don't run the risk of rolling your ankle." When jumping rope outside, avoid lines made of wire covered in plastic — these can easily break after consistent contact with the pavement. Kline explains that sturdy plastic or metal ropes are usually the best options.
As your confidence builds with the help of our tricks and tips, try dipping your toe into a beginner jump rope workout. Kline suggests jumping rope throughout the entirety of a song that motivates you. Once you've completed that song, rest for 30 seconds before picking another song — repeat this pattern until you've listened to three songs. "[This] is a quick and simple way to get some calories burning but doesn't require you to worry about reps or time. Just give it your all," Kline says.
All you needed was some guidance to get started. With plenty of practice, you'll soon appreciate just how effectively jumping rope can burn calories and tone your whole body.
Click here for more health and wellness stories, tips, and news.