No-Churn Skittles Ice Cream
No-Churn Skittles Ice Cream
From Yasmin Alishav, POPSUGAR Food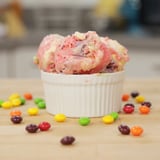 Ingredients
For Skittles syrup:
1/3 cup red Skittles
1/3 cup orange Skittles
1/3 cup yellow Skittles
1/3 cup green Skittles
1/3 cup purple Skittles
1/3 cup water
1 teaspoon each Kool-Aid powder in red, orange, yellow, green, and purple
For ice cream:
2 1/3 cups heavy whipping cream
1/8 teaspoon sea salt
1 can sweetened condensed milk
Directions
To make Skittles syrup: In a small saucepan, combine each color Skittles with the water. Bring to a simmer until the Skittles are completely dissolved and the mixture has reduced by half, about 3-4 minutes.
Allow to cool and add corresponding Kool-Aid powder. Mix until dissolved.
To make ice cream: Combine cooled Skittles syrup with 1/3 cup heavy whipping cream and salt and whip together until the mixture has soft peaks. Gently fold in 1/3 cup sweetened condensed milk.
Freeze all 5 flavors separately for about 5 minutes to allow the ice cream to firm a bit.
To assemble: Using a spoon, gently spoon 1 mixture at a time into a cake pan or any other vessel you'd like to use for this ice cream. Freeze for a minimum of 2 hours. Scoop all 5 flavors together for swirl effect, and dig in!
Information
Category

Ice cream

Yield

4-6 servings

Total Time

2 hours, 59 minutes, 59 seconds