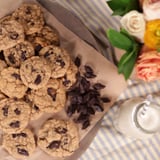 Ingredients
1 can white beans or garbanzos, drained and rinsed
1/2 cup quick oats (or certified gluten-free quick oats)
1/4 cup peanut butter
1 teaspoon pure vanilla extract
1/4 teaspoon baking soda
1 teaspoon baking powder
1/4 teaspoon salt
1/3 cup brown rice syrup
1/3 cup unsweetened baking chocolate, cut into chunks
Directions
Preheat oven to 350°F. Place a piece of parchment paper or a Silpat over a baking sheet.
In a food processor, blend everything (except the chocolate) very well in a good food processor. However, if you like a cookie with more texture, you can simply mash the beans with a fork and then mix all the ingredients together by hand. Mix in the chocolate.
Bake for 8-10 minutes, or until cookies are golden brown. Let stand at least 5 minutes before transferring to a wire rack to cool completely.
Information
Category

Desserts, Cookies

Yield

About 1 dozen cookies