Animal Style Grilled Cheese
Animal Style Grilled Cheese
From POPSUGAR Food and The Seaside Baker (for the secret sauce)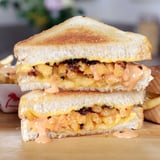 Ingredients
For the secret spread:
1/2 cup mayonnaise
1/2 cup ketchup
2 tablespoons dill pickles, finely chopped
1 teaspoon yellow mustard
1/2 teaspoon salt
1/2 teaspoon ground pepper
1/2 teaspoon sugar
1 teaspoon apple cider vinegar
For the sandwich:
1 teaspoon vegetable oil
1/4 cup diced onions
2 tablespoons butter
4 slices Texas toast
4 slices American cheese
1/2 cup cooked french fries
1/4 cup secret spread
Directions
Make the secret spread: Mix together the mayonnaise, ketchup, dill pickles, yellow mustard, salt, pepper, sugar, and apple cider vinegar.
Heat vegetable oil in a sauté pan set over medium-high heat. Add onions and cook until deeply caramelized. Remove from heat.
Butter 4 slices of bread and place butter-side down on a skillet set to medium-high heat. Add a slice of American cheese to each piece of bread. Top 2 pieces of bread with a handful of french fries, the grilled onions, and secret spread. Top with the remaining slices of bread. Let cook until toasted. Flip the sandwich, and continue to cook until the cheese is melted and the bread is warmed all the way through. Remove the sandwich and enjoy!
Information
Category

Sandwiches

Yield

2 servings

Total Time

14 minutes, 59 seconds