Avocado Chocolate
These Avocado Truffles Look Like the Fruit Too!
We've put avocados in chocolate pudding and Fraps, so what's next? Chocolate truffles! These creamy truffles combine white and dark chocolate with delicious avocados and crunchy pistachios for an out-of-this-world flavor combination. The best part? They even look like tiny avocados! If you're not sold on avocados and desserts yet, this recipe will make a believer out of you.
Want more avocados? Try our avocado cupcakes.
Avocado Truffles
From Kevin Smith, POPSUGAR Food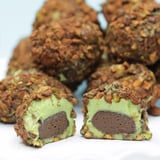 Ingredients
Inner chocolate truffle:
2/3 cup dark chocolate chips
2 tablespoons heavy cream
1/2 medium avocado
Outer white chocolate truffle:
1 3/4 cups white chocolate chips
1/3 cup heavy cream
1 1/2 medium avocados
Coating:
2 cups pistachios, finely chopped
2 tablespoons cocoa powder (plus more for coating your hands)
Directions
Combine the dark chocolate and heavy cream in a microwave-safe bowl. Heat for 30 second intervals, stirring well after each time. Do this for 1-3 minutes, or until a smooth, thick consistency is achieved.
Pour the melted chocolate into a food processor with the avocado. Process until smooth and scrape the sides as needed.
Pour into a bowl and refrigerate for at least an hour.
Repeat these exact steps for the white chocolate portion.
Once your chocolate has firmed up, coat your hands in cocoa powder and roll half-teaspoon-size balls of chocolate. Place them on a sheet tray and refrigerate until they firm back up (30 minutes to an hour).
Combine your chopped pistachios and cocoa powder in a bowl.
With hands coated in powdered sugar, place about a tablespoon of the firm white chocolate mix into your palm. Place one of the dark chocolate balls on top and carefully envelop it in the white chocolate. Roll the ball into your pistachios and place it on a sheet tray. Repeat this for each truffle.
Refrigerate once more until firm.
Information
Category

Desserts

Yield

24 truffles
Image Source: POPSUGAR Photography / Olivia Kuan