Ayesha Curry's Key Lime Pie With Cinnamon Toast Crunch
Take Key Lime Pie to the Next Level With Cinnamon Toast Crunch
If you're looking for a smooth, creamy Key lime pie with a little twist, then look no further than this recipe by Ayesha Curry. Her secret? A Cinnamon Toast Crunch crust that takes the classic dessert to a whole other level. Created for her Key-lime-loving husband Stephen Curry, this pie is sure to be your new favorite.
For more Ayesha Curry recipes, check out her meal delivery service, Homemade.
For more cereal in your life, try this delicious Fruity Pebbles cheesecake.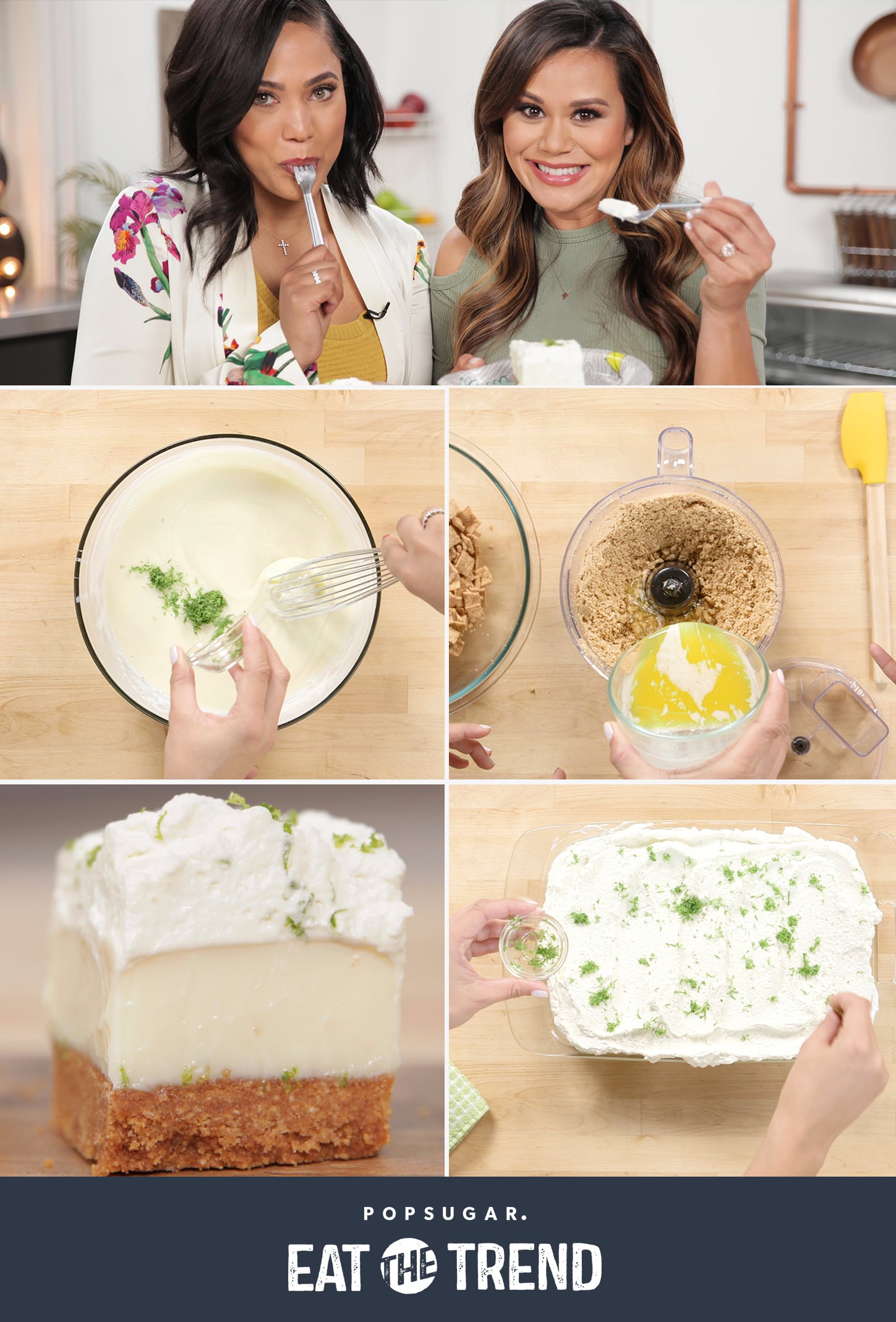 Notes
Although this recipe calls for Key limes, regular limes work just fine.
Ingredients
For the crust:
1 (16.2 ounce) box Cinnamon Toast Crunch cereal
12 tablespoons (1 ½ sticks) unsalted butter, melted
¼ cup packed dark brown sugar
For the filling:
6 cups sweetened condensed milk
1 cup sour cream
1 cup freshly squeezed Key lime juice
1 tablespoon grated Key lime zest
For the whipped cream:
2 cups heavy whipping cream
2 tablespoons powdered sugar
1 teaspoon pure vanilla extract
1 tablespoon grated Key lime zest
Directions
To make the crust:
Preheat oven to 350°F.
In a food processor, pulse together the cereal, butter, and brown sugar until crumbly. Pack the crust into the bottom of a 9-by-13-inch baking pan, leaving the sides clean. Bake until the crust is lightly toasted, about 10 minutes.
To make the filling:
While the crust bakes, whisk together the condensed milk, sour cream, lime juice, and lime zest in a large bowl. As soon as the crust comes out of the oven, carefully pour in the filling and place it back in the oven until the filling starts to set, about 10 minutes. Carefully remove the pie from the oven and let it cool to room temperature. Refrigerate the pie until chilled all the way through, at least 1 hour, though overnight is best.
To make the whipped cream:
Combine the cream, sugar, vanilla, and lime zest in a bowl and beat with a whisk or an electric mixer until the cream forms soft peaks when the whisk is lifted out of the bowl. (Or use a stand mixer with the whisk attachment — this will make things go faster, so watch it carefully.) Spoon the whipped cream on top of the pie, top with lime zest to garnish, then cut into squares and serve.
Information
Category

Pies/Tarts

Yield

Serves: 8-10
Image Source: POPSUGAR Photography / Kyle Hartman