Bateel's Confit of Duck, Date and Parmesan Polenta Recipe
A Date and Parmesan Polenta Side Makes This Confit of Duck Dish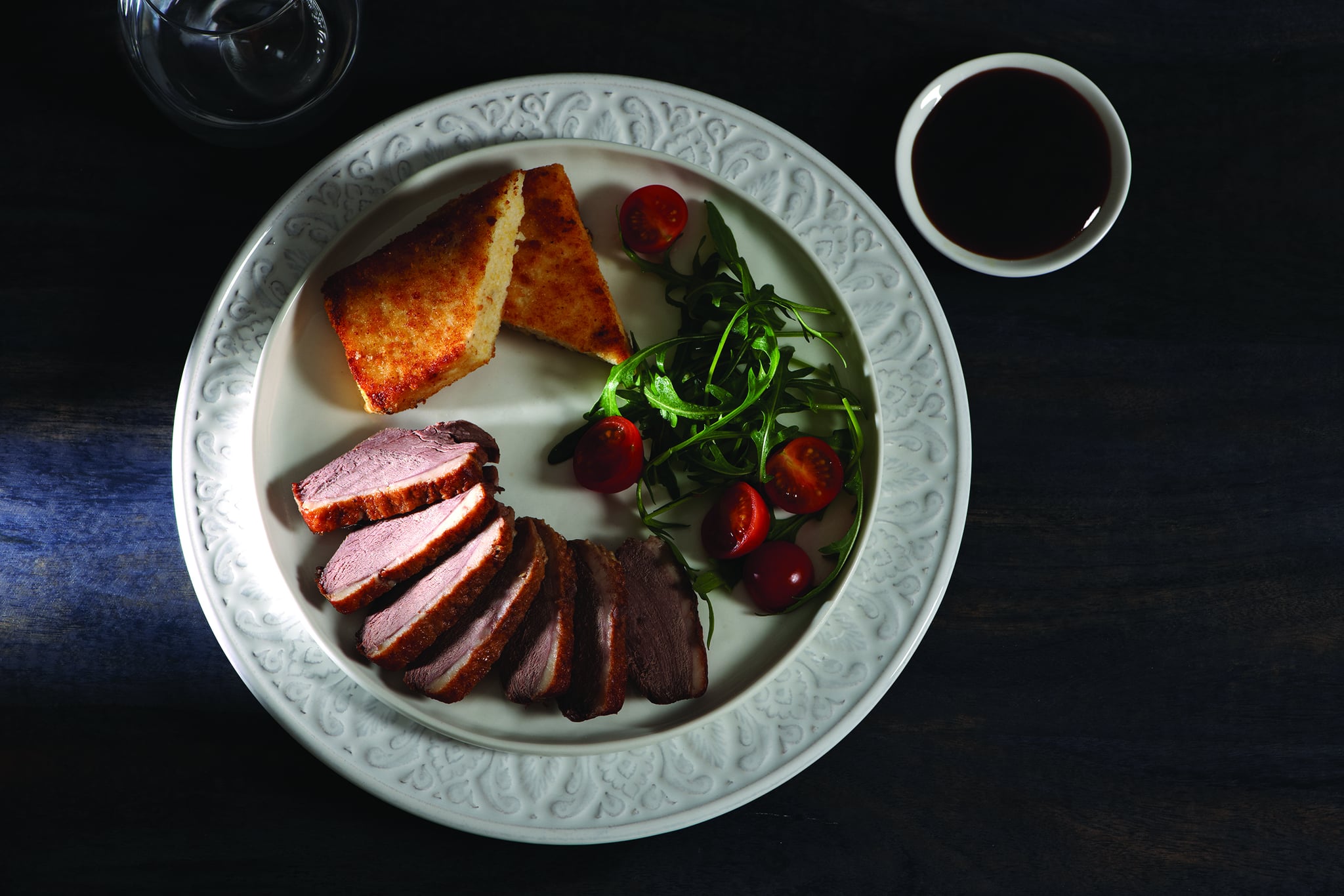 The date and Parmesan polenta brings unique flavors to this otherwise traditional duck dish. Here's how to make Bateel's popular dish.
Confit of Duck, Date and Parmesan Polenta Recipe
Bateel
Ingredients
4 duck breasts
80 g rock salt 
800 g duck fat (can be bought at a gourmet food store or upscale supermarket)
SPICY DATE SAUCE 
100 g date dhibs 
50 g acacia honey (any light-coloured honey is fine) 
1 dessertspoon veal stock (use stock powder or cube to prepare) 
1 dessertspoon soy sauce
1⁄4 teaspoon zaatar powder
1⁄4 teaspoon cumin powder
1⁄4 teaspoon coriander powder
1⁄4 teaspoon chili pepper
1 dessertspoon white vinegar 
DATE AND PARMESAN POLENTA 
75 g polenta (a cornmeal product found in the Italian section of many supermarkets) 
325 ml chicken stock (use stock powder or cube to prepare) 
75 ml cooking cream 
25 g Wanan dates (chopped finely; Khidri, Nabout Selma or Nabout Seif dates can also be used) 
Salt (to taste)
25 g Parmesan cheese (grated)
1 egg beaten
50 g breadcrumbs 
SALAD GARNISH
50 g wild rocca lettuce
50 g diced tomato
25 ml balsamic dressing 
Directions
Clean the duck breasts, then marinate them with olive oil and rock salt. Let them sit in the fridge for 24 hours.
The following day, warm the duck fat in a pot at around 60 °C.
Put the marinated duck breasts into the heated fat and cook for about 6 hours.
As an easier option:
Duck confit is also sold in cans of 4 portions pre-served in duck fat available in the deli section of upmarket supermarkets.
Confit of duck portions can be found in vacuum packs with 2 portions per pack.
Remove the duck portions from the duck fat. In accordance with the packet instructions; roast the duck confit portions at 180 °C fan oven for 15 minutes.
SPICY DATE SAUCE
Heat the date dhibs and honey together in a saucepan. Bring to a boil.
Add the remaining sauce ingredients.
Simmer for about 5 minutes, then strain with a strainer and set aside.
SALAD GARNISH
Bring the chicken stock to a boil in a saucepan. Add the polenta in a steady stream stirring vigorously with a wooden spoon.
When the polenta is bubbling, add the cooking cream.
Continue simmering until the mixture thickens, then stir in the finely chopped dates and grated Parmesan cheese. Salt to taste.
Pour onto a round tray to cool. Once cooled, cut into triangles.
Place the beaten egg onto a plate and dip the polenta pieces one by one.
Next, dip the pieces in breadcrumbs. Panfry until golden and set aside.
Now crisp the skin of the confit duck pieces.
Warm the spicy sauce and arrange the duck and polenta on a plate.
Pour the sauce over the duck breast slices and serve with a side salad of wild rocca, diced tomato and balsamic dressing.
Information
Category

Main Dishes

Yield

4
Image Source: Bateel