Bateel's Qahwa Nougat Cake Recipe
Challenge Your Baking Skills With This Qahwa Nougat Cake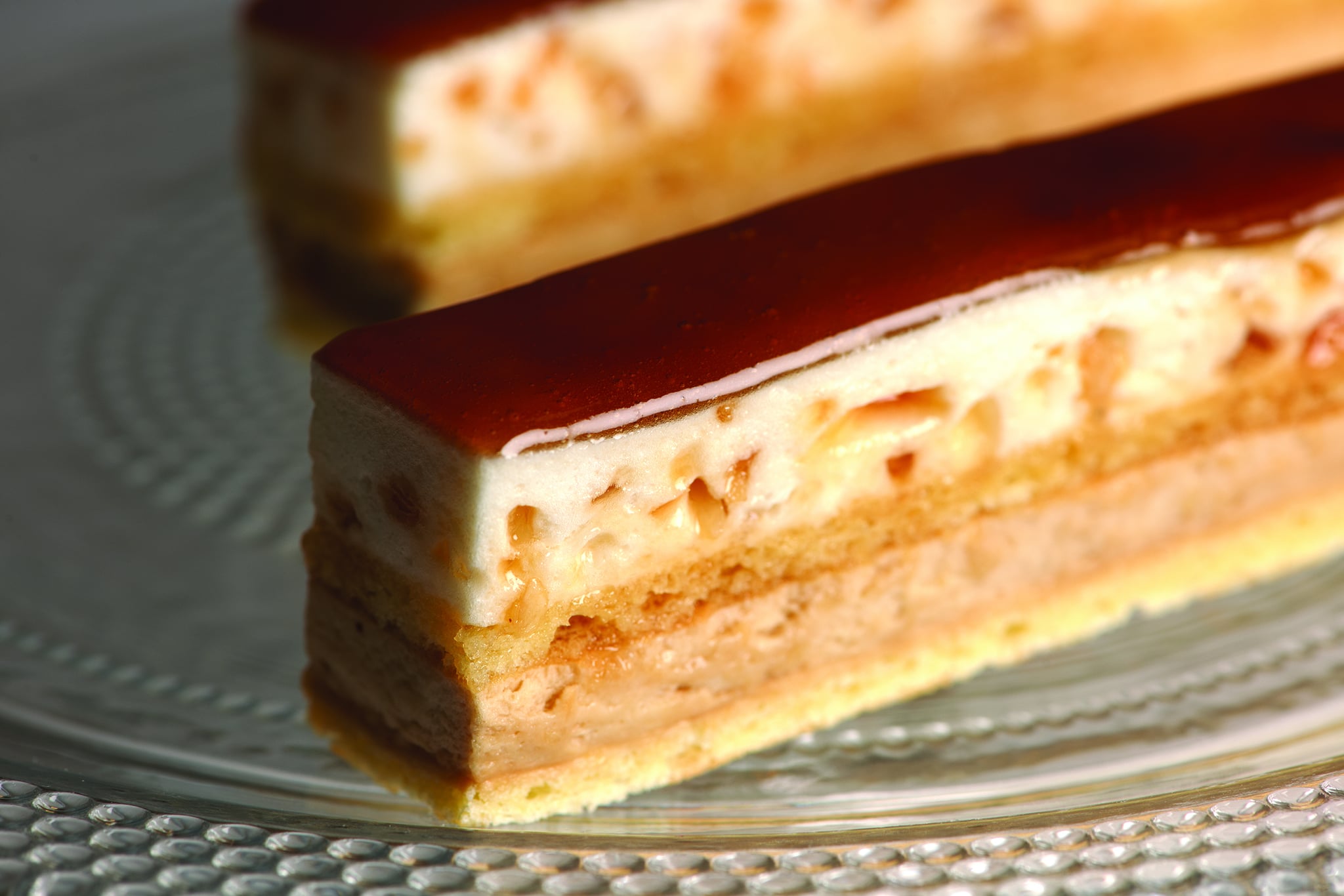 Making this layered Qahwa Nougat Cake from Bateel certainly isn't easy but if you consider yourself a boss in the kitchen, we challenge you to take this on!
Ingredients
ALMOND GENOISE SPONGE 
3 eggs
75g sugar
25g flour 
1 teaspoon baking powder
50g powdered almonds
50g melted butter 
QAHWA MOUSSE
1 egg yolk
60g white chocolate (pieces)
85ml cream (35%)
8g coffee extract
1 leaf gelatin
3 cardamom pods 
NOUGATINE
50g sugar
20g almond flakes 
NOUGAT MOUSSE
1 egg white
100ml cream (35%)
2 leaves gelatin 
60g sugar 
Coffee beans and chocolate sprinkles (enough to decorate the cake) 
Directions
ALMOND GENOISE SPONGE
Whip eggs and sugar together until light, pale and creamy (this should take about 10 minutes).
Using a large metal spoon, fold sifted flour and baking powder into the egg mixture.
Add half of the powdered almonds and repeat the folding process, and once again with the remaining powdered almonds until all are carefully incorporated.
Drizzle the melted butter around the edge of the egg mixture and carefully fold in trying to keep the mixture as light as possible.
Pour the mixture into a 20 cm buttered and floured cake tin lined with baking parchment.
Bake at 180 °C fan oven for 15 minutes. Use a skewer to test if cooked through.
Cool on a wire rack.
ASSEMBLING THE CAKE

Cut the cold almond sponge into two even halves.
Spread half of the raspberry mousse onto the nut and date mixture.
Cover with one layer of sponge.
Spread with the remaining raspberry mousse. Top with the second layer of sponge.
QAHWA MOUSSE
Shell the cardamom and crush the seeds.
Infuse the crushed cardamom seeds in the cream for 10 minutes.
Put the pieces of white chocolate in a bowl.
Strain the cream while pouring over the chocolate.
Add the egg yolk and mix well.
Soak the gelatin in some cold water until it melts, then add to the mix.
Add the coffee extract.
Place a first disk of dacquoise sponge in a 20 cm diameter baking ring. Pour in the qahwa mousse mixture.
Cover with another disc of dacquoise sponge and store in freezer for half an hour.
NOUGATINE
Heat the sugar in a little water until it becomes a light caramel.
Add the almond flakes.
Pour onto a mat of baking paper. Let cool until completely cold.
NOUGAT MOUSSE
Whisk the egg white and sugar into a meringue.
Soak the gelatin in some cold water until it melts. Mix the melted gelatin with the cream.
Fold the gelatin/cream mix delicately into the meringue.
ASSEMBLING THE CAKE
Add the crushed nougatine to the nougat mousse.
Pour the mixture into the baking ring over the layer of dacquoise sponge. Freeze for two hours.
Decorate the cake with coffee beans and chocolate sprinkles.
Information
Category

Desserts

Yield

9