Beef Chorizo Croquette with a Honey Mayo Dip Recipe
Make Beef Chorizo Croquettes With a Honey Mayo Dip From Scratch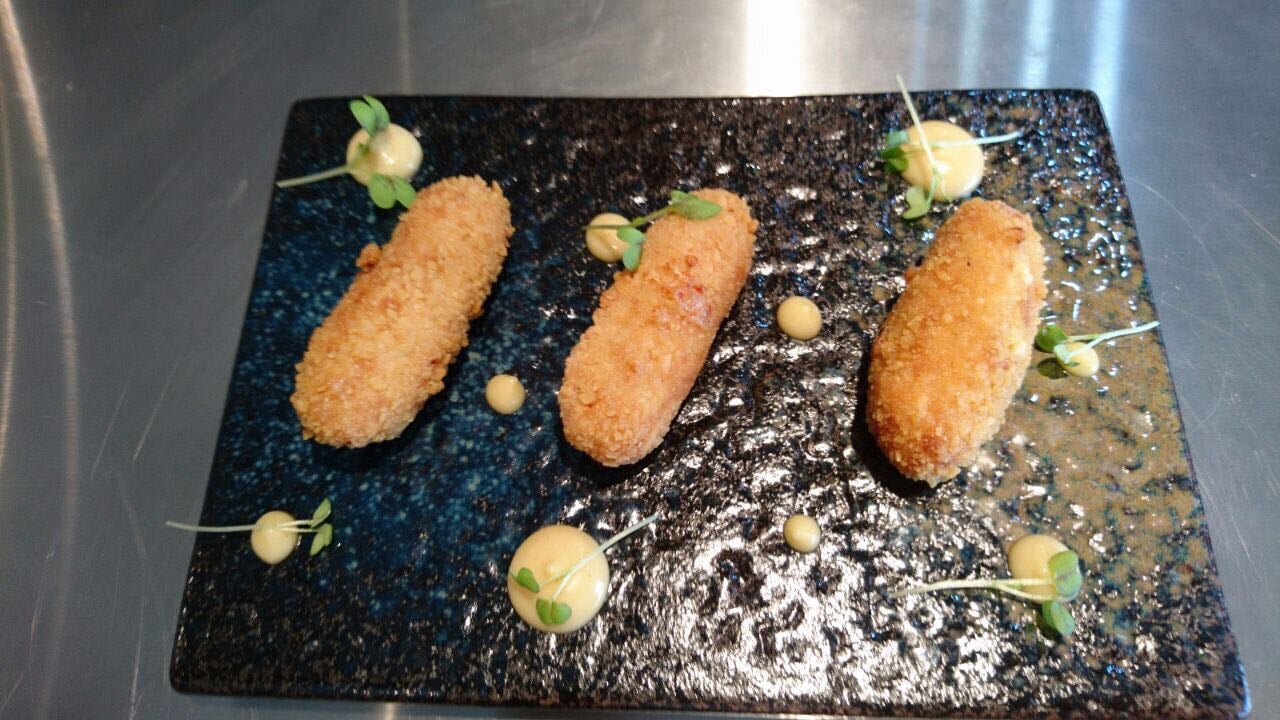 Thanani restaurant recently opened, serving up Modern European cuisine with a view over Ajman. Try making their Beef Chorizo Croquettes With a Honey Mayo Dip from scratch at home.
Beef Chorizo Croquette With a Honey Mayo Dip
Thanani
Ingredients
150g Beef chorizo
500g Milk
75g Butter
110g Flour
100g Bread crumbs
3 Whole eggs
5g Salt
100g Additional Flour for Coating
FOR THE DIP:
60g Pasteurized egg yolk
10g White wine vinegar
20g Dijon mustard
100g Honey
225g Sunflower oil
2g Salt
Directions
Dice the chorizo and pan fry it on a low heat. Once nice and crispy, drain to separate from the oil. The oil can be used for other dishes.
Warm the milk and melt the butter in a separate pot.
Once the butter is melted, add the flour and cook on a low heat for about 5 minutes.
Slowly add the milk, whisking constantly.
Add the cooked and diced chorizo.
Once all the milk has been added, cook for a further 5 minutes on a low heat or until the texture is firm and creamy.
Remove from the fire and let it cool for 30 minutes at room temperature.
Transfer to a container and refrigerate for at least 4 hours (ideally overnight).
Roll balls of 26g each (recipe makes 28).
Prepare 3 containers: one with flour, one with bread crumbs and one with the whole eggs whisked.
Coat the croquette balls in flour, then egg and finally in the bread crumbs.
Store in the fridge until ready to eat.
For frying, heat up the oil in a table top fryer (if you don't have one use a deep pot with oil). Fry for approximately 4 minutes at 180C or until golden brown.
FOR THE DIP:
Add all the ingredients except the oil to a blender.
On a medium speed, blend all ingredients and slowly start to add the oil to emulsify and create the mayo texture.
Once all the oil is added, switch off the blender and taste for the seasoning.
Information
Category

Appetizers

Yield

5-6

Total Time

14 minutes, 59 seconds