Beef Tacos
Bring Mexican Street Food To Your Kitchen With These Beef Tacos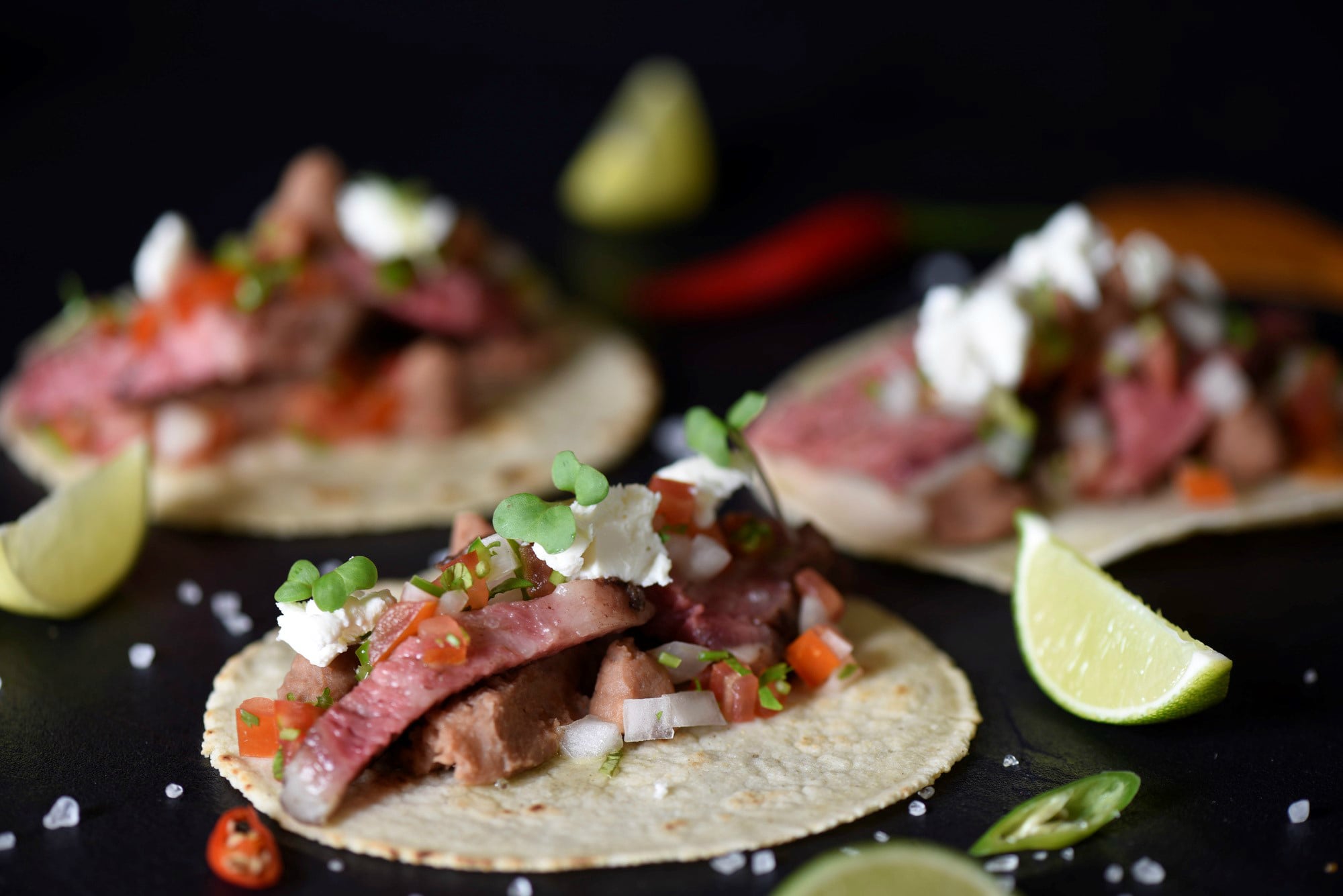 Carne Asado tacos (Beef Tacos) can easily be created from scratch in the comfort of your kitchen. Try this recipe from Chef Manuel at Dubai restaurant, Zoco (makes 25).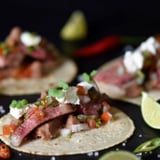 Ingredients
500g Corn flour
10g Salt
700g Warm water
FOR THE SALSA ROJA:
300g Tomato
100g Onion
30g Fresh green chille
10g Garlic
10g Fresh chopped cilantro
90ml Chicken stock or water
FOR THE GUACAMOLE:
500g Avocado
3 pieces Lime juice
100g Onion chopped
200g Tomato chopped
10g Garlic chopped
Salt
Black pepper
FOR THE CARNE ASADA:
1kg Arrachera (inside skirt)
150g Garlic mojo
Salt
Black pepper
100ml Oil
250g Onion chopped
100g Fresh cilantro
200g Red radish
250g Lime
Directions
For the tortillas: place the flour in a big bowl with the salt, add the half of the water and mix well with
your clean hands. Add the rest of the water slowly because you don't want the dough to soften. Mix until the dough is not sticky, around 10 or 15 minutes, to get a soft tortillas.
After this make small balls, 50g each one, and press. If you don't have the mariconera (press for tortilla) you can use a gig plain plate. Cut two square pieces of plastic bag, around 15cm each one. You must press the balls between this two pieces of plastic, after that you can cook the tortillas.
Place a pan in medium-high fire with a little oil and pass the oil all around the pan with a tissue. Cook the tortillas on both sides for around one minute, don't overcook the tortilla because will be not soft.
For the salsa roja: grill the tomato, onion and fresh green chili, the onion and the chili until they are a little brown, the tomato until it's completely soft.
Blend the ingredients with the garlic and the chicken stock, if you don't have chicken stock or you are vegan and you don't want to use it, just add water. Finish with the fresh chopped coriander and season with salt and black pepper.
If you want really spicy sauce just add more chili – habanero and serrano can be good for this sauce.
For the guacamole: mash the avocado and mix with all the ingredients, seasoning with salt and black pepper.
For the carne asada: place the garlic in a small pan and cover with oil, cook in really slow temperature to make a garlic confit, we call mojo de ajo.
When the garlic is soft, mash and make it cool. Use this garlic to season the meat, add salt and black pepper and grill the steak.
When it's cooked, chop.
For the tacos: reheat the tortillas, fill with the chopped beef, top with the guacamole and salsa roja, finish with chopped onion, cilantro and slice of red radish. Never forget to drizzle lime juice before you eat it.
Information
Category

Appetizers

Cuisine

Mexican

Yield

6