Black Ink Cappellacci Filled With Cod
Still Can't Get Enough of the Black Food Dye Trend? Then This Ravioli Recipe Is For You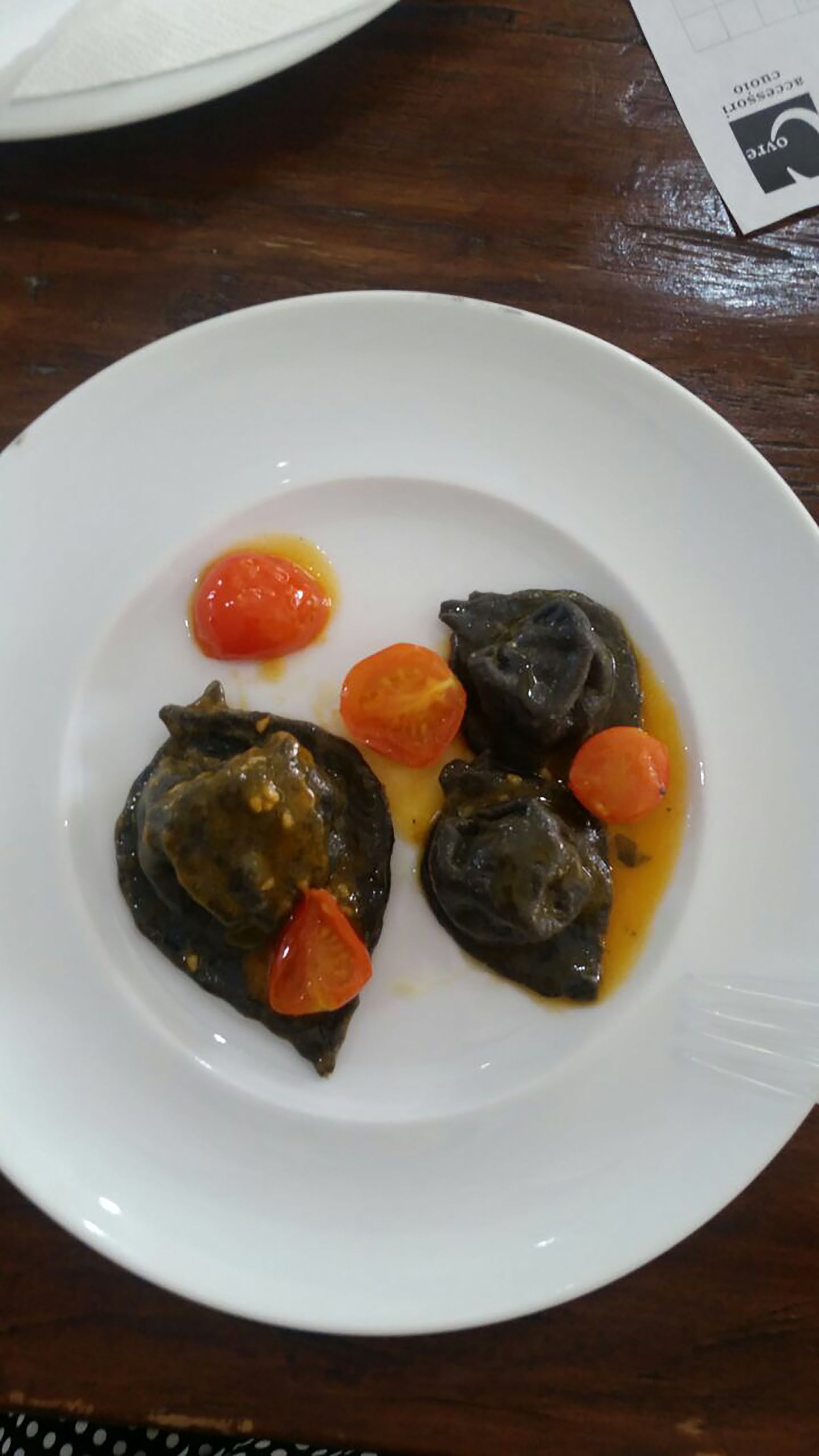 Burger buns, macarons and even water has had its time when it comes to the black trend. Now, Head Chef Eros Brambilla from Ravioli&Co., a trattoria in Dubai's DIFC neighborhood, shares his recipe for Cappellacci Al Nero Di Seppia (Black Ink Cappellacci Filled With Cod).
Black Ink Cappellacci Filled With Cod
Ravioli&Co.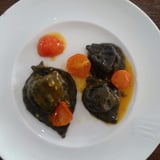 Ingredients
FOR THE RAVIOLI:
3 Egg yolk
2 Egg whites
500g White flour
5g Salt
1 tbsp Blank ink
FOR THE SAUCE AND FILLING:
500g White code fish unsalted (baccalà)
200g Boiled potatoes
5g Lemon zest
Salt
White pepper
1 Egg yolk
Parmigiano
100g Cherry tomatoes
Olive oil
Fresh basil
1 clove Garlic
Directions
Preparation of the Cappellacci:
To begin, pour the flour on the countertop, make a pit in the center, crack the eggs in the middle and add the spoon of black ink.
Mix the ingredients with a fork from inside out and knead the dough until homogeneous.
Wrap it in film and set aside for 30min to rest.
After 30 minutes cut a part of the dough and flatten it with the pasta machine, place a rounded teaspoon of filling in the center of each square, then lightly moisten edges with water and fold in half to form a triangle, pressing down firmly but gently around filling to seal and forcing out any air.
Bring two opposite corners together, overlapping ends, to make a small ring, and press together.
Filling and sauce:
Mash the boiled potatoes.
Steam the codfish without skin for 20 minutes, flake the fish meat with a fork and add the mashed potato, egg yolk, lemon zest (be careful as only the yellow zest is tasty the white is very bitter) and parmigiano.
Adjust flavors with salt and pepper.
Cook the Cappellacci in boiling salted water for 3 to 5 minutes.
Heat a pan with olive oil and add a clove of garlic. Once the garlic turns golden, add the cherry tomatoes (which are cut into quarters) and toss on high heat for a minute.
Season with salt and pepper and incorporate the Cappellacci and fresh basil.
Information
Category

Main Dishes

Cuisine

Italian

Yield

4