Braised Beef Cheeks
These Braised Beef Cheeks Melt in the Mouth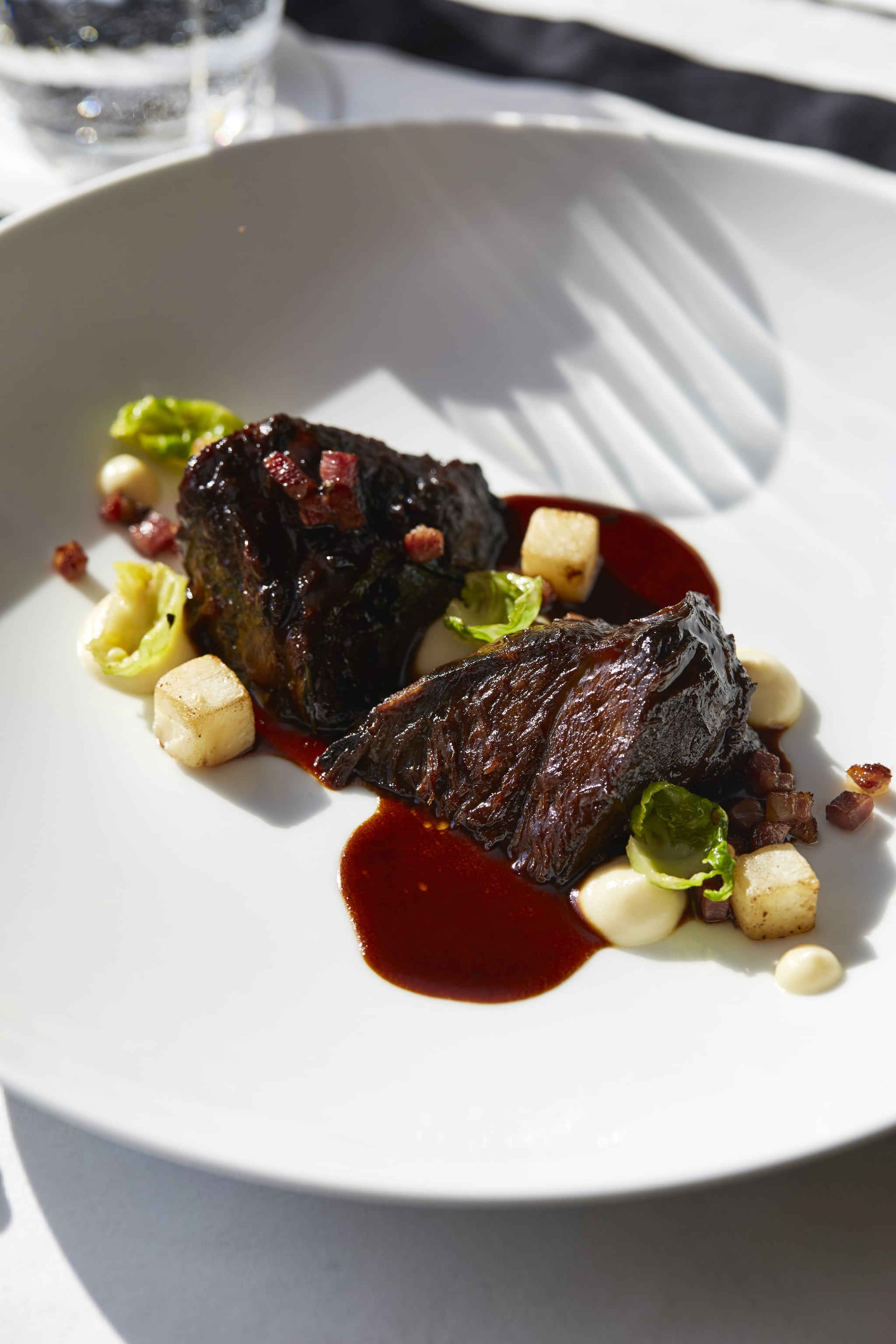 Brasserie Quartier French Kitchen & Bar inside the St Regis Hotel Al Habtoor City Dubai, shares their recipe for Braised Beef Cheeks with Parsnip Puree.
Braised Beef Cheek
Brasserie Quartier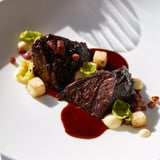 Ingredients
FOR THE BEEF CHEEKS:
4 tbsp olive oil
1.5kg beef cheeks, trimmed
1 cup brussels sprouts, steamed
5 garlic cloves, peeled
400ml chicken stock (or water)
500ml cranberry or grape juice
1 tbsp vinegar
2 tbsp tomato paste
2 bay leaves
4 thyme sprigs
2 rosemary sprigs
Salt (to taste)
0.5 tsp black pepper
FOR THE PARSNIP PUREE:
0.5kg parsnips, peeled and sliced
0.2kg parsnips, diced and sautéed with salt
0.5 cup milk
4 cloves garlic
1 thyme sprig
1 bay leaf
1 stick unsalted butter
1 tbsp olive oil
Salt (to taste)
0.5 tsp fresh parsley
Directions
Pre-heat oven to 150 degrees. In the meantime, sear the beef cheeks in two table-spoons of oil, over medium heat, until it forms a nice crust. If the pan is not large enough, sear the cheeks in batches.
Take off the seared beef from the pan and to the leftover oil, add 2 table-spoons more of olive oil and cook the garlic until golden-brown.
In a separate dish, mix the cranberry or grape juice with 1 tablespoon of vinegar to create a sweet and sour glaze. Add the glaze to the pan and simmer for 5 minutes. Continue to cook on slow heat, while adding chicken stock, tomato paste, bay leaves, thyme and rosemary. Sprinkle with sea salt and pepper.
Add the seared beef cheeks to the pan and gently coat it in the glaze. Simmer for 5 minutes, then place all ingredients in a baking tray and cover with foil. Place in pre-heated oven for 4.5 hours, or until the meat is tender.
For the puree, put peeled and sliced parsnips in a pot, season with salt. Pour in milk and cream, add garlic, bay leaves and thyme. Place over medium heat and bring to a simmer. Cook until tender. Pour all ingredients into a food processor with butter and blend until smooth.
After cooked, place the beef cheeks on a plate. Strain the remaining juice and reduce in a pan for approximately 5 minutes. Drizzle the juice over the cheeks and top with steamed Brussels sprout shells. Smear the plate with parsnip puree topped with sautéed parsnips and fresh parsley.
Information
Category

Main Dishes