Bread Sauce, Cranberry Sauce and Braised Red Cabbage
Bread Sauce, Cranberry Sauce and Braised Red Cabbage: All the Sides You Need For Your Festive Table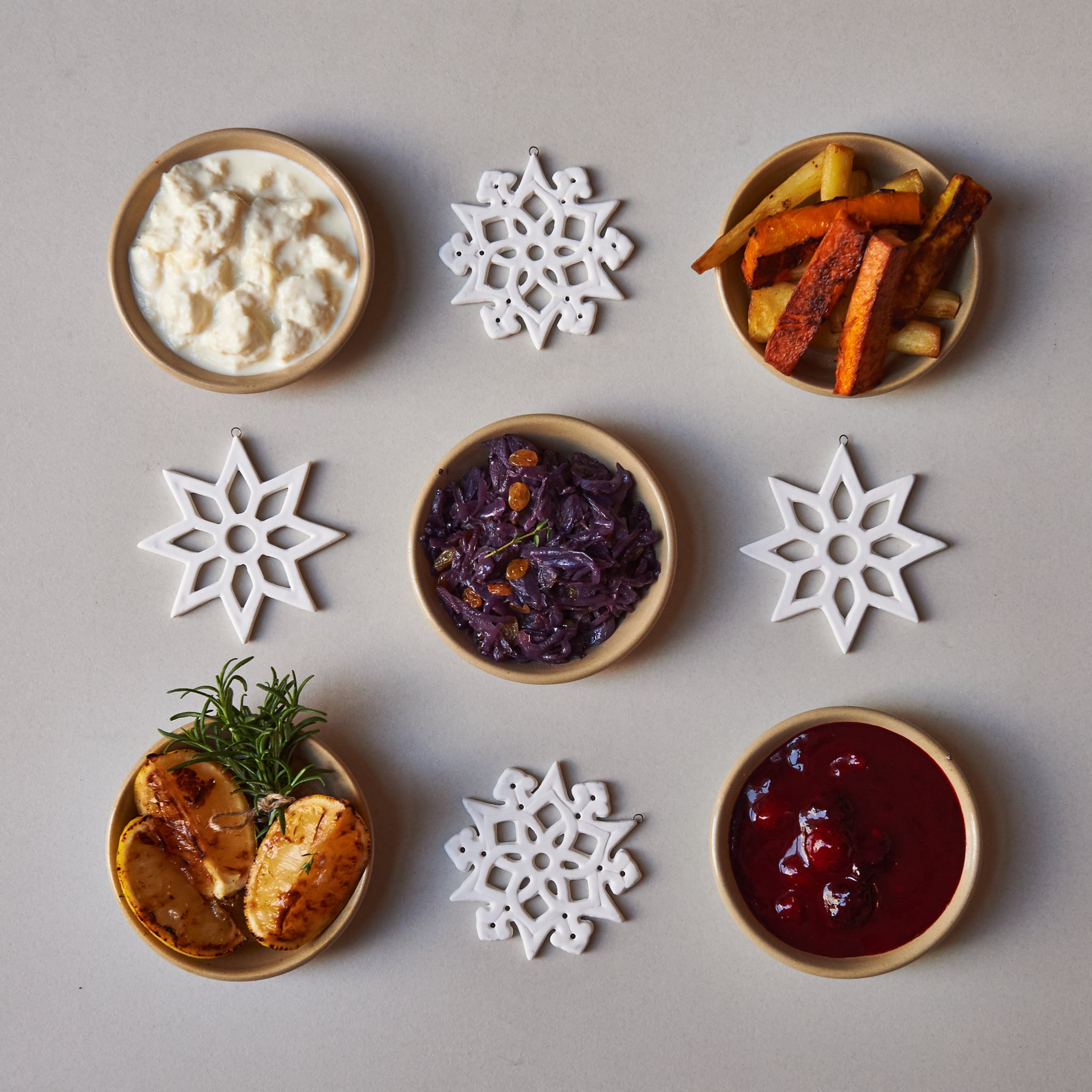 James Knight-Pacheco, the chef from Vida Downtown shares his recipes for Bread Sauce, Cranberry Sauce and Braised Red Cabbage – the ideal sides for your Christmas dinner.
Bread Sauce, Cranberry Sauce and Braised Red Cabbage
Vida Downtown
Ingredients
FOR THE BRAISED RED CABBAGE:
1 head of red cabbage, finely sliced
100g brown sugar
100g butter
20ml corn oil
1 bay leaf
30g cinnamon
3 cloves
20ml balsamic vinegar
200ml orange juice
10g sea salt
FOR THE BREAD SAUCE:
500 ml of full-fat milk
500ml cooking cream
3 cloves of garlic, sliced in half
10g fresh time
10g fresh rosemary
100g sliced onion
1 bay leaf
200g diced white bread
5g sea salt
FOR THE CRANBERRY SAUCE:
500g frozen cranberries
250ml water
250ml cranberry juice
200g sugar
1 bay leaf
1 Leaf of gelatin, or 2g powdered gelatin
50ml sherry vinegar
Directions
FOR THE BRAISED RED CABBAGE:
Season the sliced cabbage with salt, making sure the salt is completely mixed all over. This allows the natural water of the cabbage to come out, which makes the cabbage easy to cook.
Make sure to leave the cabbage for 10 minutes after seasoning.
Place a heavy based stainless steel deep pan onto a medium heat, add the oil and butter.
Once the butter has melted, place in the softened cabbage, sugar, bay leaf, cloves and cinnamon.
Stir well for 5 minutes until the cabbage really begins to soften, at which stage you add the orange juice.
Turn the heat down to a simmer, place a lid on the pan, and allow to stew for 30 minutes, occasionally stirring.
For the final part, add the balsamic vinegar, and give another good stir for 5 minutes.
Serve when ready.
FOR THE BREAD SAUCE:
Place everything, except for the bread and salt, Inside a large bowl. Cover it well, keep it the fridge for 2 days. This will infuse all of the amazing flavors.
Place the mixture inside a pan, and gently bring to the boil, once boiled strain well, then add the diced bread and salt into the infused liquid, taste then serve.
FOR THE CRANBERRY SAUCE:
Place everything except the gelatin and the vinegar into deep pan.
Bring to the boil, continuously keep stirring until the mixture begins to take on a sticky like glaze,

then take off the heat straight away, allow to cool for 5 minutes.

Add the gelatin, and stir well, making sure it is evenly dispersed. This will give the sauce its shiny

appearance.

Finally add the vinegar, mix well and taste, serve when ready.
Information
Category

Side Dishes

Yield

8