Bresaola Salad Recipe
Bresaola Salad Is the Perfect Appetizer For Those Who Find Lettuce Offensive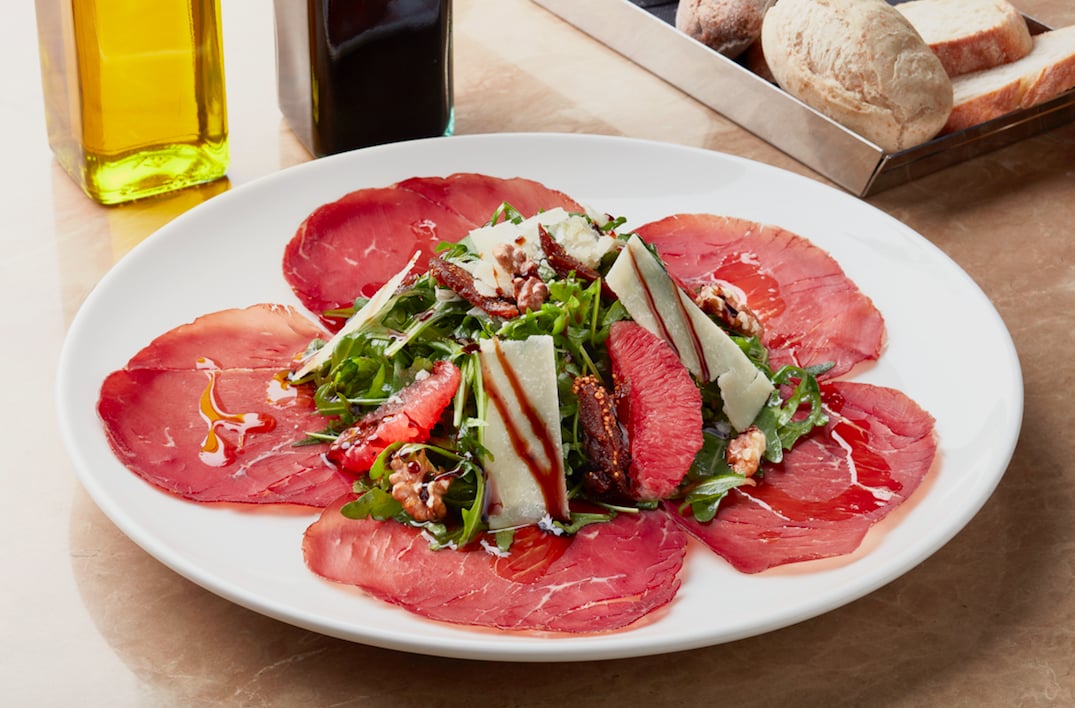 We all know that it's important to eat our greens but quite frankly some people just aren't into limp and watery plant pieces and it's totally understandable. Which is why you need to get some Rocca in your life and create the meaty salad of your dreams. Bresaola salad is great for those who like to base their meals less on veggies and more on meat with other goodies. Think walnuts, cheese and figs for a mouth-watering bite that will trick you into thinking you're being super healthy.
Bressola Salad Recipe
Puff Baker
Ingredients
FOR SALAD:
6 Thin sliced Bresaola
1/2 a grapefruit (cut into segments)
300g of Rocca leaves
6 Parmesan shavings
1 tsp of extra virgin olive oil
1 dried fig (cut into strips)
15g of walnuts
FOR DRESSING:
1 tsp of malt vinegar
1 tsp Dijon mustard
1 tsp of extra virgin olive oil
Pinch of salt
Pinch of black pepper
1/2 tbsp of balsamic reduction for a final touch (optional).
Directions
Grab your favorite flat plate line your bresaola slices in a circle overlapping the
edges.
In a small bowl whisk together the olive oil, Dijon mustard, malt vinegar, salt and
pepper.
Toss the Rocca leaves in the dressing, place the tossed Rocca in the center of
the plate.
Alternating between the parmesan shavings and grapefruit place them against
the Rocca leaves.
Sprinkle around the plate your fig slices and walnut.
Finally drizzle the tea spoon of olive oil around the bresaola slices.
Optional drizzle the balsamic reduction over the whole plate.
Information
Category

Appetizers