Brownie Fries
The Most Memorable Way to Fix Brownies, According to Sarah Michelle Gellar
Brownies fries? That's right; Sarah Michelle Gellar makes the classic dessert even better by transforming it into fry-like pieces which can be dipped into a berry sauce. The recipe begins with her Foodstirs Brownie Mix and is dressed up with espresso powder, a melted chocolate coating, and flake salt finish. It's the little things that count!
Espresso Brownie Fries
From Audriana Russo, FoodStirs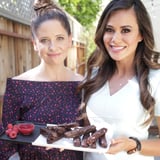 Ingredients
For brownie fries:
Non-stick cooking spray
2 eggs
1/3 cup vegetable oil
1 tablespoon water
2 1/2 tablespoons espresso powder
1 package brownie mix, like FoodStirs Brownie Mix
1 cup dark chocolate chips
3/4 teaspoon flake salt
For berry coulis:
2 cups fresh or frozen berries
1/3 cup granulated sugar
1 tablespoon water
Directions
Preheat oven to 325ºF and spray an 8" square baking pan with non-stick cooking spray.
In a medium bowl, whisk together eggs, oil, and water until combined. Add espresso powder and continue whisking. Gently stir in brownie mix until completely incorporated. Pour batter into pan and spread evenly.
Bake for 22 to 24 minutes, or until a toothpick inserted comes out clean. Remove from the oven and allow brownies to cool completely.
While brownies are baking, combine berries with sugar and water in a medium saucepan over medium heat. Cook until sugar dissolves. Turn the heat down to low and simmer until berries have softened. Place in blender and pulse until sauce is smooth. Pass through a strainer to remove seeds. Chill until ready to serve.
Place cooled brownies in the freezer for 15 minutes prior to cutting. Remove from the freezer and cut the brownie into 4 squares and then cut into strips.
Melt the dark chocolate chips in a microwave in 30-second intervals until smooth. Place brownies on a wire rack and spoon melted chocolate over the top of each brownie covering it completely. Sprinkle with sea salt and serve with berry coulis.
Information
Yield

10 servings

Total Time

39 minutes, 59 seconds