Buffalo Turkey Burger | Food Video
Upgrade Your Grill Out With These Buffalo Blue Cheese Turkey Burgers
This is definitely our favorite burger recipe for summer and trust us, it's going to be yours, too. Drizzled (or drenched!) with homemade buffalo sauce, topped with crunchy blue cheese slaw, and balanced perfectly with lean ground turkey patties, it's lightened-up but indulgent at the same time. Use this burger recipe to take your next barbecue to the ultimate level of deliciousness.
Brandi's wearing Shoshanna

Buffalo Turkey Burger
From Skylar Thompson, POPSUGAR Food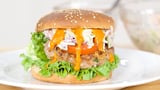 Ingredients
For the buffalo sauce:
5 tablespoons unsalted butter, divided
3 garlic cloves, minced
1 tablespoon cayenne pepper
1 tablespoon lemon juice
3 tablespoons white wine vinegar
For the blue cheese slaw:
2 tablespoons 2% low-fat Greek yogurt
2 tablespoons buttermilk
1/4 teaspoon onion powder
1/8 teaspoon celery seed
2 teaspoons dried parsley
2 tablespoons blue cheese crumbles
2 celery stalks, diced
1/2 large carrot, peeled and shredded
1/2 cup red cabbage, shredded
1/4 green apple, julienned
For the turkey patties:
2 tablespoons Panko breadcrumbs
2 tablespoons buttermilk
1 pound ground turkey, like Jennie-O® lean ground turkey
1 tablespoon buffalo sauce
1/4 cup green onion, diced
1 teaspoon garlic powder
1 teaspoon onion powder
1 tablespoon olive oil
For the burger:
Whole grain hamburger bun, toasted
4 ounce turkey patty
1/4 cup blue cheese slaw
1 lettuce leaf
1 tomato slice
1 teaspoon buffalo sauce
Directions
To make buffalo sauce: In a small sauce pan over medium heat, melt 1 tablespoon of the butter. Add garlic and cayenne and stir until fragrant, about 30 seconds. Add lemon juice and white wine vinegar and simmer about 1 minute. Add remaining butter to spice mixture and stir until melted. Remove from heat and allow sauce to cool slightly.
In a blender or small food processor, blend sauce on high for about 2 minutes until fully combined. Set aside.
To make blue cheese slaw: In a medium mixing bowl, combine all slaw ingredients until all vegetables are coated.
To make turkey burgers: In a small bowl combine breadcrumbs and buttermilk. Let stand for 1 minute.
In a large bowl, combine JENNIE-O® lean ground turkey with the breadcrumb mixture, buffalo sauce, green onion, garlic, and onion powders. Gently stir until just combined, being careful not to over mix. Shape turkey mixture into 4 1/2 inch patties and set aside.
Heat a large rimmed skillet or grill pan over medium-high heat and coat with olive oil. Toast buns in oil and remove from heat. Then cook turkey patties about 4 to 5 minutes on each side and until their internal temperature reaches 165°F.
Arrange burgers on the toasted buns starting with the lettuce, then tomato, patty, blue cheese slaw, and buffalo sauce.
Information
Category

Sandwiches

Cuisine

North American

Yield

4 Servings

Total Time

39 minutes, 59 seconds