Cadbury Oreo Creme Eggs Food Video
Your Wait to Try Oreo Creme Eggs Is Over
News about the Cadbury Oreo Creme Egg has been all over the internet, but trying to get your hands on one is another story. Luckily for you, we whipped up our own version of this delicious treat! With this recipe, you'll be the envy of everyone on your Instagram feed. Don't forget to make your own version of the original Cadbury Creme Egg with our recipe.

Oreo Creme Eggs
From Brandi Milloy, POPSUGAR Food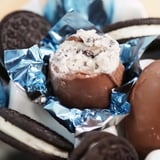 Ingredients
For the chocolate shell:
2 cups milk chocolate, melted and divided
For the filling:
5 cookie shells
Cream for 10 chocolate cookie sandwiches
1/4 cup white chocolate, melted
For presentation:
Blue foil candy wrappers
Directions
Pour 1 3/4 cups of melted milk chocolate into 16 dry egg candy molds and rotate so it's distributed evenly. Freeze for 5 minutes to set and then repeat with a second coating of chocolate. Freeze again for 5 minutes.
To make the filling, remove cream from 10 chocolate cookie sandwiches and place it in a bowl. Add 1/4 cup of melted white chocolate and mix together. Crush five cookie shells and add to the chocolate and cream mixture until evenly distributed.
To assemble, spread cream filling into two eggs and press them together. Use the remaining 1/4 cup of warm melted milk chocolate to seal the edges. Wrap each egg in blue foil to give as gifts, or enjoy then and there!
Information
Category

Desserts

Yield

8 eggs

Total Time

39 minutes, 59 seconds