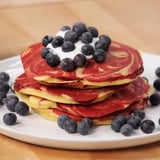 Ingredients
3/4 cup yellow cake mix
1/2 cup flour, divided
3/4 cup red velvet cake mix
1 1/3 cups milk, divided
2 eggs, divided
Plain Greek yogurt, for topping
Handful of blueberries, for topping
Directions
Mix the yellow cake mix and half of the flour together with a whisk. In a separate bowl, mix the red velvet cake mix and remaining flour together in a bowl.
Split the milk and eggs between the two pancake mixtures and whisk to combine, until largely lump-free.
Grease pan or griddle and start cooking the yellow batter. Scoop in the red batter and swirl together. These pancakes should be cooked at a very low temperature (especially if using red velvet, which browns quickly).
Top with blueberries and Greek yogurt. Add maple syrup to Greek yogurt if desired. Serve immediately.
Information
Category

Pancakes/Waffles

Yield

6 pancakes

Total Time

19 minutes, 59 seconds