Caramelized Onion Soup With Parmesan Toast
Keep Blood-Suckers Away With This Warming Caramelized Onion Soup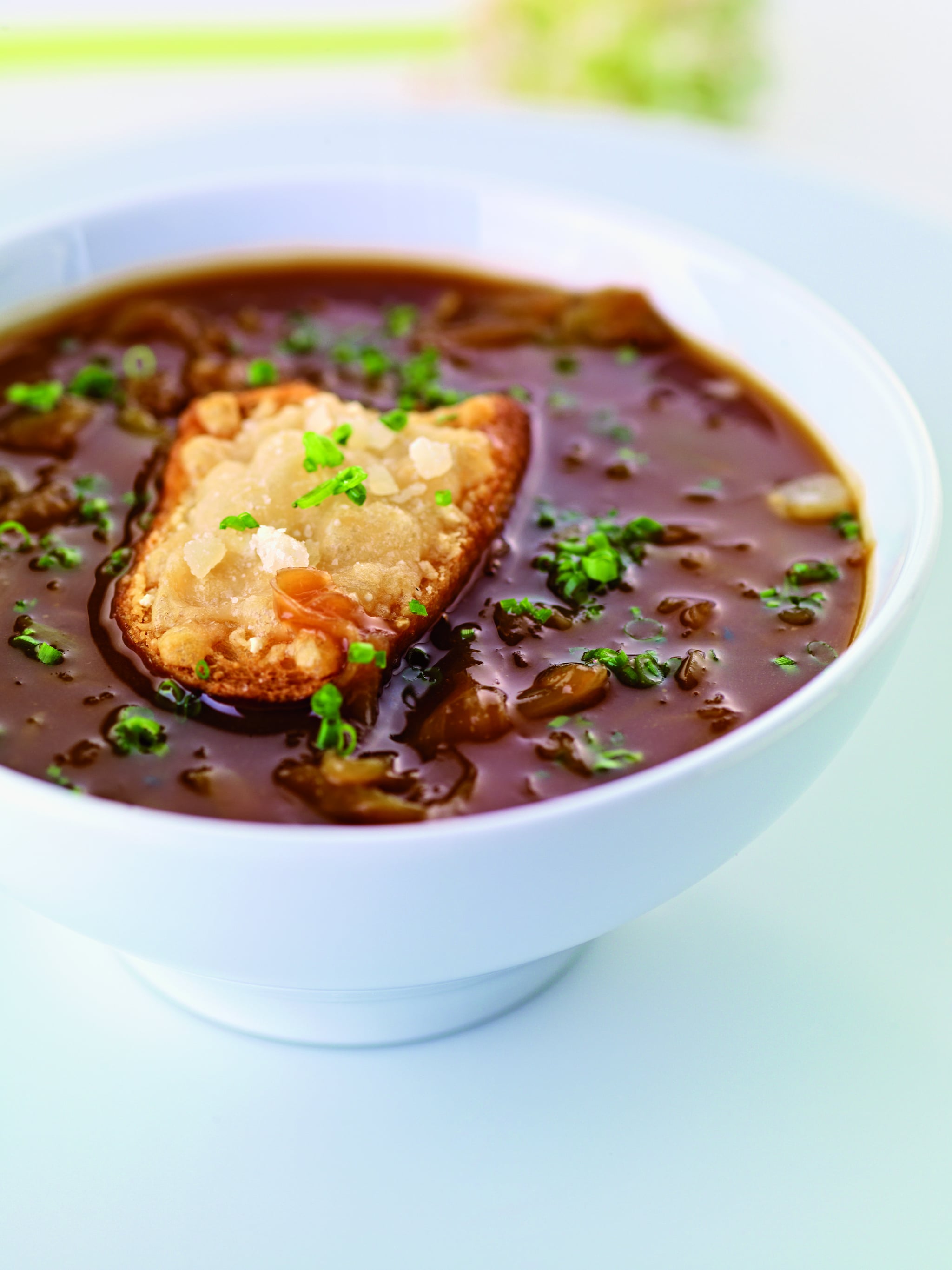 This hearty Caramelized Onion Soup is perfect for a cold evening at home. This recipe was prepared using Braun's Multiquick Hand blender with its MQ 70 (1.5l) food processor accessory with its slicing insert and its MQ 20 (350ml) chopper accessory. With so many onions and garlic involved, it may not be the best one to have before a date but it sure is tasty!
Caramelized Onion Soup With Parmesan Toast
Braun
Ingredients
1.5kg onions, peeled and quartered
115g unsalted butter
2 tablespoons of olive oil
2 bay leaves
2 fresh thyme leaves
25g plain flour
250ml dry white wine
100ml dry sherry
2l beef stock
1 French baguette, cut into slices
1 clove garlic, peeled
170g Parmesan cheese
Salt and pepper to season
Directions
To evenly and effortlessly slice the onions, just attach a suitable hand blender to Braun's MQ 70 food processor accessory with its slicing insert. Simply press the onions through the filling tube in 3 batches of 500 g each to avoid overfilling.
Heat the butter with the olive oil in a large heavy-bottomed saucepan and add the onion slices. To save time, place the garlic, bay leaves and thyme leaves in to Braun's MQ 20 chopper accessory. Switch the hand blender to this accessory and chop coarsely. Add to the saucepan and gently stir with a wooden spoon. Reduce the heat, cover and cook for 15 - 20 minutes. Now remove the lid and cook for a further 20 minutes, stirring until the onions have caramelized and have a golden brown color.
Then stir in the flour and cook for a further 3-4 minutes removing any lumps. Add the wine, dry sherry and stock. Bring to the boil, reduce the heat and simmer for 15 minutes.
To prepare the Parmesan toasts, cut the Parmesan in 4 pieces and put them into Braun's MQ 20 chopper accessory. Your hard cheese is just seconds away from being ready-to-use. Attach the hand blender and roughly mince, starting from low speed moving up to high speed. Sprinkle the Parmesan on one side of the baguette slices and place under the grill for 1 minute.
Ladle the soup into bowls. Place one or two of the toasts into each bowl and serve.
Information
Category

Soup

Cuisine

French

Yield

6-8