Chick-Fil-A Chicken Sandwich | Food Video
Get the Dish: Chick-Fil-A Chicken Sandwich
There's something totally gratifying and equally as delicious about making your favorite fast food dishes at home. And today we're taking on Chick-Fil-A's classic chicken sandwich. Get ready for a fried, pickled chicken-heaven party right from the comfort of your very own kitchen.

Chick-Fil-A Pickle Brined Sandwich
From Nicole Iizuka, POPSUGAR Food & Inspired by Chick-Fil-A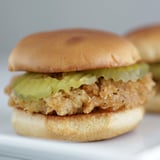 Ingredients
For the brine:
2 large boneless skinless chicken breast, sliced in thirds
2 cups dill pickle juice
1/4 cup sugar
2 tablespoons black pepper
For the fried chicken:
1 cup milk
2 large eggs
1 1/2 cups all-purpose flour
1 teaspoon baking powder
1/2 teaspoon salt
1 tablespoon paprika
2 tablespoons black pepper
1/2 tablespoon cayenne pepper
Peanut oil
For the sandwich:
6 soft hamburger buns, toasted with butter
12 dill pickle chips
Directions
Place chicken in a large zipper-lock bag and add pickle juice, sugar, and black pepper. Squeeze out any excess air and let chicken brine for at least 6 hours and up to overnight.
Remove chicken breasts from the brine and pat dry with paper towels.
In a bowl whisk together milk and egg until smooth. In another bowl mix flour with baking powder, salt, paprika, black pepper, and cayenne pepper. Add 3 tablespoons of the milk and egg mixture to the flour mixture and whisk together until it resembles a coarse sand.
Heat up peanut oil in a heavy bottomed stock pot over medium heat. Take chicken breast and place in milk mixture first, covering completely. Allow excess milk to drip off and then dredge in flour mixture, pressing down firmly to adhere as much of the mixture as possible. Shake off any excess and carefully place in the hot oil.
Fry for about 4 to 6 minutes, turning occasionally, util the outside is golden brown and crisp on all sides. Transfer to a paper-towel lined plate. Repeat with remaining chicken breasts.
Toast buns with butter and then add 1 piece of fried chicken. Top with 2 pickle slices and cover with the top bun. Serve immediately.
Information
Category

Sandwiches

Yield

Serving Size: 6

Total Time

29 minutes, 59 seconds