Cikolata Ve Turk (Dark Chocolate Kibbeh) Recipe
Yes, You Are Looking at a Chocolate Kibbeh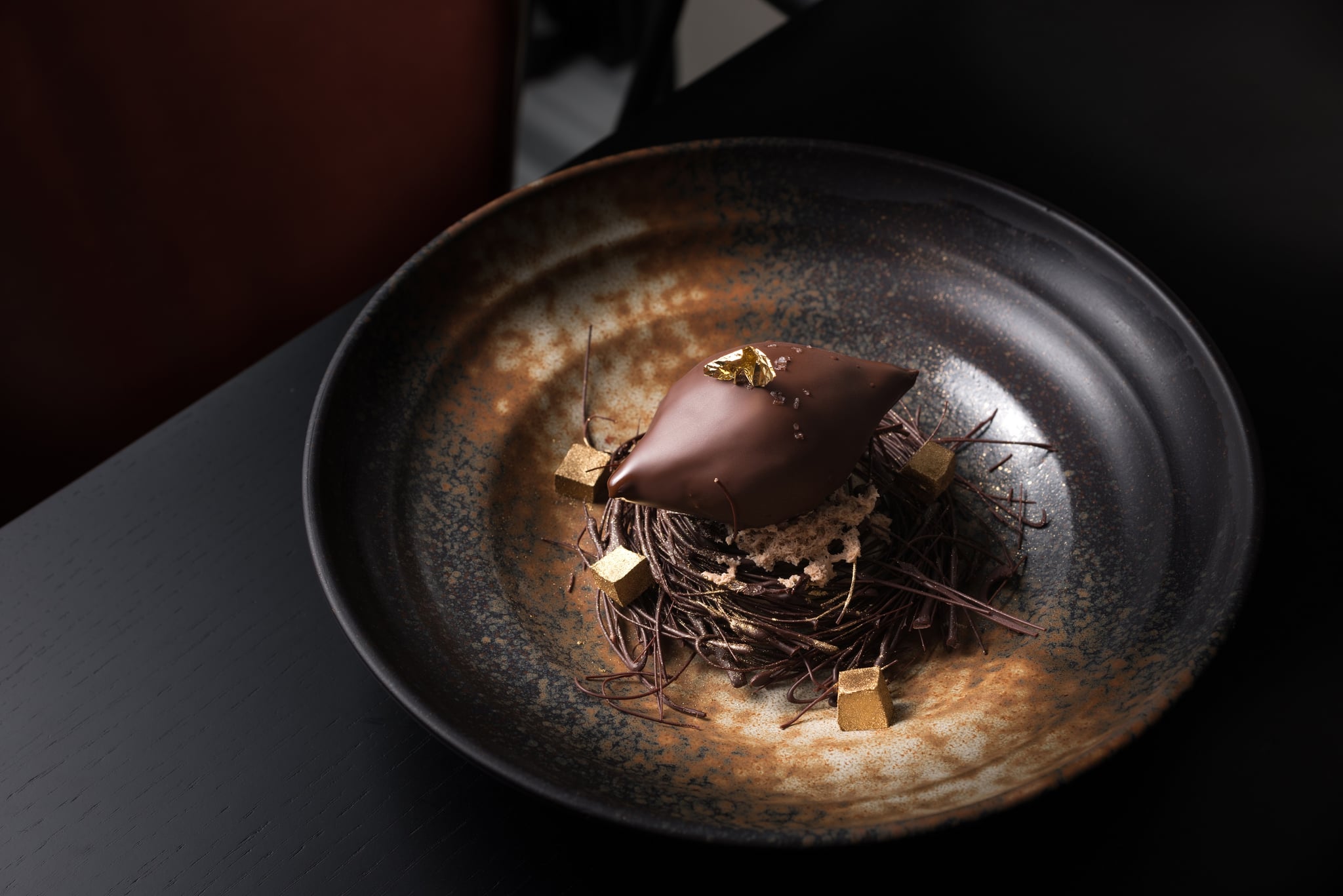 It's National Chocolate Day July 7 so what better idea than taking one of our favorite dishes from the region and making it cocao-tastic! Turkish restaurant in Dubai, Ruya, has shared their recipe for Cikolata Ve turk (Dark Chocolate Kibbeh) and it's going to blow your mind!
Cikolata Ve turk (Dark Chocolate Kibbeh)
Ruya
Ingredients
FOR DARK CHOCOLATE TORTE:
135g Dark chocolate (55percent to 70percent)
60g Unsalted butter
160g Large fresh eggs
79g Dark soft brown sugar
24g Almond powder
FOR SALTED CARAMEL SAUCE:
200g caster sugar
180g whipping cream
36g glucose
40g unsalted butter
18g salt
1 vanilla pod
FOR COFFEE ICE CREAM:
400g Cream
200g Egg Yolk
60g Caster Sugar
15g Turkish Coffee
Directions
FOR THE DARK CHOCOLATE TORTE:
Gently melt the butter and chocolate together over low heat in a bain marie, once melted , remove from heat. Mixture should be blood temperature. If it is hotter, allow to cool slightly.
Whisk the sugar and eggs together to a sabayon with soft peaks. Fold into the melted butter and chocolate making sure to bring up any mixture from the bottom of the bowl.
Fold the almond powder into the mixture, mixing well.
Pour the mixture into a prepared rectangle frame measuring 36cm x 31cm that has been lined with aluminum foil and baking paper. Bake for 30 minutes at 160c.
FOR SALTED CARAMEL SAUCE:
Make a dry caramel with the sugar. meanwhile, bring the cream to a boil with the glucose, salt and vanilla and set aside.
Once the caramel is an amber color, slowly add the hot cream and mix to combine.
Add the butter and mix until combined, once the butter is fully melted, remove from heat and fold in the tahini. Allow to cool, then store in an airtight container until ready to use.
FOR COFFEE ICE CREAM:
Place the cream, Turkish coffee together in saucepan and bring to boil.
Meanwhile, whisk together the egg yolk and sugar in the bowl. Add to boil cream and mix combine, cook very gently over low heat.
Remove from heat and pour into bowl, blend with the hand blender, then strain the mixture into a clean container. Store in freezer until it's set.
TO SERVE:
Take 50g of chocolate torte, put in hand and create an oval shape. Put in refrigerator for 30 minutes.
After 30 minutes, coat the chocolate kibbeh with 250g dark chocolate that has been melted mixed with corn oil and store in chiller for 5 minutes until the coating has set.
Put 2 tablespoons of caramel sauce on middle the plate, take a scoop of coffee ice cream and put on top of the sauce.
Take the chocolate kibbeh from the chiller and put on top of the ice cream.
Serve.
Information
Category

Desserts
Image Source: Ruya