Cinnamon Roll Doughnut at Catch Restaurant New York City
This New Food Fad Is So Much More Than a Cinnamon Roll Stuffed Inside a Doughnut
When we arrived at New York City's Catch restaurant to try the cinnamon roll doughnut everyone has been raving about, we expected just that: a cinnamon roll doughnut. What Executive Chef John Beatty brought us was beyond a pastry hybrid.
The cinnamon roll doughnut, which has been on Catch's menu for at least three months now, is topped with a pumpkin sabayon and served with pumpkin ice cream, whipped meringue, and a raspberry pomegranate jelly. Chef Beatty said the restaurant started working on this dish back in about October, which makes the pumpkin flavors make so much more sense. "The leaves were falling, the weather was changing, so we wanted something nice and warm and full of flavor but a little bit fun, and that's where the idea started," he said. And though the dish was always planned as this particular idea of a cinnamon roll inside a doughnut, it went through several variations before becoming what is currently on the menu.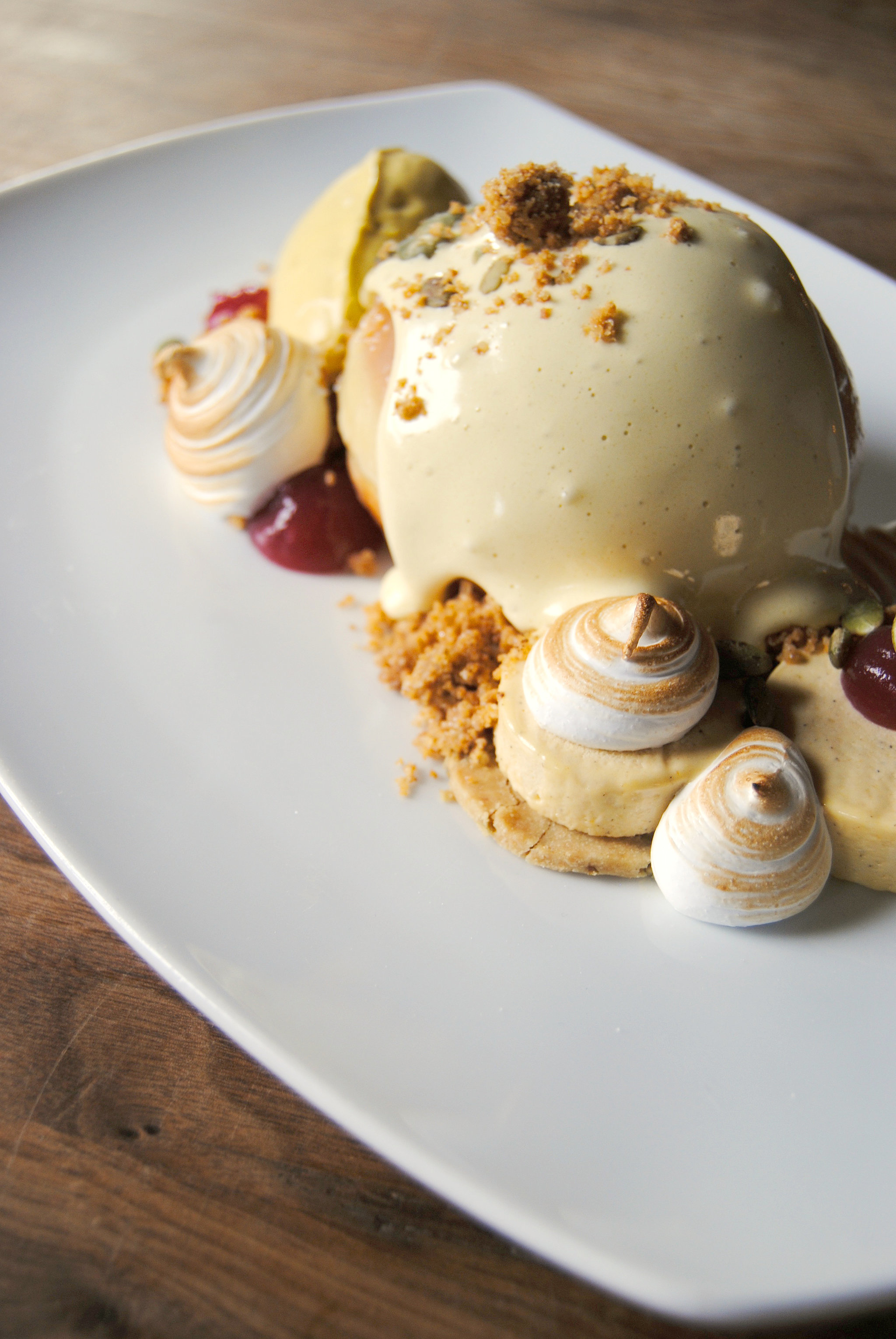 After seeing the intricacy on the plate and tasting the incredible marriage of flavors, we were sure the dish took detailed process to create. A three-day process, to be exact. The chef starts by making a traditional cinnamon roll, followed by a doughnut batter. The cinnamon rolls are placed inside the doughnut batter and baked off, and then each of the other components is made on its own to complete the dish. "It's a long, detailed process," Chef Beatty said. "We have chefs that oversee it every step of the way to ensure that it comes out consistently perfect each and every time. Warm, cinnamony, and delicious."
The chef's description is spot on as far as intricacy and taste are concerned. This cinnamon roll doughnut creation is an actual experience. We dissected the doughnut itself to get to the cinnamon roll inside before digging in. The pastry was light and sweet but felt more substantial than your morning doughnut. The pumpkin ice cream was lightly spiced and incredibly creamy. The jelly provided just a hint of tartness, but the real magic for me was the meringue. These little clouds were sweet and had a hint of something special in them that provided that sparkle on top of the doughnut.
We definitely recommend checking out Catch if you're in New York because not only is this dessert one to try, but the restaurant's constant desire to elevate classics provides a unique dining experience. The menu is full of innovative creations — like s'mores pizza. Simply amazing.
Image Source: POPSUGAR Photography / Rebecca Firkser