Cotton Candy Fudge Recipe
The Easiest Fudge Recipe We've Made Yet
Fudge has a reputation for being a finicky, fussy sweet to make at home, and while that's certainly true when it comes to classic recipes, this exceptionally easy cotton candy version breaks the mold. Made with a mere four ingredients, it's so simple it's practically child's play. Watch the video to learn how to whip up a batch yourself.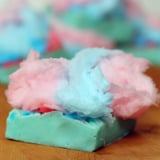 Directions
Spray an 8-inch-square pan with nonstick cooking spray.
Fill a large saucepan with about an inch of water; set a large heatproof mixing bowl on top, and add the sweetened condensed milk and white chocolate chips to it. Heat on high, stirring occasionally, until the chocolate is melted and smooth. Remove from heat, and stir in cotton candy flavor mix.
Pour fudge into prepared pan, and let cool completely. Once cool, cut into 9 to 12 squares and garnish with pieces of cotton candy.
Information
Yield

Serves 12