Crispy Hen Eggs, Pan-Fried Mushroom, Vinegar Caramel Recipe
The Vitamin You Might Need Most is Packed Into This Crispy Hen's Egg Dish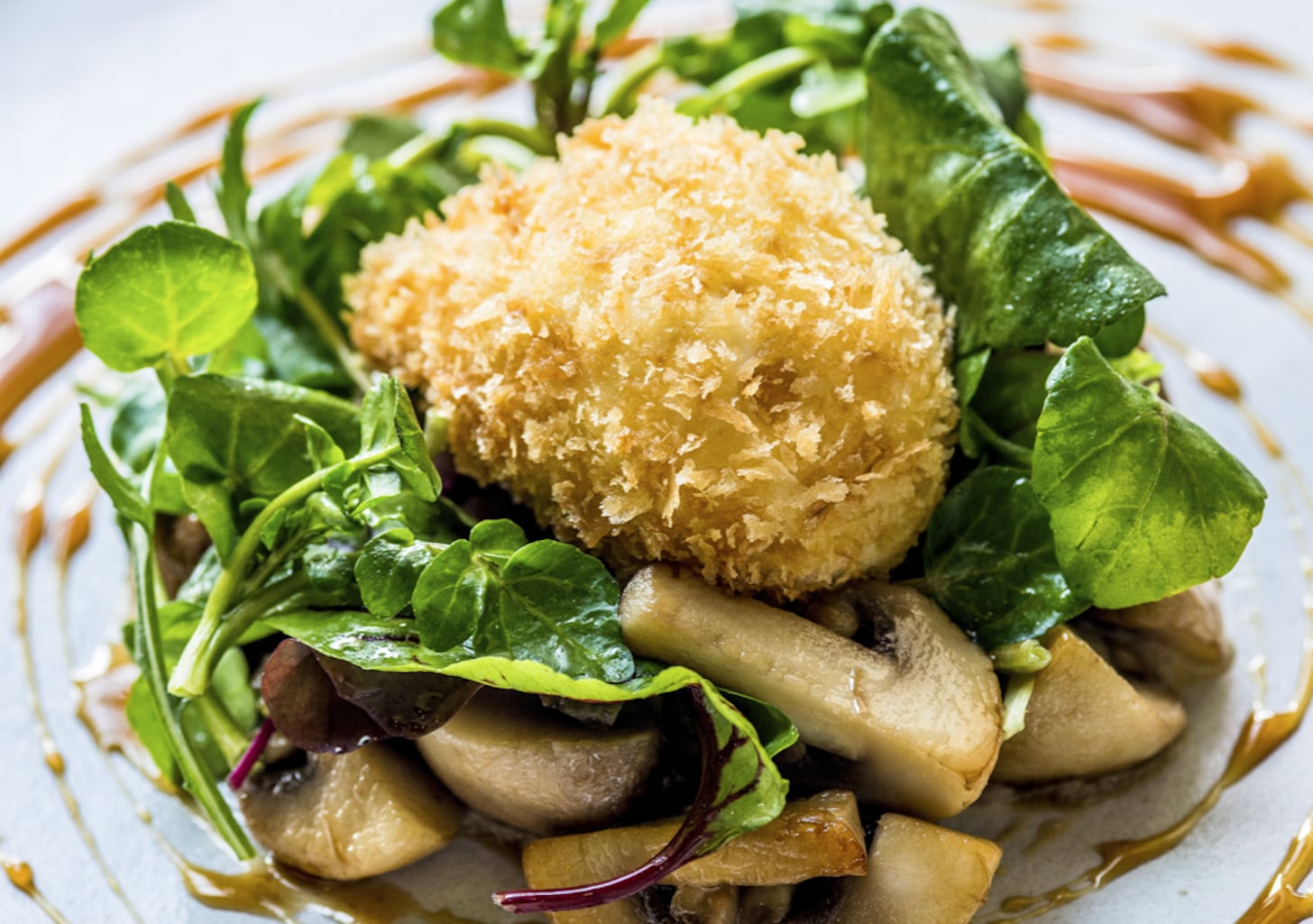 Over 85 percent of people in the UAE are deficient in Vitamin D and if you're one of those people, what you eat is just as important as getting outdoors often. Spinneys supermarket has introduced mushrooms packed with the stuff, here's a great recipe to help you incorporate it into your diet.
Spinneys Crispy Hen's Eggs With Pan-Fried Mushrooms and Vinegar Caramel
Spinneys
Ingredients
4 spinneysFOOD Free Range Eggs
½ tsp white grape vinegar
50g spinneysFOOD All-Purpose Flour
100g panko breadcrumbs
50g spinneysFOOD Caster Sugar
50ml red grape vinegar
1 tbsp olive oil
100g spinneysFOOD Vitamin D-Enriched mushrooms, quartered lengthways
Vegetable oil, for deep-frying
2 handfuls mixed salad leaves
Directions
Crack 2 of the eggs into separate bowls and add ¼ tsp white grape vinegar to each one.
Bring a large pan of water to a steady simmer. Using a whisk, stir the water rapidly to create a vortex – this will help encourage the egg whites to wrap around the yolks.
Carefully tip the eggs into the water and poach for 3-4 minutes, until the whites are just set and the yolks are still very soft.
Remove with a slotted spoon and immediately transfer to a bowl of ice-cold water.
Once cool, drain on kitchen paper, trimming off and discarding any loose bits of egg white.
Beat the remaining eggs and place in a shallow dish, with the flour and breadcrumbs in 2 others.
Season the flour. Gently roll the poached eggs in flour, then beaten egg and finally breadcrumbs. Roll them in the beaten egg and breadcrumbs once more and leave to chill in the fridge until ready to cook.
To make the vinegar caramel, set a heavy-based saucepan over a high heat. Add the sugar and heat until completely dissolved and deep golden in color.
Pour in the vinegar and allow to bubble up. Turn off the heat and stir constantly until the caramel has a runny consistency and drops easily from a spoon. If it seems too thick, loosen the caramel with a little hot water.
Set a frying pan with the olive oil over a high heat. Add the mushrooms, season, and fry for 4-5 minutes until golden brown.
Information
Category

Breakfast/Brunch

Yield

2

Total Time

14 minutes, 59 seconds