DIY Starbucks Cherry Pie Frappuccino
DIY Starbucks Cherry Pie Frappuccino
From Kevin Smith, POPSUGAR Food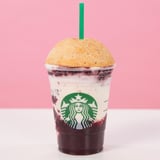 Ingredients
Pie dough, homemade or store-bought
Flour, as needed
Cherry compote:
2 cups frozen cherries
1/4 cup sugar
1/3 cup orange juice
2 teaspoons almond extract
Vanilla Frapp:
1 cup ice
1 cup milk
1 cup vanilla ice cream
1 tablespoon sugar
2 teaspoons vanilla extract
Whipped cream, to garnish
Directions
For the pie crust lid: Preheat oven to 400°F. Make a dome with aluminum foil, using a Starbucks lid as a guide. Roll out your pie dough on a floured surface until about 1/4-inch thick. Lift it and place on top of the aluminum dome, forming it to fit. Trim off any excess around the bottom. Using a small round cookie cutter, remove a circle from the top of the dome. Then skewer tiny holes across the pie dough dome.
Bake the pie dome in the oven for about 10-15 minutes, until lightly golden brown.
To make the cherry compote: Place cherries, sugar, and orange juice in a pot and cook over medium-high heat for 10-15 minutes, stirring frequently. Remove from heat and add almond extract.
Pulse in the blender for a few seconds, just enough so the chunks of cherry can fit through a straw and place in the fridge until chilled.
For the vanilla Frapp: Add the ice, milk, vanilla ice cream, sugar, and vanilla extract in a blender and puree until all the ice is crushed.
To assemble: Pour 1/4 of the cherry compote into each cup. Fill each cup with 1/2 of the vanilla Frapp. Add the rest of the cherry compote on top. Top with whipped cream and place the pie crust dome on top.
Information
Category

Drinks, Shakes

Yield

2 Frappuccinos

Total Time

39 minutes, 59 seconds