DIY Watermelon Jolly Rancher Pop-Tarts
DIY Watermelon Jolly Rancher Pop-Tarts
From Kevin Smith, POPSUGAR Food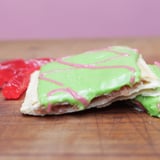 Ingredients
For the watermelon jelly:
2 cups sugar, divided
1 tablespoon pectin
1 cup watermelon juice
1 tablespoon lemon juice
2 teaspoons citric acid
For the Pop-Tart:
1 package pie crust dough
For the frosting:
6 Watermelon Jolly Ranchers
1/4 cup water
1 3/4 cups powdered sugar
Green food coloring
Pink food coloring
Directions
To make the watermelon jelly: Combine 1/4 cup of sugar and pectin and set aside.
Heat the watermelon juice in a medium pan on high, until a soft boil is reached. Stir in lemon juice and citric acid. Stir to combine. Add the sugar-pectin mix, whisking vigorously until it dissolves completely. Continue to boil for 5 minutes, stirring occasionally. Whisk in remaining 1 3/4 cups of sugar. Return to a boil and cook for 1 minute. Stir continuously to prevent the bottom from burning. Remove from heat and pour into a jar to cool completely.
To make the Pop-Tarts: Preheat your oven to 400°F.
Allow your pie dough to reach room temperature and roll it out. Cut out four rectangles that are 6"x4". Spread out 1/4 cup of the watermelon jelly onto half of your pie dough rectangles. Leave about 1/4 inch bare around the edges. Place the other rectangles on top and crimp the edges together with a fork. Using a toothpick, poke holes across the top for venting. Be careful not to puncture the bottom crust.Bake for 15-20 minutes until the tops are golden brown.
To make the frosting: In a sauce pan on high heat, dissolve Jolly Ranchers into water. This should take 5-10 minutes.
Pour the dissolved Jolly Ranchers into a bowl with your powdered sugar. Whisk to combine. If the frosting is too watery, add more powdered sugar (1 or 2 tablespoons at a time until desired consistency is achieved).
Separate 1/4 cup of frosting into a different bowl. Add green food coloring to the larger quantity of frosting and mix pink food coloring into the smaller bowl of frosting.
Use the green frosting to cover the tops of your Pop-Tarts, then use a piping bag to make zig-zags of pink frosting on top.
Information
Category

Pastries

Yield

2 Pop-Tarts

Total Time

39 minutes, 59 seconds