Dinner in the Sky Dubai Review
I Ate Breakfast While Dangling 50 Meters Above the Dubai Marina – Here's What Happened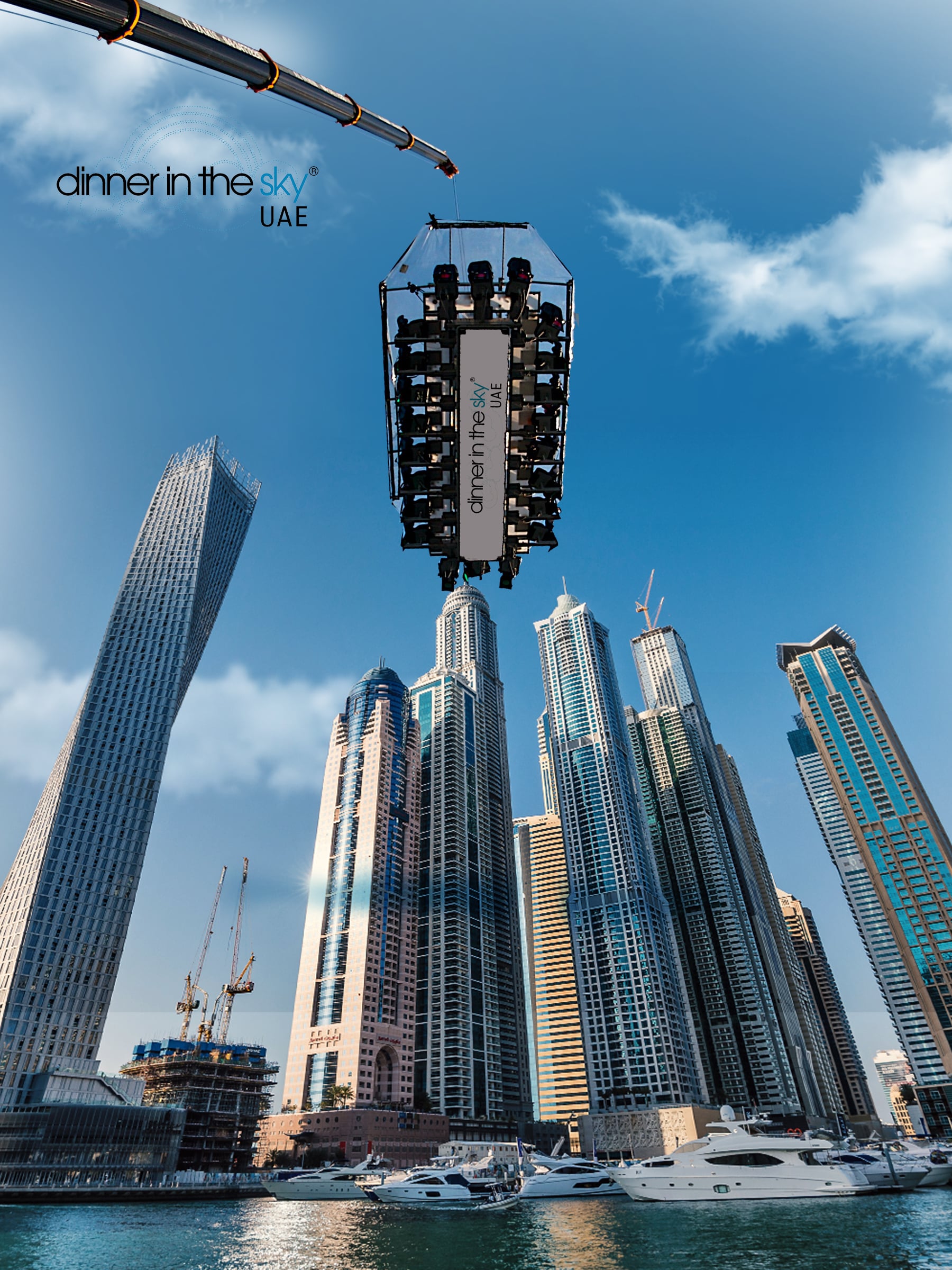 There are restaurants like At.mosphere at the Burj Khalifa that let you dine while enjoying views at incredible heights, but when I heard one company was letting people eat while their feet dangled into the airat 50 meters up, I just had to try it.
Sure the tallest building in the world sizes up at a much more frightening 828 meters, but when you can feel the wind in your hair and steady ground below you, dining on a crane is much more thrilling.
I arrived at the Dubai International Marine Club – which has the stunning Marina skyline, Atlantis the Palm and JBR beach as its backdrop – to enjoy the breakfast package prepare by the Ritz Carlton Hotel (AED599 per person).
Located next to the famous Barasti Beach Bar at the Westin Hotel, there are a few large signs around to its clear where to find the Dinner in the Sky people. While waiting for a minibus to pick guests up for a two-minute ride down to the crane, customers are asked to sign waivers in the reception area and told to make any last-minute trips to the bathroom that may need to happen.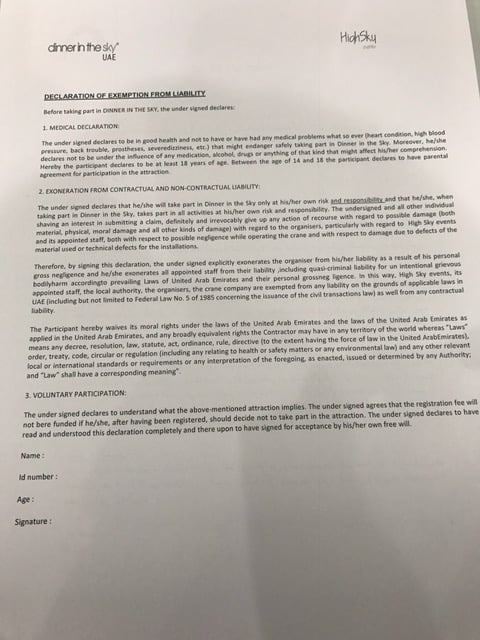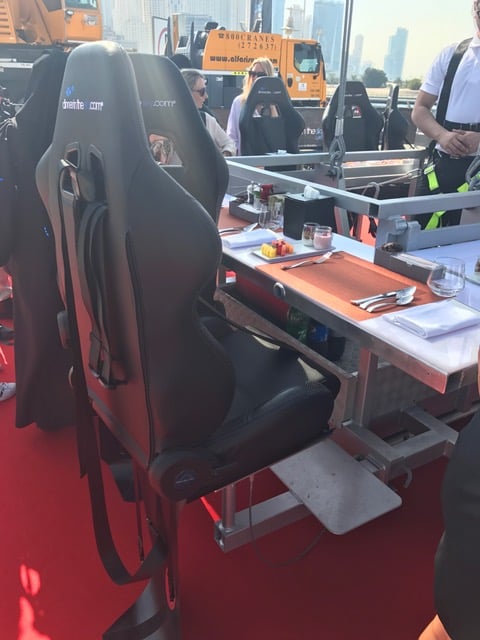 Once arriving at the area for takeoff, I unloaded by handbag into a locker so I had one less thing to worry about dropping (if anything does fall all should be fine as the area below is cleared sealed off so no one is harmed). Apparently the company has never experienced anyone dropping their phone though as people are extra careful with their belongings once they're off the ground.

While there is a small metal frame you can rest your feet on, there isn't any floor beneath you so you really feel the thrill while munching on muffins, fruit, pastries and a cooked breakfast of a chicken sausage, eggs, tomatoes and hash browns. Smoking is forbidden.
Dinner in the Sky (which also serves afternoon tea for AED599, lunch for AED699 and dinner for AED799) could easily make the food before the flight but it's great to see that they're actually cooking everything right in front of you. It certainly gives Benihana a run for its money.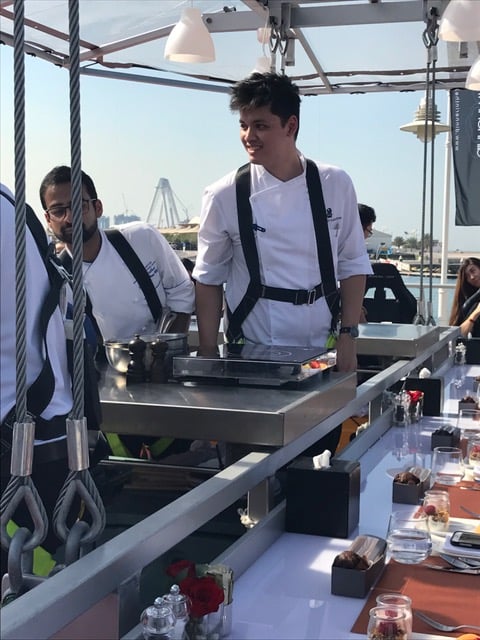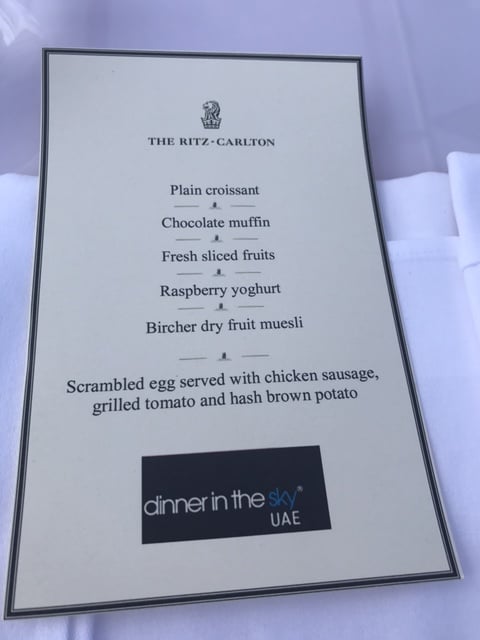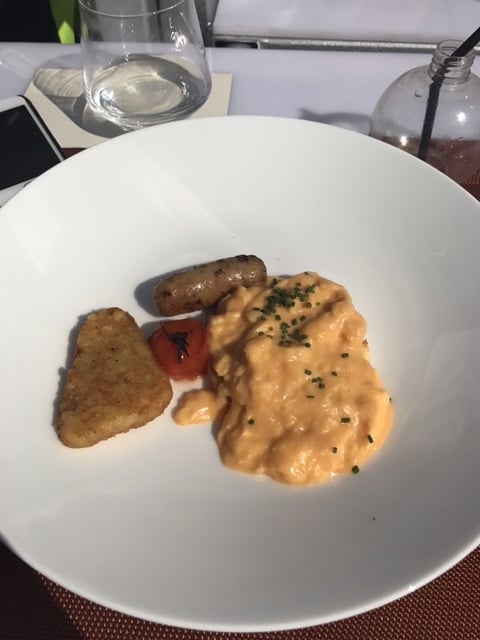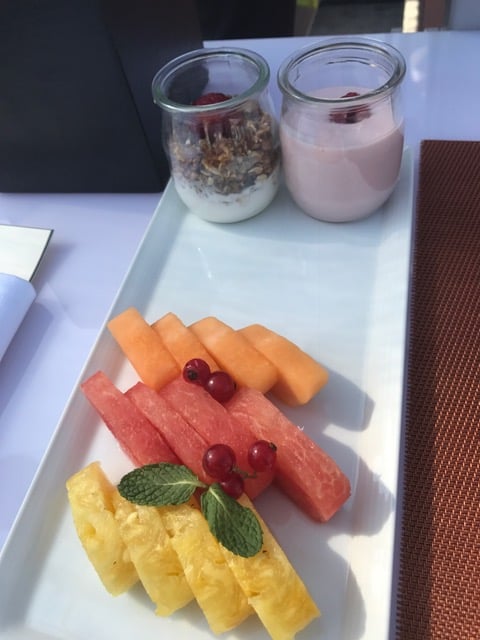 Of course, everyone will want the perfect shot for social media while they're up there so the platform rotates to give equal opportunities for the best backgrounds. Tip: Sit in a corner to get the clearest angles. If you're feeling full after your meal or want to get a great view of the stars at night, the chairs even recline and swivel so you can get more comfortable.
If you do decide to go and you're not enjoying yourself as much you thought you would be, it's no big deal; they can bring the table back down to the ground in 20 seconds, so there's nothing to worry about.
To book your seats visit dinnerinthesky.ae.