Doughnut Fries
From Megan Lutz, POPSUGAR Food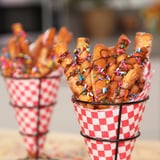 Ingredients
For doughnut fries:
Vegetable oil, for frying
1 (1-pound) can biscuit dough
1/4 cup granulated sugar
1/4 cup semisweet chocolate, melted
Rainbow sprinkles
For "condiments":
1 1/2 cups powdered sugar
1/4 cup milk
6 ounces strawberries
1 tablespoon water
1/4 cup strawberry jam
Directions
To make doughnuts: Heat oil in a deep fryer, heavy-bottomed dutch oven, or skillet until it reaches 350ºF.
Flatten each biscuit with a rolling pin and slice into thin strips. Cook in the oil for 1-2 minutes or until golden brown. Use an oil strainer or spider to remove them from the oil and transfer them to a paper-towel-lined plate to drain off any excess oil.
While they're still warm, roll the doughnut fries in granulated sugar. Drizzle them with melted chocolate and garnish with sprinkles.
To make the glaze dipping sauce: Combine powdered sugar and milk in a bowl and mix until it has a frosting-like consistency. Set aside.
To make the strawberry "ketchup": Add strawberries and water into a pot over medium heat. Stir the strawberries until they boil and soften. Add the jam and continue mixing until warmed through and incorporated. Strain the mixture through a sieve to remove the seeds. Enjoy immediately!
Information
Category

Doughnuts

Yield

3 servings

Total Time

19 minutes, 59 seconds