Duck Confit
Duck Confit Doesn't Skim on the Fat but It's So Worth It For the Flavor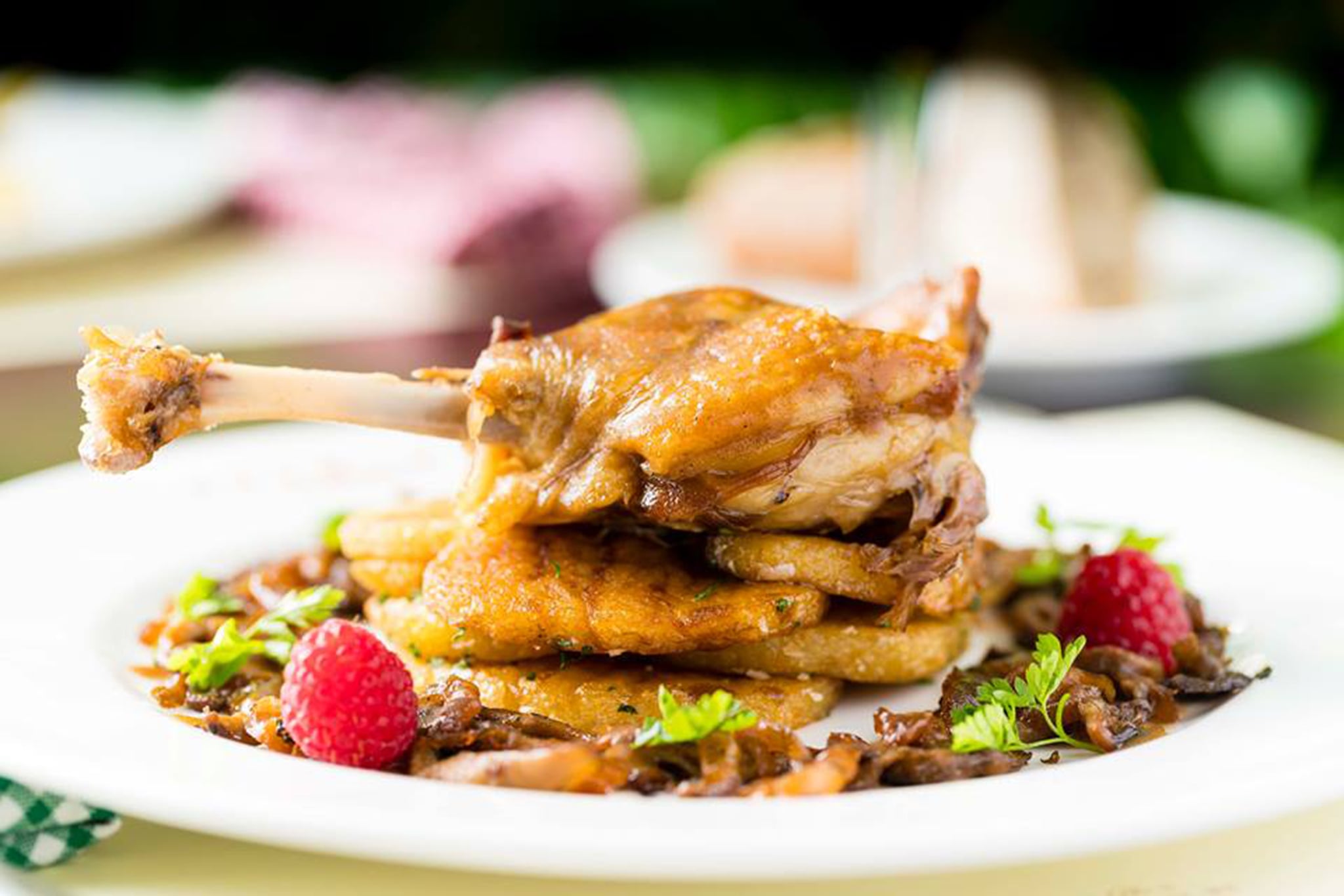 French restaurant, Couqley, shares their Duck Confit recipe from Chef Alexis Couquelet.
Ingredients
¼ cup kosher salt
1 tablespoons sugar
2 large duck legs
½ teaspoon black peppercorns
10 sprigs fresh thyme
2 cups rendered duck fat or lard
FOR ACCOMPANIMENTS:
2 Duck Confit – prepared legs above
15g butter
50g, oyster mushrooms sliced
50g, sweet onion sliced
1 teaspoon chopped garlic
A pinch of salt and pepper
Chopped parsley for garnish
100g potatoes, sliced into 1 cm pieces
Vegetable Oil for frying
Raspberries Garnish
Directions
Place the salt in a bowl and mix with the sugar.
Hold one duck leg at a time over the bowl, rub a good amount of the salt-sugar mixture all over the leg, making sure you rub it into the skin and flesh. Repeat process with second leg.
In another bowl, place the legs on top of each other, layering them with the peppercorns and thyme. Sprinkle with any remaining salt.
Cover with plastic wrap and refrigerator for at least 12 hours.
After the duck has been refrigerated for 12 hours, unpack the legs and wipe off any salt and spices with a paper towel. Pat the duck legs dry.
Melt the fat in a large pot just big enough to hold the legs.
Place the duck in the fat, it should be completely submerged or covered in fat.
Simmer the duck very slowly for 1.5 hours, or until the meat browns, and is very tender when poked with a knife.
Remove the pot from the heat and let the duck cool in the fat until ready to serve.
FOR THE ACCOMPANIMENTS:
Place butter in a skillet and melt, add the sliced oyster mushrooms and onions and sauté. Cook until soft then add the chopped garlic and a pinch of salt, pepper and parsley. Set aside.
Heat the oil in a large skillet and add the potatoes. Sprinkle with salt and pepper. Cook over high heat, shaking the skillet and stirring gently for about 12 minutes.
Toss the potatoes in the skillet and sprinkle with more parsley.
Serve the potatoes, mushrooms and onions on a plate with the duck pieces on top. Garnish with fresh raspberries.
Information
Category

Meats

Cuisine

French

Yield

2

Total Time

1 hour, 29 minutes, 59 seconds