Easy Chicken Noodle Soup Recipe
Keep Colds at Bay With Chicken Noodle Soup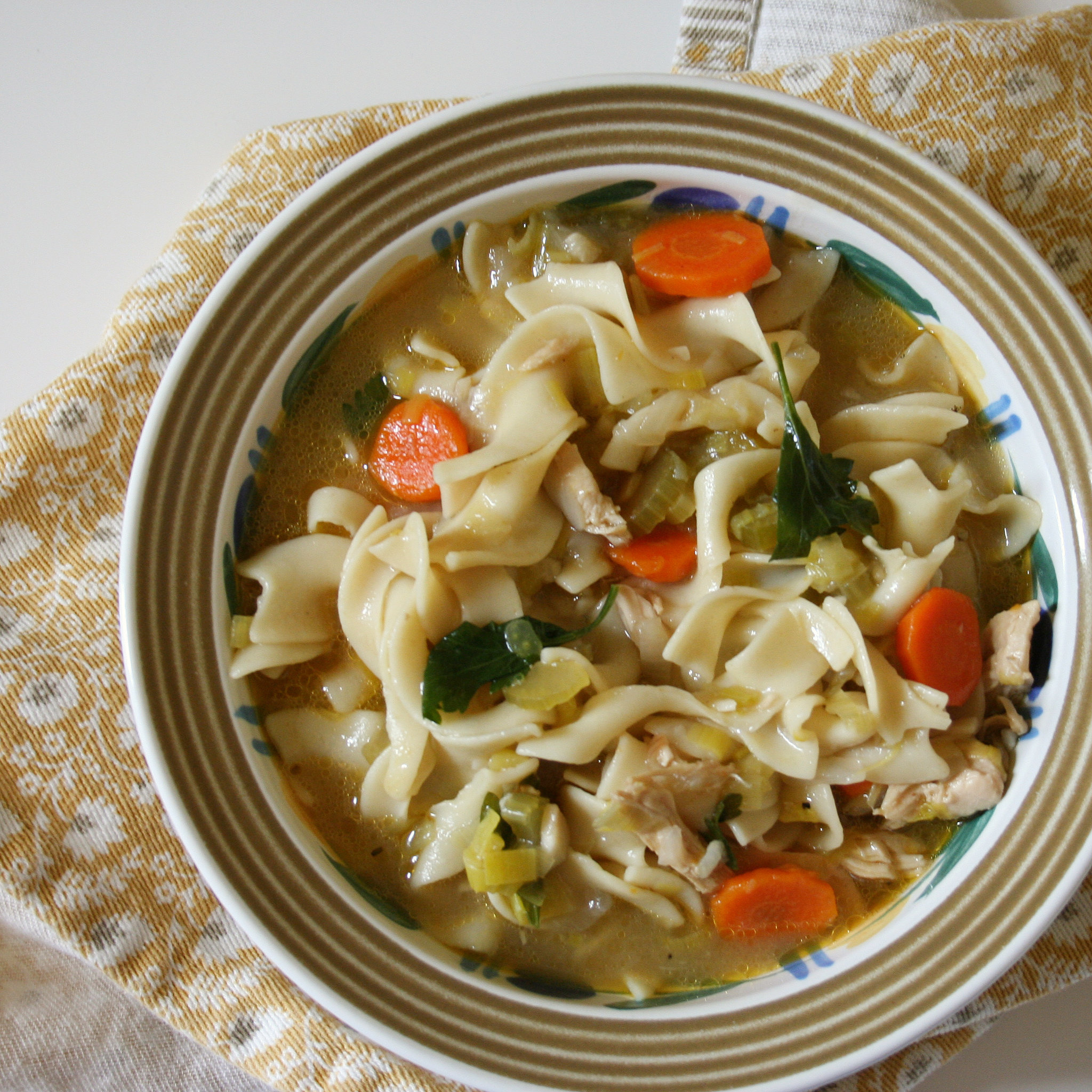 A few days ago, my good friend made me an incredible, soothing bowl of homemade chicken noodle soup when I was feeling sick. I swooned at the natural creaminess, intoxicating flavors, and perfectly cooked shredded chicken. She sent me home with a quart of leftovers, but I finished it fast and still craved more of this traditionally healing soup.
Although food cooked for you by other people always tastes better, this recipe is quite delicious and worthy of making for yourself, friends, and family, especially as cold season approaches.
Make your own chicken noodle soup.
Easy Chicken Noodle Soup
From Anna Monette Roberts, POPSUGAR Food
Notes
To make this soup in 30 minutes or less, make the chicken ahead of time or use leftover chicken. Alternatively, it takes about 30 minutes to sear and braise a bone-in, skin-on chicken breast for this soup recipe; instructions for both versions are below.
Ingredients
2 tablespoons unsalted butter
1 bone-in, skin-on chicken breast or 2 cups cooked chicken, shredded
6 cups stock, chicken or vegetable
1 tablespoon olive oil
1 onion, diced
1 medium-sized carrot, diced
1 celery stick, diced
1/2 leek, cleaned and diced
2 garlic cloves, minced
1 bay leaf
1/2 teaspoon thyme
3 cups dried egg noodles
1/2 cup fresh parsley, stems removed
Salt and pepper, to taste
Directions
If working with raw chicken: Heat a large, heavy-bottomed saucepan or dutch oven over medium-high heat, and then add the butter. When the butter is fully melted, place chicken breast skin side down. Sear for 7 minutes, flip, and sear for an additional 5 minutes. Add broth, cover, and cook for 10-15 minutes. Flip chicken, cover, and cook for an additional 10-15 minutes, depending on the size and thickness of the meat. Remove chicken from pot, reserving stock for soup. Once cool, shred into bite-size pieces.
For chicken noodle soup: Wipe out the pot and set over medium heat; add oil, onion, carrot, celery, leek, garlic, bay leaf, and thyme. Stir occasionally, and cook until vegetables are soft and translucent, but not browned. Add reserved stock, and bring to a simmer. Add noodles, and cook for 5-6 minutes, or until the noodles are tender. Stir in shredded chicken. Season to taste with salt and pepper. Stir in parsley leaves before serving.
Information
Category

Soups/Stews, Pasta/Noodle

Yield

2-4 servings
Image Source: POPSUGAR Photography / Anna Monette Roberts