Easy Recipes From Tyler Florence
5 Meals Tyler Florence Thinks Every Millennial Should Master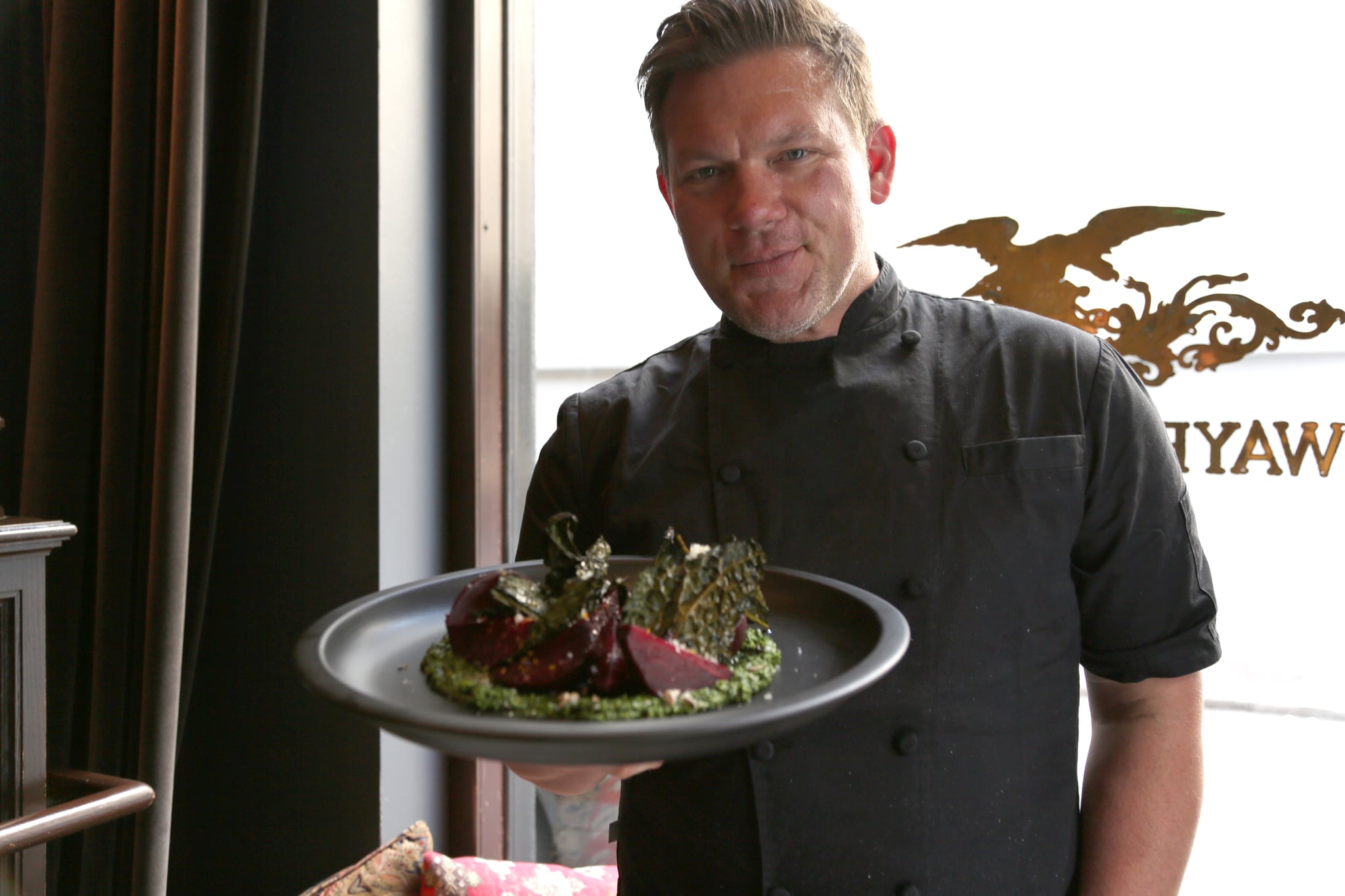 Source: POPSUGAR Photography / Erin Cullum
Listen up: Tyler Florence is about to give you a cooking lesson. I caught up with the chef and Food Network host at his classic San Francisco restaurant, Wayfare Tavern to discuss the importance of accessible and affordable fresh fruit and vegetables (he's part of Naked Juice's #DrinkGoodDoGood campaign that donates 10 pounds of fresh produce to food deserts for every selfie posted with the hashtag) as well as to learn some cooking basics as a busy millennial. "We're talking about masterpieces. There's a couple things that are easy and quick, and things that are just good for you as a person to know how to rock. It's about having this baller cooking persona. Some things are quick and easy, and some things you're a master at," Tyler added. With that in mind, Tyler shared his five dishes you can (and should) master.
1. Bolognese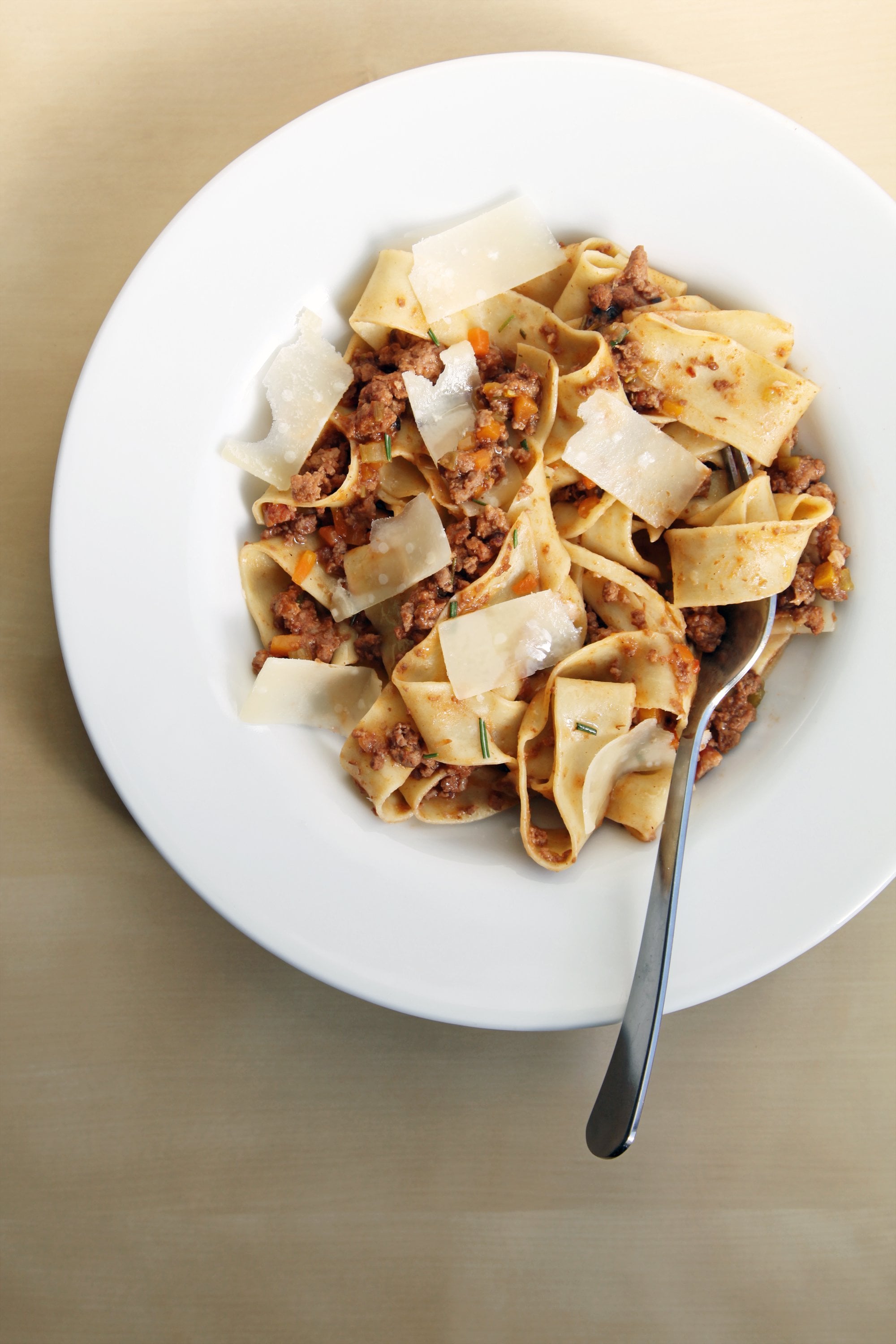 Source: POPSUGAR Photography / Nicole Perry
Tyler's method: "Three different kinds of chopped meat: ground beef for flavor, ground veal for texture, and ground pork for fat. Equal portions: a third, a third, and a third. Carrots, celery, onions, garlic, rosemary, and sage. I like to put it in the food processor and pulse it down. Sauté that stuff in olive oil, add the different chopped meats, give it a good stir, and then add tomatoes, red wine, and milk. Let it cook until it's baby-food soft. It takes about two to three hours. It takes about 15 minutes to get it into the pot and a few hours to cook, but it's a legendary pasta sauce when it's really, really good. Traditionally it's [served with] papparedelle, but it could be tagliatelle, spaghetti, whatever. I like to top it off with a scoop of fresh ricotta cheese."
Get the recipe: Tyler Florence's bolognese
2. Vinaigrette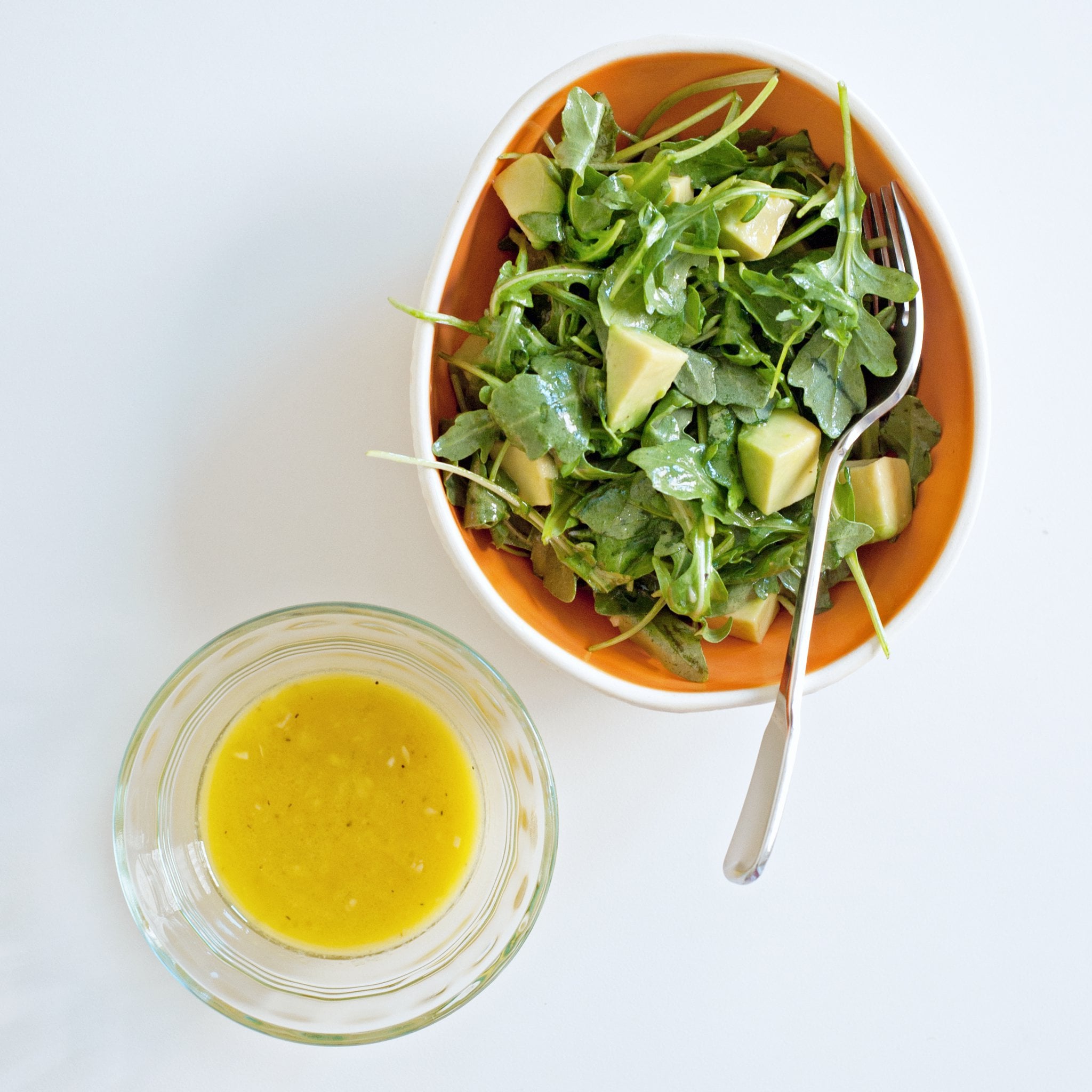 Source: POPSUGAR Photography / Nicole Perry
Tyler's method: "You have to know how to make a classic vinaigrette: it's three parts olive oil to one part vinegar. And then mustard and fresh shallots and chopped herbs. You should know how to make a vinaigrette from scratch — no question — then you can make any salad and you can modify that salad dressing a thousand different ways."
Get the recipe: Tyler Florence's arugula salad and ultimate vinaigrette
3. Pancakes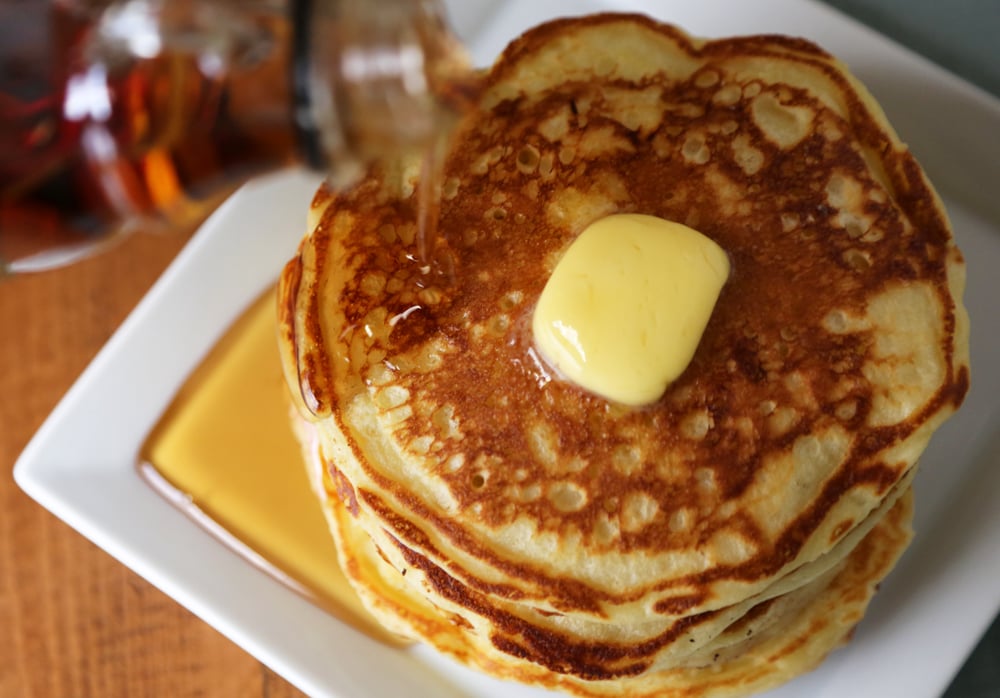 Source: POPSUGAR Photography / Anna Monette Roberts
Tyler's method: "Pancakes are super important. My nine year old has been diagnosed as gluten intolerant, so now we make them with Thomas Keller's Cup For Cup Flour, which is really great. Two cups flour, three eggs, two cups of buttermilk, a teaspoon of baking soda, a tablespoon of baking powder, a third of a cup of sugar, vanilla, a pinch of salt, and either lemon zest or orange zest."
Get the recipe: Tyler Florence's blueberry-banana pancakes
4. Roast Chicken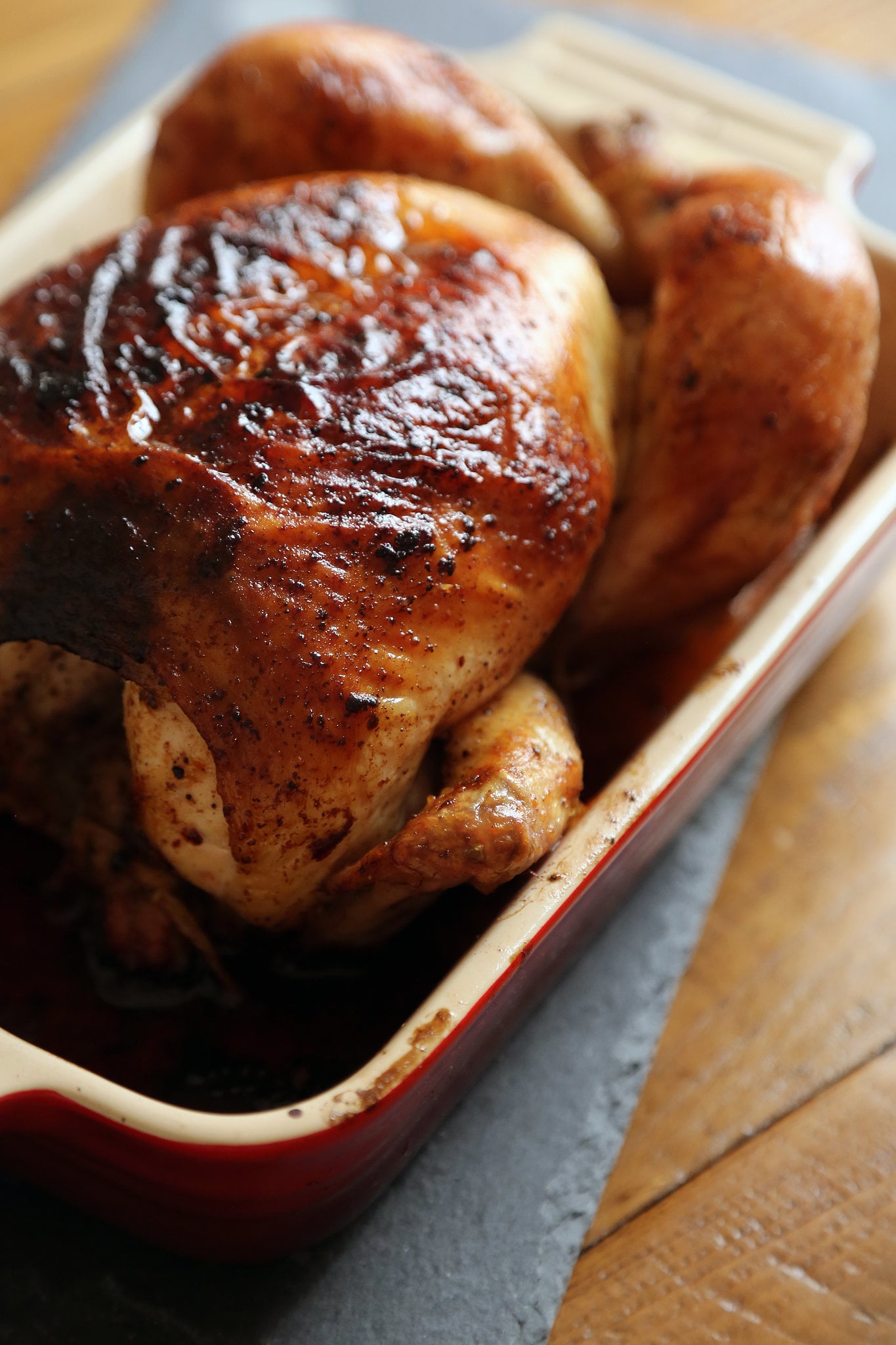 Source: POPSUGAR Photography / Anna Monette Roberts
Tyler's method: "I think roasted chicken is super important. There are a lot of different methods on how to do that, but my favorite is the low and slow technique. So you want to set the moisture and the fat and think about the skin on the outside of that. Sage, rosemary, garlic, and salt and pepper: chop it up and make a smear. Rub it all over the inside and outside of the chicken. Cook it at 200°F for two hours, and then crank the oven up to 400°F and let the skin get nice and crispy. It's a fantastic cooking technique. It should read about 155°F at the joint with a thermometer."
Get the recipe: Tyler Florence's roast chicken
5. Mashed Potatoes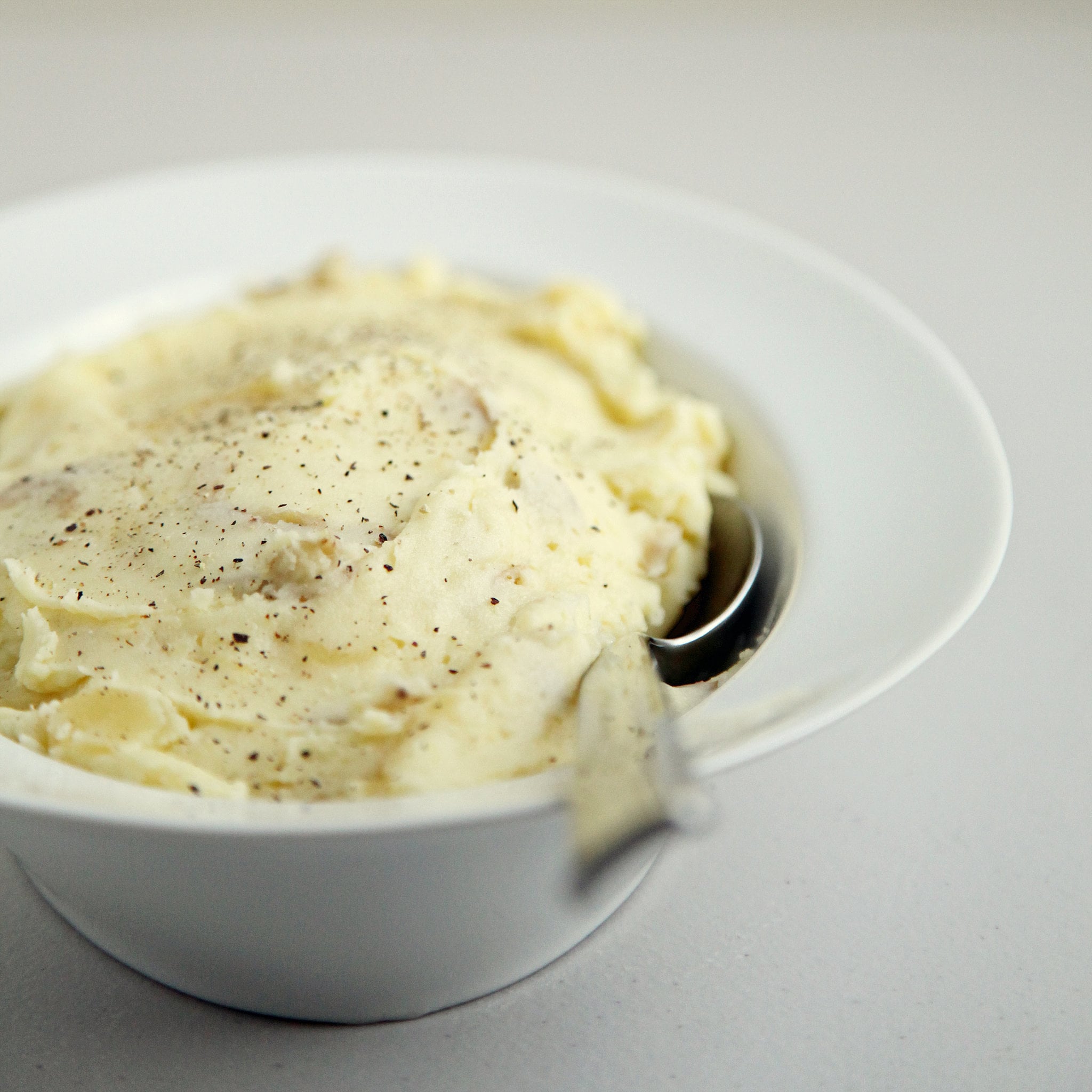 Source: POPSUGAR Photography / Nicole Perry
Tyler's method: "Potatoes have a really delicate, beautiful minerality to their flavor profile, and when you cook potatoes in water and you pour that water down the drain, you've extracted all the flavor of the potato. So what I do with mashed potatoes — because you finish them with cream and butter anyway, right? — is I'll take that same cream and butter and add that to the potatoes and cook the potatoes in cream and butter. So cold, peeled, chopped potatoes, cream, butter, and olive oil. I like garlic. I like sage and rosemary flavor combinations, and a little bit of thyme. When the potatoes are tender, I put a bowl on the counter and a colander inside that bowl. I pour the potatoes through the colander, and the cream will collect on the bottom. Then I'll put the potatoes back into the pot and take the potato-infused garlic cream and fold that back into the potatoes, and it's the most incredible flavor profile. It's the best mashed potato you'll ever taste in your entire life."
Get the recipe: Tyler Florence's mashed potatoes