Eggplant Chaat Recipe From Dubai's Junoon Restaurant
Eggplant Chaat is the Perfect Addition to Your Diwali Dinner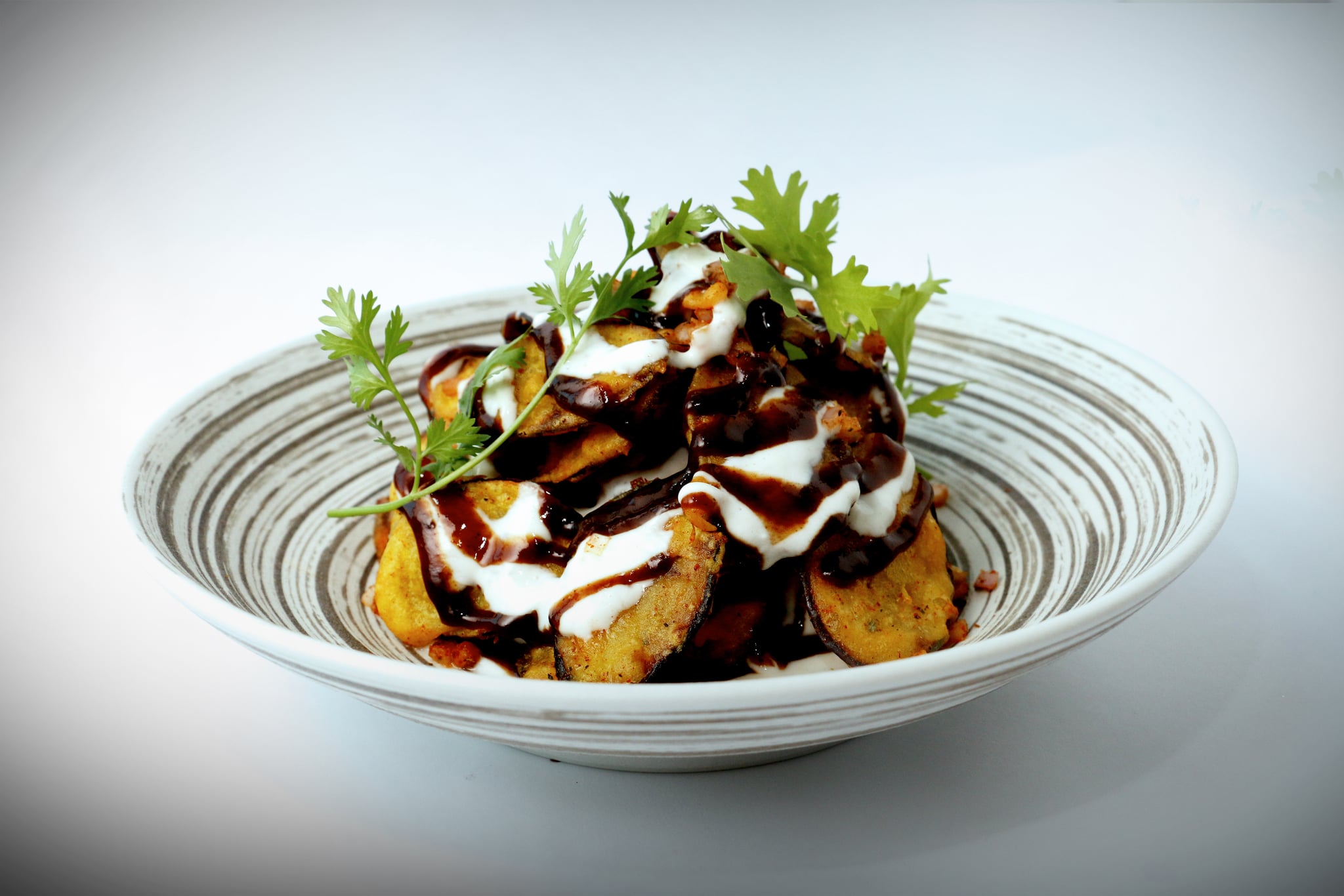 Diwali, the Indian Festival of Lights, takes place October 30, so why not celebrate by making this dish from Dubai's Junoon restaurant? TheEggplant Chaat is so moreish, you might to make two batches!
Ingredients
1kg Long Eggplant slices
100gm Red onion brunoises
15gm Chaat masala
3gm Red chili powder
200ml Sweet yogurt raita
150ml Tamarind sauce
20 gm Coriander sprigs
FOR THE BATTER:
100 gm Gram flour
50 gm Rice flour
50 gm Corn flour
5gm Turmeric powder
3 gm Salt
5 gm Roasted cumin
Water As required
FOR THE SWEET YOGURT RAITA:
500gm Plain yogurt
1tsp Roasted cumin
1tbs Castor sugar
FOR THE TAMARIND CHUTNEY:
1kg Tamarind
2l Water
500g Jaggery
250 Sugar
100gm Kashmiri chili powder
2 Stick cinnamon
2 Bay leaf
2pcs Star anise
30gm Fennel
15gm Ginger powder
FOR THE CHAAT MASALA:
128g Cumin seed
128g Black peppercorns
120g Black salt
60g Dry mint
4tsp Carom seed
1.5tsp Citric acid
298g Dry mango powder
120g Sea salt
20g Ginger powder
43g Yogurt cured green chilies
Directions
FOR THE BATTER:
Mix all above ingredients to make thin batter.
FOR THE TAMARIND CHUTNEY:
Soak tamarind and jaggery for two hours.
Mix all the ingredients except ginger powder and fennel.
Boil for two hours, pass through strainer, put it to boil again.
Add fennel and ginger powder.
FOR THE CHAAT MASALA:
Dry all above ingredients except yogurt cured green chilly.
Mix all the ingredients and grind in spice grinder.
Sieve and use as required.
PRESENTATION:
Add eggplant slices to gram flour batter and fry until crisp.
Put on kitchen paper, mix with red onion brunoises, chaat masala.
Mix well, pour sweet yogurt raita, tamarind sauce on the plate.
Add fried eggplant slices again drizzle some more sweet raita and tamarind sauce.
Put one more layer of fried eggplant slices.
Finish with little tamarind sauce and sweet raita garnish with coriander sprigs.
Information
Category

Vegetables, Appetizers

Cuisine

Indian

Yield

6

Total Time

24 minutes, 59 seconds