Elderflower and Apple Cheesecake
Elderflower and Apple Cheesecake Will Satisfy a Sweet Tooth Without the Sugar Hangover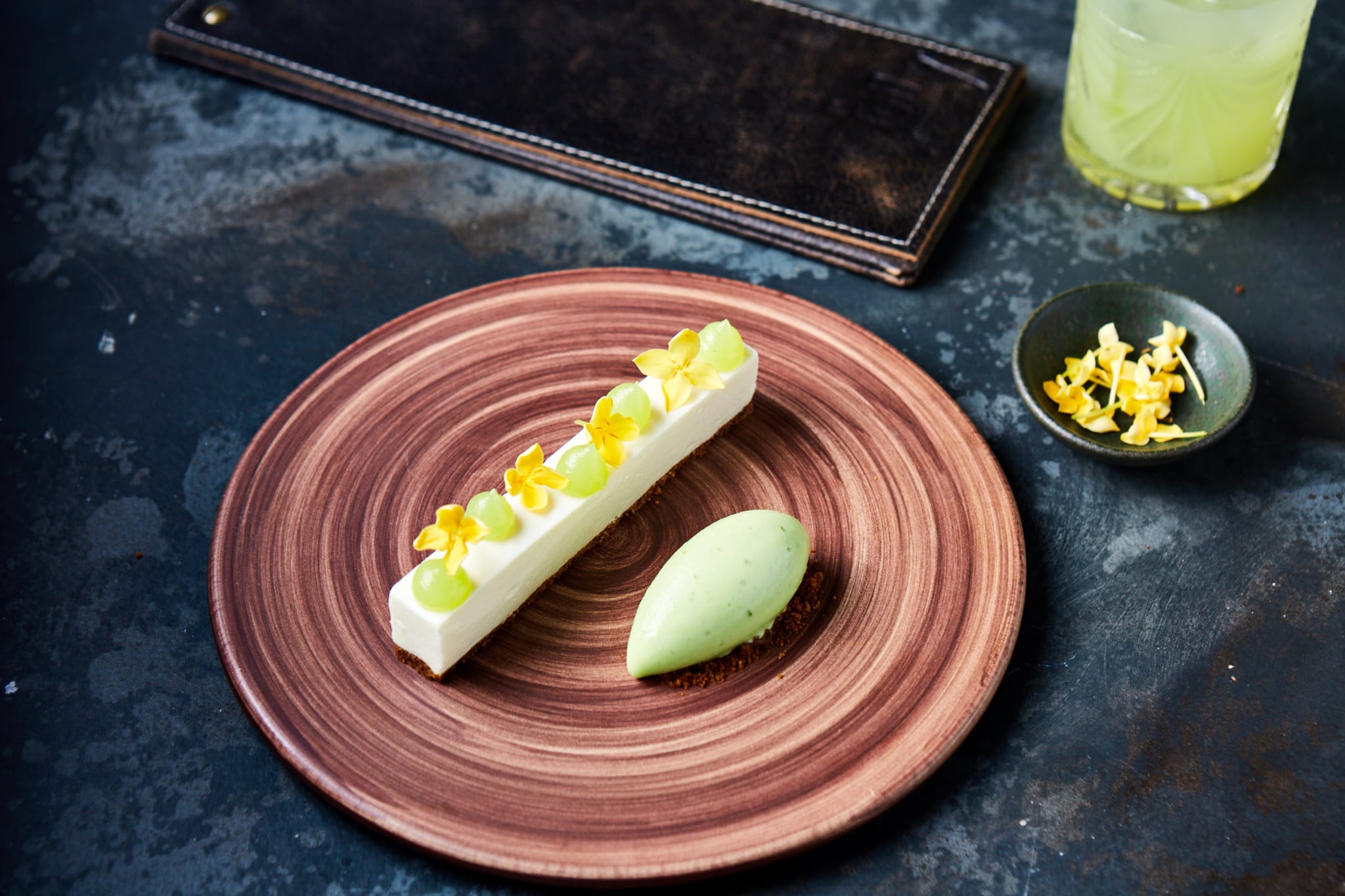 folly by Nick & Scott comes from Gordon Ramsay restaurant alumni, Nick Alvis and Scott Price. Their Madinat Jumeirah, Dubai restaurant is known for their New York-inspired cocktails but also fab food. Check out the recipe for their Elderflower and Apple Cheesecake and try recreating it at home.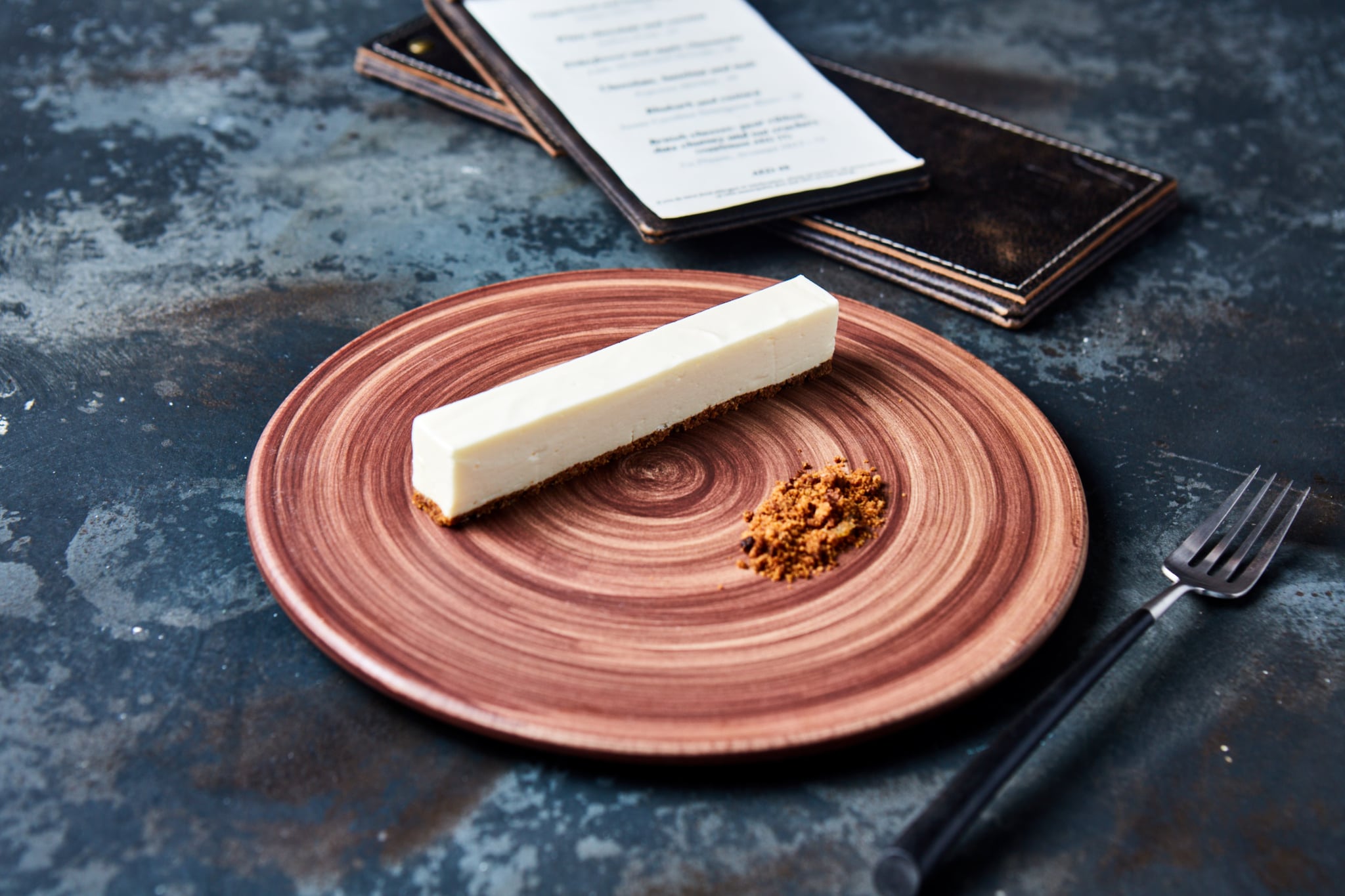 Elderflower and Apple Cheesecake
folly by Nick & Scott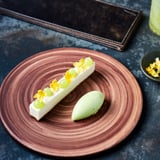 Ingredients
Digestive biscuit base
120g wholemeal flour
120g oat flour
50g milk
5g salt
10g malt vinegar
100g softened butter
25g sugar
75g Melted butter (for the base)
CHEESECAKE MIX:
300g cream cheese
200g whipping cream
100g crème fraiche
100g castor sugar
110g elderflower syrup
20g lemon juice
3 gelatin leaves
GREEN APPLE SORBET:
200g green apple juice
400g green apple puree
300g stock syrup
10 apple skins
120g egg yolk
60g castor sugar
30g water
GREEN APPLE GEL:
300g green apple juice
400g green apple puree
10g agar agar
Green coloring small drop
Directions
Blend all the dry ingredients together in a food processor, then add the milk and vinegar followed by the butter. Roll on to a baking sheet approximately 5mm thick and bake at 180 degrees for 12-15 minutes until dry.
For the cheesecake base, blend the digestive to a crumb (keep 100g back for dressing) and then mix in the melted butter. Press evenly in to the base of the mold (we use a large rectangle container and cut our portions by hand but individual stainless steel molds are also perfectly good) that has been lined with parchment paper, around 5mm thick and chill to firm up.
FOR THE CHEESECAKE MIX:
Soak gelatin in iced water until soft, squeeze out the water and place in a saucepan with 100g of cream and the sugar, warm through to melt the gelatin.
In a mixing bowl add the cream cheese, syrup, lemon juice, beat until soft then fold in creme fraiche, whip the cream in a separate bowl until half whipped (ribbon stage) then gradually add the cream cheese mix to the cream until all nicely folded, then add gelatin, cream and sugar making sure everything is evenly mixed through.
Pour into the mold on top of the biscuit base and set for 5 hours.
FOR THE GREEN APPLE SORBET:
Freeze the skins, when frozen blend in the pacojet and refreeze.
Bring syrup, stock, puree and juice up to the simmer and cool. Over a bain marie whip the yolks and 50g of water, in a pan boil 50g sugar and water to soft ball, when eggs light and fluffy pour in the sugar and whisk, remove from heat and whisk until cooled down, whisk in to the apple stock and freeze in the pacojet beakers leaving space for the frozen apple skins.
When frozen add the skins on top of the frozen sorbet and blend then refreeze.
FOR THE GREEN APPLE GEL:
Bring all the ingredients up to the simmer, remove and blend in a bar blender for 10 seconds, pour into a tray and chill until set.
When the jelly is firm remove from the chiller, break into pieces and blend again until smooth (do not over blend and allow gel to become warm), remove and strain through a fine sieve. Store in a squeezy bottle in the chiller until needed.
TO SERVE:
Pre-scoop the sorbet and refreeze.
Remove the cheesecake from the chiller, de-mold (cut if necessary) place on the plate and then garnish with dots of granny smith apple gel and ixora leaves (native plant to the middle east), place a small spoon of digestive biscuit crumble on the plate, place sorbet on top and serve.
Information
Category

Desserts

Yield

10