Ethiopian Food: Gursha Restaurant's Doro Wat Recipe
This Ethiopian Chicken Stew is Worth the 5-Hour Wait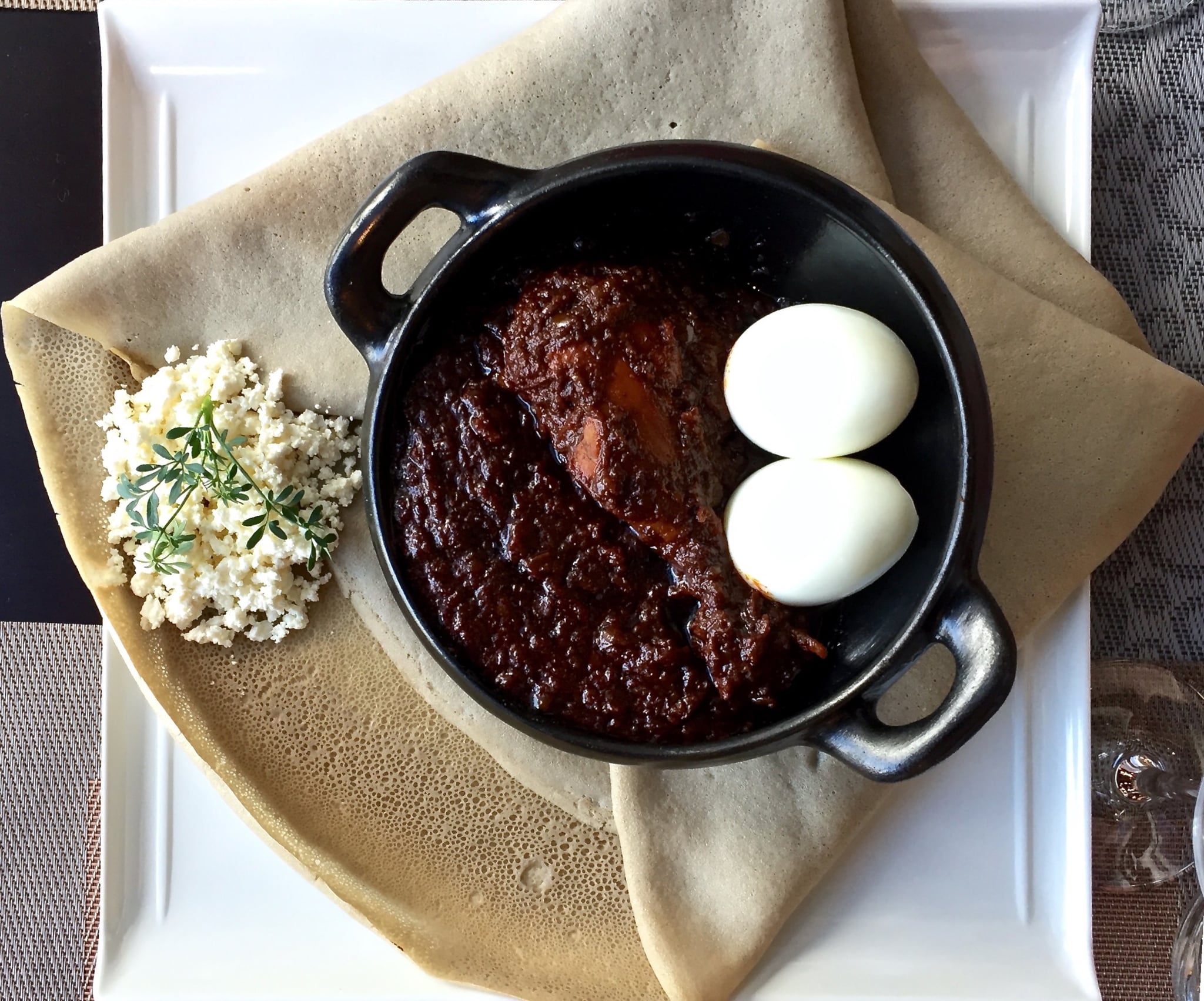 If you've ever tried Ehiopian food in a restaurant like Gursha, then you'll be dying to sample home-made dishes from the country. But until your next flight to Addis Ababa, you'll just have to make do with replicating this authentic meal at home, Doro Wat. The ingredients for this chicken stew require additional preparation and are better acquired from Ethiopian markets if available. If you're not familiar with the terms then make use of the glossary below, you're going to need to make the recipe from Chef Beide Worku, the Managing Partner and Executive Chef at Gursha!
Berbere is Ethiopian spice mixture which includes chili pepper, garlic, ginger, dried basil, Ethiopian cardamom, black and white pepper, fenugreek and rue, a bitter shrub.
Niter kibe is Ethiopian clarified herb butter. The herbs include bishop seed (also known as ajwain, similar to thyme), cardamom seeds (the Ethiopian cardamom is different than the Indian kind), black cumin, and koseret (dried woodsy flavored herb similar to oregano) .
Mekelesha is a ground mix of Ethiopian cardamom, cloves, and a touch of cinnamon.
T'ej is Ethiopian honey wine.
Injera is Ethiopian spongy sourdough flatbread made from gluten free grain called Teff.
Aib is homemade farmer's cheese made from cow's milk similar in texture to dried cottage cheese.
Ingredients
6 chicken thighs or drumstick with all the skin and fat removed
Lemon juice
1.5kg of onions, very finely chopped or purée
1 1/2 cups Berbere
1/2 cup fresh garlic, finely ground
1/2 cup fresh ginger, finely ground
Salt to taste
2 or 3 tablespoons Niter kibe
¼ to ½ cup T'ej (optional)
1 teaspoon wot Mekelesha
6 peeled hard-boiled eggs
Injera* bread and Aib*, for serving
Directions
Preparation:
Marinate the skinless chicken pieces in lemon juice and cold water and let them marinate while preparing the onions. Ethiopian chicken is traditionally raised and slaughtered at home so the lime juice is also used for cleaning the meat and removing any bacteria.
Finely chop the onions or use a food processor until you get almost a puree type of consistency. The onion will be reduced and mixed with berbere to make kulet (the foundation to all spicy Ethiopian stews and curries). You can't have too much kulet, and you can even eat the kulet with injera as a meal by itself, so always feel free to make more, increasing other proportions accordingly.
Cooking:
Traditionally in a clay pot (but a dutch oven will do fine) start cooking the onions alone on a medium-high heat. Let still until the moisture starts to dry up and start stirring constantly to keep from burning. When the onion gets too dry, add a little water to moisten them and continue cooking. Repeat this process until onions are reduced at least by half and turn into a deep purple/brown color.
Add some Niter kibe, then a little more water, let cook until it starts to dry and add more water followed by kibe. Keep doing this until you've added all the kibe. How much kibe you use depends on how rich you want the sauce to be.
Once the kibe and onion reduction meld together and have a pasty consistency, deglaze with some t'ej and let the alcohol cook out. Use t'ej to taste and be careful not to use too much lest it turns too sweet.
Add berbere, continue to cook, stirring occasionally, until the sharpness is removed and the berbere is blended with the onion paste (about 10 minutes). Add more water as needed to keep it from burning. Now you have your kulet: the thick onion-based wot sauce before you've added the meat.
Add the doro (chicken), add enough water to cover them, reduce the heat to medium low, cover and braise. Turn the chicken occasionally so they cook evenly. Use water to control the consistency of the braising stew preventing it from getting too thick. Cook for 45 min to 1 hour, or until the chicken is done. The sauce should have the thickness of a thin marinara sauce.
Add mekelesha 10 minutes before the chicken is done and stir to mix.
Put 2-3 vertical slits on the hard-boiled eggs and insert them carefully into the sauce. The slits let the sauce seep in. Cook for 5 more minutes. The finished sauces should have the consistence of a marinara sauce.
Serve with Injera and aib. Traditionally every serving includes one egg and one chicken part.
Information
Category

Soups/Stews

Cuisine

African

Yield

5

Total Time

4 hours, 59 minutes, 59 seconds
Image Source: Gursha