Fast, Easy, Five-Ingredient Recipe For Cacio e Pepe Pasta
Cacio e Pepe Pasta: A Must Add to Your Recipe Arsenal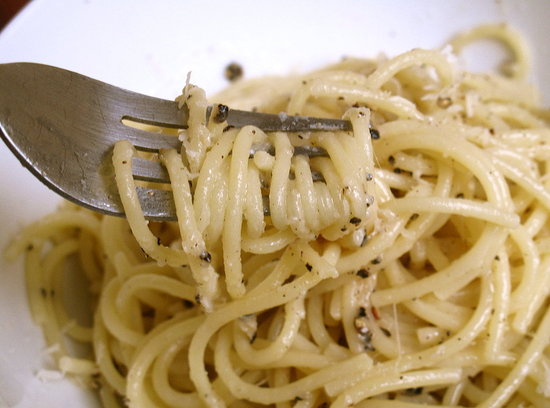 Since it seems that everyone — including Julia Roberts herself! — was talking about memorable food from the filming of Eat Pray Love, I've got oodles of al dente noodles on the brain, and it reminded me that I've yet to share with you my favorite Italian pasta to make at home.
I like to think of cacio e pepe (Italian for "cheese and pepper") as the Rome's cosmopolitan version of mac and cheese. It's a simple recipe that requires nothing more than spaghetti, cheese, butter, and seasonings. It's ready in a matter of minutes — and always gone even faster than that. For this reason, cacio e pepe is one of the most valued dishes in my weeknight recipe arsenal. Want a plate of this now? Then check out the recipe below.
Cacio e Pepe Pasta
Adapted from Chow
Ingredients
1 pound dried spaghetti
2 cups pecorino romano cheese, finely grated, plus more for serving
3 tablespoons unsalted butter, cut into 1/2-inch squares
2 teaspoons coarsely ground black pepper
Salt
Directions
Bring a large pot of heavily salted water to a boil over high heat. Add pasta, and cook according to package directions. Drain pasta, reserving 1 cup of the cooking water.
Return pasta and cooking water to the pot, and place over low heat. Add remaining ingredients, and stir until cheese and butter have melted and formed a creamy sauce, about 5 minutes. Season with salt to taste, and serve immediately with additional cheese.
Makes 4 servings.
Information
Category

Pasta, Main Dishes

Cuisine

Italian